PorchFest, A Music Swarm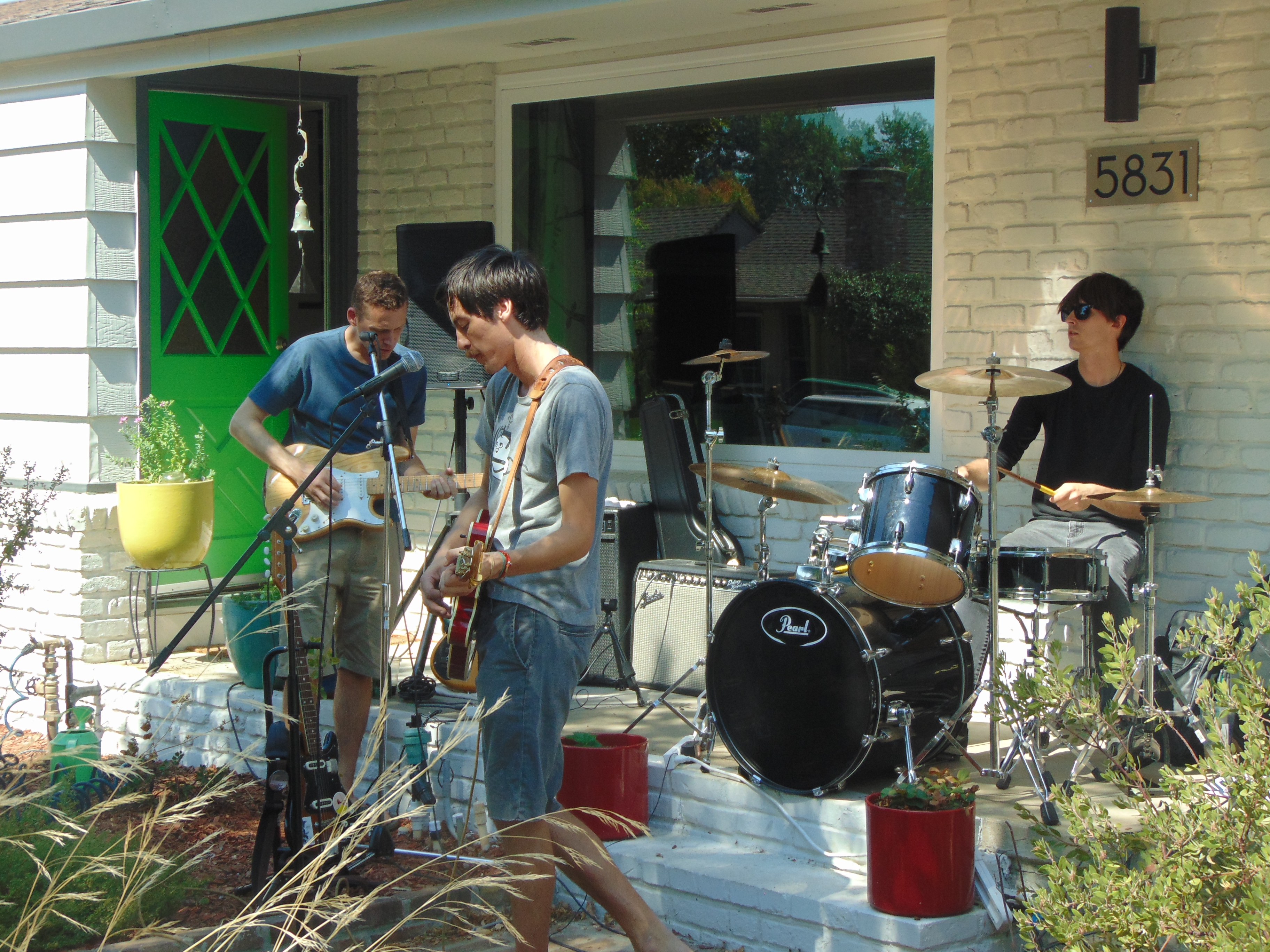 By Bill Laws
bill@valcomnews.com
On Sunday, Sept. 17, a swarm of about 50 Tahoe Park neighbors toted blankets and lawn chairs to Emily and Andy Schile's 12th Avenue home. It was one of a handful of residents in the area chosen to host what was originally billed as an effort to collect used musical instrument for needy kids
The neighbors came for the free music. The lineup of volunteer bands was eclectic and varied in quality. Tune selection ranged from amplified folk songs to strident original tunes rarely played in public.
The six-hour event featured four musical groups that, one by one, occupied the Schile's small porch. Pressed between the Schile's newly painted white brick house and exotic front yard garden, the bands were strong and enthusiastic.
According to organizer Blake Villa, an athletic, 30-something product of Rio Americano High School, the PorchFest movement "has had a solid history in publicizing local musical talent but this is my first time doing it." As explained by Villa, "responsibility" for organizing the events fell into the lap of the various hosts.
Information about the program to collect used musical instruments was not readily available. Neighbor who attended the event, though, reveled in a chance to encounter old friends and new neighbors.
The Tahoe Park and Colonial Park version of the event, called River City PorchFest, included only a handful different residential sites. The happening followed PorchFest, a roughly decade-long tradition of recruiting volunteer local bands that wanted to introduce their songs to a new and very local audience. Villa, who has worked as an organizer at the Napa Film Festival, explains that he would like to get government funding for the project and perhaps hold the event twice annually.
According to Villa, his version of the PorchFest concept includes a push to encourage attendees to donate musical instruments which he hopes to refurbish and deliver to Sacramento schools.
The first band of the afternoon, Bachelor Paradise, blasted a set of original songs through the tall native plants of the Schile's ambitious xeriscape yard. According to Billy Felix, lead guitarist and an English teacher in Woodland, the group hadn't played in a few months but nevertheless anticipates having a first album out on i-Tunes in October.
Because the Schile family had removed their grass lawn in exchange for drought-tolerant plants, neighbors stationed themselves on the sidewalk, curb, driveways and on adjacent lawns. Luckily, neighbors on both sides of the Schile's household were away on vacation.
A number of the 12th Avenue neighbors remained on their own porches, enjoying their own supply of food and beverage.
Perhaps the most successful musical offering was the last performance by Whiskey and Stitches who played a mix of amplified Celtic folk tunes along with a selection from American favorites such as Johnny Cash. Taking the event to closing when neighbors began to retreat for the dinner hour, the group launched a musical finale which engendered a fair share of hand clapping and spontaneous dancing from a few individuals.
Emily Schile, a meeting planner and amateur athlete, reported that the event was a total success. Emily, who spent a good part of the afternoon arranging audience seating and, in one case, sweeping up a broken bottle, was indeed the key to the entire event. Arranging some publicity on social media and participating in the selection of the groups, Emily had no complaints about River City PorchFest.
In fact, having grown up in River Park and having lived in nearby Elmhurst, it was a great opportunity for her to greet family and friends who had hiked in for the afternoon. And, of course, for both husband and wife, PorchFest was a convenient chance to show off their native plant selection which, I am told, has inspired many living on 12th Avenue to be more creative in their landscaping choices.