Extravagant 'Party for Change' held at Sacramento Executive for St. John's shelter
By Monica Stark
editor@valcomnews.com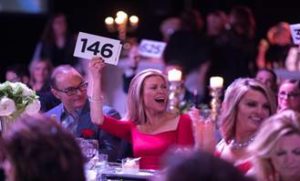 Flying through a large hangar at the Sacramento Executive Jet Center, three aerialists thrilled a large audience as about 20 dancers in a sort of "flash-mobesque" fashion entertained at ground level, immersing the crowd from all angles. With excitement in the air and on the floor, guests who were dressed to the nines gathered for the entertainment, surely, but were united in effort to raise money for Saint John's Program for Real Change.
The event, the annual "Party for Change", which this year was held on Nov. 4, raised $460,000 for the program that has changed the lives of more than 30,000 women and children since 1985.
"We are delighted to bring our modern storytelling to the tragic cycle of poverty and homelessness in Sacramento county," said Jacob Gutiérrez-Montoya, the founding artistic director at the Sacramento Contemporary Dance Theatre, whose company's dancers donated their time in service to the women and children at Saint John's. "Through dance, we create a common experience of empowerment, renewal and achievement. We hope to leave everyone feeling the abundance of hope in this one-of-a-kind event, bringing generosity and gratitude together."
Captivating the audience at the onset of the evenings' entertainment, the dancers exited the floor at the end of the first number, leaving the aerialists hanging.
A suspenseful opening for the emcees of the event KVIE's Rob Stewart, host of "Rob on the Road," and KCRA's Kellie DeMarco, that performance was built to entertain and excite the crowd that soon after were in the midst of a live auction with auctioneer David Sobon. Going a mile a minute, raising $10,000 here and there, all of a sudden the mood changed again as the dancers zoned the audience back into the moment. Dressed in all white for the finale, which featured the Mumford and Sons' song "There Will Be Time", the dancers sent an emotional message to the St. John's women, Gutiérrez-Montoya said. "That your life didn't stop here. It's not just starting in a different way… you've made it through and there's time for you to keep living and find the next chapter." Suffice to say, that performance left people in tears.
Founder and director of Rebel Aerial Kat Boston said when SCDT reached out to provide aerial entertainment for the Party of Change it was easy to see why they were so enthusiastic about donating their time. "The program addresses the homelessness in Sacramento in a way that not many others do. I was proud to choreograph a synchronized aerial performance in collaboration with SCDT's opening number to set the tone for a one of a kind event" – one that the "likes of which Sacramento has not seen before," she said. "It is always thrilling to be suspended over your audience. Performing as an aerialist gives you a unique perspective on the flow of a party."
More than just a shelter, Saint John's 12-18 month program combines temporary housing with education, job training with a 96 percent job placement rate, and counseling to permanently escape the cycle of poverty and abuse, moving families experiencing homelessness from dependence to independence, according to a press release. On Oct. 20, Saint John's announced the grand opening of their new facility accommodating an additional 90 homeless women and children daily, 450 annually. However, as of that time, the Saint John's daily waitlist has continued to grow—up from 250 to 430 in the previous three months.
This year's event also featured cuisine by Chef Santana Diaz who has inspired so many, including the women and children in the St. John's program, desserts from Pastry Chef Rod Cuadra, and food and service from Plates Café and Catering team who executed such a wonderful meal for over 600 people. Plates is an employment training program in which women are trained in 17 different restaurant stations and women from the program helped prepare and serve dinner at Party for Change as part of their employment training.
Additionally, this year's event featured music by Las Vegas DJ E-Noc, and an art show featuring creations by Maren Conrad.
Artist performances include SCDT Dancers Lauren Howell, Laila Wahee, Cameron Lucas Eggers, Samual Fulk, Camryn Young, Kathryn Arellanes, Maggie Maue, Natalie Brumfield, Jordyn Santa-Catalina, Israel Foss, Camille Johnson, Meagan Patterson, Ashton Titus, Baylee Ferrerra, Allie Roe, Grace Taylor, Hannah Bielcik, Brenna Mulligan, Alexis Robards, Leah Feldman, Angela Palumbo, Aleena Palumbo and Madison Hitchcock; Vocalist- Ryan Allan; Rebel Aerial's Monica Padilla, Gabrielle Attisani, and Kat Boston-Lazano; San Francisco's #1 Favorite Magician- Ryan Kane.