Mom and Pop Garcia reflect on four years of hard work and fun at Blue Lamp
By Laura I. Winn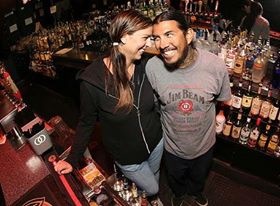 Not many mom and pop shops boast of burlesque comedy shows, punk rock fundraisers and hip hop concerts, but for the Garcia's, an eclectic lineup of performing arts paired with some good, strong drinks is just what they're selling. Their shop just happens to be Blue Lamp, a live music venue and bar on Alhambra Boulevard, and the Mr. and Mrs. happen to be Gabi, 43, former manager of Limelight Bar & Cafe, and Ben, 40, former frontman of the hardcore band Hoods.
On Halloween 2013, the couple combined their respective talents and purchased the longstanding 21+ venue with the goal of bringing more bands to town and revitalizing the scene. "We noticed bands were skipping Sacramento. Bands we wanted to see would play San Francisco, Portland and Reno, but not here," explains Gabi.
So the couple invested in their venue. They revamped the sound system and created the type of space they knew musicians liked to play. From the guy at the soundboard to the security at the door, all of the staff have had their own music projects at one time or another.
The upgrades on the inside fostered changes to the names on the marquee outside. Two Ramones (Richie and CJ), Rapper Layzie Bone of Bone Thugs-n-Harmony, and a number of legendary bands, including MDC and The Dictators, have since graced the stage with opening support from local bands in the 160-capacity club.
All genres of music are welcome "as long as it's not derogatory. This is a safe space," states Gabi. "Anyone and everyone is welcome," adds Ben.
"One of my favorite things about owning the business is to be able to give back to the community while bringing it together with art and music." -Gabi Garcia
That welcome extends beyond concerts. At the monthly MoxieCRUSH Variety Show every third Friday, there's dancing from Midtown Moxies Burlesque and jokes from a revolving lineup of comedians. The venue has hosted circus performers and art receptions. Last year's "Life on Mars" reception showcased 60 local artists' interpretations of David Bowie lyrics.
No two shows are alike. "We had three hip hop shows one week, and it was a different crowd every night," explains Gabi. When The Ataris, a band popular for their pop punk love songs of the late 90s played in 2015, "It was date night. All the guys were here for their wives," laughs Ben.
On their 2016 and 2017 tours, the Ataris returned. "We've built up a good reputation with touring bands," says Ben. "I treat the bands how I would like to be treated as a musician." Sometimes that means doing something as small as giving the band a case of water to make them feel a little more like rock stars.
Local music veteran Danny Reynoso, who has played many Blue Lamp shows, including benefits for the American Cancer Society and Toys for Tots, agrees. "Gabi and Ben show respect, work hard and appreciate bands that do the same."
Charity shows, including fundraisers for the homeless and area schools, are a staple at Blue Lamp. "One of my favorite things about owning the business is to be able to give back to the community while bringing it together with art and music," Gabi states.
That giving spirit recently extended to two struggling music clubs, The Colony and Cafe Colonial. Blue Lamp hosted an October benefit to help keep their doors open because "They are smaller all ages venues this city desperately needs," Gabi explains.
In addition to operating as a community-engaged events venue, the Garcia's originally envisioned Blue Lamp as a neighborhood bar with regular afternoon and evening hours, but lack of foot traffic altered plans. Still, being steps away from a Motel 6, Starbucks and 24-hour IHOP has made Blue Lamp an ideal destination for touring musicians who thrive on coffee and late-night pancakes. Plus, the current set-up keeps the couple plenty busy with events four or more nights a week.
"We're a true family-run businesses, so we do everything," explains the mom of two. "I'm the booker, bartender, manager and janitor." She's also coach for her daughter's basketball and soccer teams.
Ben still works a 9-to-5 job, but fills in as needed, providing security and pouring the local brews on tap, including Two Rivers Cider, Track 7 and Lagunitas.
To balance all of their responsibilities, Gabi says they try not to sweat the small stuff. Her motto is, "Do what you can do every day, and finish the rest tomorrow."
The adventure of the past four years has led to some unexpected lessons. Being on "both sides of the fence" changed Ben's perspective to his behavior as a touring musician. "It's easier to the be jerk on stage than the guy running everything."
For Gabi, the biggest surprise has been her own strength. "I have more perseverance and patience than previously thought." Owning a venue has been "way harder than anyone could ever think. You have to be responsible for other people's livelihoods." But she adds, "It's also the most fun we have ever had."