Iceland to open under new roof in 2018
By Lance Armstrong
lance@valcomnews.com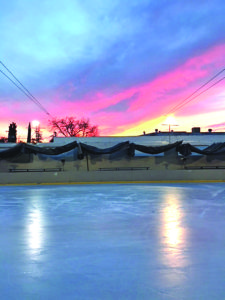 Iceland, Sacramento's iconic ice-skating rink that was demolished by a fire in 2010, will return to its former existence as a full-time indoor facility in 2018.
Since this devastating, five-alarm, arson fire, Iceland has been operating as a seasonal, outdoor rink at its original location at 1430 Del Paso Blvd.
But Iceland Manager Shannon Mullins said that as a result of successful fundraising, its patrons should be skating under a new roof in less than a year.
"We've kept it open since November 1940, and we're working to put the roof back on and be full-time again," she said. "We're hoping to (have the roof on) January, February (or) March, sometime at the end of our season."
Mullins recalled how one of the post-fire fundraisers for the building began.
"When the fire happened, the whole façade of the building was glass blocks and tiles, so with the fire they heated up and exploded," she said. "One of the figure skaters went out to the street and collected them and sold them as pendants as a fundraiser. We realized we could go on with the fundraiser by selling glass blocks with an etched message in them, kind of like the yellow brick road at Fairytale Town."
These blocks are for sale for $100 each, and can include an individual or company's name or a message to someone.
Iceland already had its first glass block window installed, and will have its second window installed this season. Each window includes 108 blocks.
Ultimately, the entire front of the building will be lined with glass blocks and tile, as it was prior to the fire.
Mullins said that rebuilding Iceland has been a seven-year, gradual process.
"The first season after the fire, there was just a big ditch next to the side of the rink," she said. "Now we filled it with dirt and added a concrete floor. We're getting ready to put bathrooms in, and we finally just got hot water back. So, every year, we add a lot of improvements. But the roof will be the final thing."
As another necessary part of its construction process, Iceland is waiting to have its roof plans approved by the city.
As for Iceland's supply of rental skates, Mullins said that the number of those skates continues to rise.
"We're replacing our rental fleet of skates," she said. "After the fire, of course, all the skates were melted. And there was a rink in Belmont, (Calif.) that closed. They gave us a lot of their old skates. But when we first opened (after the fire), our rental skate fleet wasn't very great. We also did a GoFundMe (Web page) to buy new skates. Right now, we have over 100 pairs."
Mullins said that with Iceland's most recent season opening on Friday, Nov. 17, regular skaters and others have returned to this facility with smiles on their faces.
"It's the best feeling here," she said. "I can think of about 20 kids who think of this place as their home base all winter long and basically live here while we're open. So, on Friday, everybody came.
"Just like the excitement of the customers coming back, the staff is so excited to come back to their home ice rink. That's how a lot of people view Iceland as their home rink, and they were really, really, really sad when the fire happened. So, every year when we open, it's like a celebration. The building owner always says, 'Happy Iceland New Year.'"
Mullins, who also coaches skating at Iceland, said that she shares in the excitement of Iceland.
"I don't know how to describe (the excitement at Iceland), but you can just kind of feel it in the air that it's a happy, family, loving place," she said. "We try to be really friendly (with) our customer service. But the main thing is sometimes when you go to other ice rinks, they are strict about what you're allowed to do. It's really rigid. And here we just try to make sure that everybody has a really good time."
But Mullins noted that Iceland does enforce a variety of rules for the purpose of ensuring the safety of its customers.
Mullins mentioned that with this approach to serving its customers, Iceland has many return customers each year.
In addition to its public skating sessions, Iceland offers ice-skating lessons, a skating school for beginners, pickup ice hockey game sessions, and broomball, which is a non-skate, ice hockey-like game in which participants wear shoes instead of skates.
Mullins said that Iceland attracts people, who are generally in the age range of 3 to 70 years old.
"Skating is one of those sports that people can do throughout their whole life, and so we see all ages here," she said. "Here, I have a gentleman that comes and skates at public sessions once a week and I would guess his age around 76."
Iceland will be holding a special ice show on Saturday and Sunday, Dec. 16 and 17 at 7 p.m. Each show will last about an hour and 45 minutes.
Following each performance, the cast, as well as Santa Claus, will skate with members of the audience during an hourlong, public skate session.
Admission is $10 per show.
Mullins provided a special invitation for the public to visit Iceland.
"We have (ice-skating), hot chocolate and we play holiday music," she said. "So, come down and enjoy the holidays with your family (at Iceland)."
Iceland is currently offering daily, public skating sessions from 10 a.m. to 10 p.m. through Nov. 26.
Following that schedule, the facility will begin its normal, Thursday through Sunday schedule. Hours of operation during that time will vary.
However, Iceland will temporarily be open daily, from 10 a.m. to 10 p.m., from Dec. 15 to Jan. 6 to accommodate local schools' winter breaks.
Iceland's final day of operation as an outdoor facility will be Feb. 26.
For additional information about Iceland, call (916) 925-3121.