Arden Fair Mall has grown, evolved with the times
In 1957 – 11 years after the opening of the area's first shopping center, Town and Country Village – Arden Fair Mall on Arden Way emerged within a still considerably rural area where farm animals and a wide variety of wildlife roamed on open land.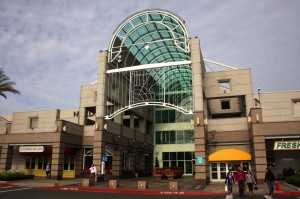 But that was then and this is now, as Arden Arcade, which was determined by the Census Bureau to be among the nation's 10 largest unincorporated communities as early as 1961, and the mall have grown with the times.
To the mall
Local residents received early word regarding the future construction of the mall, which was then referred to as the Swanston Estates Shopping Center, in the Dec. 25, 1954 edition of The Sacramento Bee.
Complete with an artist's rendition of how the mall was intended to appear, the report summarized the project, which would be constructed near the North Sacramento Freeway (today's Business 80/Capital City Freeway).
It was also reported in the article that the project's developers Philip F. Heraty and William Gannon had revealed that the estimated $20 million to $30 million mall would include a $2.5 million Sears Roebuck and Co. department store.
Besides Sears, which had a designated 30-acre site within the project, the precise location of the mall's other future businesses had not been determined.
The mall, which was initially a single-story, open-air complex located on 74.24 acres, experienced much early success, which led to various expansions, including the addition of a 200,000-square-foot Hale's department store in 1960.
By 1962, the mall consisted of Sears, Hale's, Kress, Woolworth's, the Carousel restaurant and bar, Leed's Shoe Store, Thom McAn Shoes, Sacramento Savings and Loan, Gallenkamp Shoes, Rogers Jewelry, Smiths Clothiers, Beverly, Heeseman clothier and Lane Bryant, which still operates in its original location.
Expanding, evolving
About a year later, construction was underway on a $1.5 million, 110,000-square-foot addition to the mall.
The project, which was developed by the Kassis Investment Co., included space for such businesses as a Stop-N-Shop supermarket, Thrifty Drug Store, Cork 'n' Bottle liquor store, one of the state's first General Electric service centers and a Sperry and Hutchinson Green Stamps redemption center.
The addition also featured a center for restaurants, called the Arden Fair Food Circus.
Long before the arrival of the mall's present-day food court, Arden Fair drew many visitors to its 27,000-square-foot Food Circus, which was developed as a result of the success of Country Club Plaza's popular Gourmet Lane.
Serving as a sort of food mall within the mall, the Food Circus was a one-stop destination spot for food and snack offerings from such businesses as Pagluica's, Frank Fat's, The Steak Pit, Jumbo's Burger Basket, Hof Brau, Hot Dog on a Stick, Frank's Fisherman's Wharf, Carnation Ice Cream and Pastry, Country Candies, The Nut Shop and Tastee Do-Nut Parlor. Overall, the Food Circus included about 15 businesses.
Like Sears, Weinstock's department store, which later replaced Hale's, also served as a longtime anchor of the mall.
In front of Weinstock's, which has been the site of Macy's since 1996, was a Super Slide that was used by many people, who slid down its slopes on burlap, gunny sack bags.
Mall memories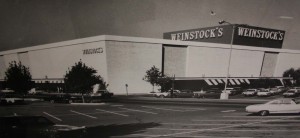 Arden Fair employees Stan Bray and Steve Reed have fond memories of visiting the mall during the 1960s.
Bray, Arden Fair's assistant manager of operations, said that his connection to the mall continuously dates back to his teenage years.
"I used to work for a magician at the Food Circus when I was about 13 or 14 years old," said Bray, a 1975 graduate of the now-closed La Sierra High School. "Every Saturday and Sunday we'd put on magic shows and I was (the magician) Mr. Whammy's assistant. He used to work for Ringling Bros., so he had all the tricks and all kinds of animals like show goats and show monkeys and show dogs. I'd load up all the stuff in the secret compartments or bring in the dog or whatever. He would give me $5 per show and my money would go to feed my own animals (at home) on an old chicken ranch off of Madison Avenue by Hemlock (Street)."
Bray said that other members of his family were also connected to the mall, as his mother, Janet, managed the Tastee Do-Nut Parlor and his brother, Derrick, managed Wallpapers To Go.
After leaving his magician's assistant position, Bray, who is in his 36th consecutive year working at Arden Fair, was hired by Frank Kassis as a Food Circus busboy, which led to other jobs at the mall, including his former job as a maintenance worker.
"I started working here in 1973 and I've had every job (at the mall) that you can think of," Bray said. "I tell people that when I look at a wall (at Arden Fair), it's like X-ray, because I know what's in that wall, I know what's on the other side of that wall; I can just keep on going."
Reed, the mall's security and guest services manager, said that as a teenager, Arden Fair was one of his favorite places to visit with his close friends, Butch Godfrey and Jim O'Neil.
"The first time I came to the mall was in about 1961," said Reed, a 1965 graduate of Bella Vista High School in Fair Oaks. "I was a freshman at Bella Vista and the biggest thing was going to the Food Circus and I would also go to (Thrifty) with my buddies (Godfrey and O'Neil) and get ice cream cones for just a nickel (each). The Food Circus had all these various restaurants with food from different countries, so you could go in and eat different cuisines from different cultures. Back then, Arden Fair and Country Club were the places to go. We'd go over to Country Club and cruise the parking lot and then with whatever money we had, we'd go to Arden Fair."
Reed's association with Arden Fair continued after his high school years, as he worked as a trash bailer and stock boy for Weinstock's.
After serving about two years in the Vietnam War, Reed, whose sister-in-law Diane Grissom once worked in Weinstock's cosmetics department, continued his work at Weinstock's while earning a pair of teaching credentials and a bachelor's degree in communications at Sacramento State College (now Sacramento State University).
Reed taught classes at local schools, including Arden and Jonas Salk, before becoming a Sacramento Police officer, patrolling the mall's grounds as an off-duty officer and being hired as the mall's security manager 10 years ago.
Remaking Arden Fair
Arden Fair underwent a major renovation in about 1969, when it was converted into an indoor mall.
For those who recall Arden Fair during the 1970s, a listing of some of the stores shown on a 1974 blueprint map on file with the mall's management should bring back plenty of memories.
Included on the map is the Food Circus and aforementioned businesses that continued to operate at the mall such as Weinstock's, the Thrifty Drug Store and Roger's Jewelry, as well as a variety of other stores.
These stores include: House of Fabrics, Olin Mills Photography, Arden 4 Cinemas, Kay-Ross Fashions, Pic-A-Dilly women's clothing store, See's Candy, Karmelkorn Shop, Beadazzled retail jewelry store, the Plum Tree gift shop and Imperial Barbers.
A pair of other Arden Fair stores during this era were Mervyn's department store and Corti Bros. grocery store.
Bray said that the area just west of the mall remained fairly rural in the 1970s.
"In the early 1970s, I would go across the street from Arden Fair, because I used to be a falconer. Across the way was all barbed wire and there was not one building there. It was all sheep over there. I would climb trees looking for owls. I never found an owl, but there were a lot of red ants."
Bray added that in Arden Fair's early years, a road led through the middle of the mall to a neighborhood, which was located alongside a cow pasture.
He also said that the area to the east of the mall, where the architecturally unique Best Products – now Best Buy – was located was an open field where local youth often road motorcycles.
Getting to the mall of today
Although Arden Fair has experienced a variety of changes throughout the years, no project affected the image and prosperity of the mall more than its 1989 expansion, which doubled the size of the mall.
The project increased Arden Fair from a single-level, 196,000-square-foot mall to a two-level mall totaling more than a million square feet and including connecting bridges and escalators.
The mall also includes a pair of parking garages, one built in 1989 and the other in 1993.
Bray said that despite the addition of these garages, the demand for on-site parking during the holidays has continuously exceeded the mall's estimated 5,400 parking spaces.
"After the (1989) expansion, there were more people who wanted to come to Arden Fair (during the holidays) than (on-site) parking (could accommodate), so we had to create a way to help that, so we started the off-site (free) shuttle (to and from the nearby Cal Expo) and we have been doing that for 20 years," Bray said.
As Arden Fair looks to the future, the mall, Bray explained, intends to maintain its efforts to evolve with the times.
"We have to keep up with the times and that's why we're constantly changing things and improving things and making it better and making it fresher," Bray said.
And if history continues to repeat itself at Arden Fair, the mall should have a very bright future.
E-mail Lance Armstrong at lance@valcomnews.com.