From film crew worker to Piatti's executive chef
Ryan O'Malley graduated with a degree in film and video studies from the University of Michigan. So how did this self-taught cook become Piatti's executive chef?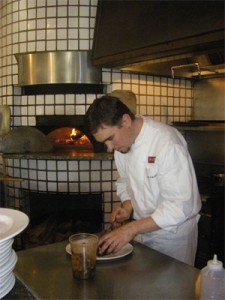 Since the age of 16, O'Malley has worked various restaurant jobs from washing dishes to waiting tables. After college, he landed a job as a cook in a minute Mexican restaurant in Ann Arbor, Mich.
"The owner of the restaurant was open to my suggestions, and without any formal training I started experimenting there," O'Malley said. "I fell in love with cooking for cooking."
The chef moved to Los Angeles to put his film and video studies degree to work and spent four years as a freelance crew worker. He told himself that if he ever switched careers, he would become a chef.
"As a parent you look and want the world to be a better place for your kid," O'Malley said. "With a love of cooking and a love of food, that was a way I saw I could make a difference in my son and family's life, and now in other people's lives."
Switching stages
Through various twists and turns, O'Malley ended up in the Sacramento area and landed a position at La Provence in Roseville. Within six months, he worked his way up to lead cook at dinner.
Following his stint at La Provence, O'Malley went to Spataro for a different experience, "where I was really introduced to Italian cooking."
O'Malley served as the sous chef at Hawks in Granite Bay and helped open The Grange restaurant at The Citizen Hotel in downtown Sacramento before landing at Piatti's, located at 571 Pavilions Ln., in April 2009.
"The hallmark of what I do is simplicity," O'Malley said. "The thing with simplicity is the simpler it is, the more you have to nail it."
O'Malley believes in treating ingredients minimally, using their essence and letting the quality shine through. But don't confuse "simple" with "boring." The ingredients of Italian fare may not have a lot of complexity to them, but creating and refining the dishes is about technique.
"If there's not a lot of stuff to hide behind, then everything has to be right on point," O'Malley said. "And that's one of the beautiful things about Italian food, is that it's focused on the ingredients."
Going local in the kitchen
Piatti's dishes are designed around the seasons, O'Malley said, and he makes a point of buying as local as possible.
"When I took over, one dish that was almost always sold was the Scottish farmed salmon," said O'Malley. "I wanted to get away from that. Even if the fish was sustainably raised, flying it in from Scotland everyday isn't very sustainable. I look for items closer to home."
In accordance with traditional Italian cooking, O'Malley knows the concept of "locavore" goes beyond the latest trend. Europeans, he said, have been eating that way for centuries and the same way of thinking has only recently become a hallmark of American cooking.
Europeans eat what's in the market, in town, that day, O'Malley said. There are no supermarkets per say, no one-stop shops.
"They seem to have a closer connection with the earth, the farmer, what's there and readily available," he said. "I think that's the way people should eat. It makes sense."
O'Malley knew when he became the executive chef that it would be hard to walk into a restaurant with a large staple of regulars and change things. His goal is for patrons – both regulars and new alike – to not only expect quality, well-prepared, flavorful food, but also have the confidence to order something new and find that the dish exceeds their expectations.
"Everyday when I walk through the kitchen doors I want to find a way to make the food better than I did the day before," said O'Malley. "I think it's that passion that truly fuels a good cook."
E-mail Elizabeth at vcnnews@valcomnews.com.