City starts review of apparent lowest bidder for construction of downtown railyards track relocation project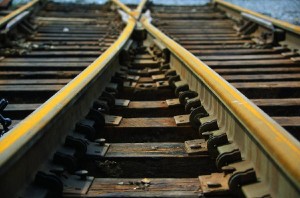 Preliminary bid results indicate that the City of Sacramento and its development partner, a subsidiary of Inland American Real Estate Trust, Inc., have an apparent low bidder to construct new tracks at the downtown Railyards. Three bids were received. The apparent low bid came in at $41 million. The project budget was set at $44 million.
Within the next week, The City will determine whether the apparent low bidder meets all the terms, conditions and specs of the bid and whether the bidder has the overall capability to satisfactorily complete the project. If confirmed, the City Council will be asked to award the bid to the winning construction contractor at the March 22 Council meeting. A ground breaking is anticipated in mid April.
The results are most welcome news to the City as the first round of bids last May came in $12 million over budget. The over budget bids coupled with the property falling into foreclosure under previous property owner Thomas Enterprises, Inc., delayed the City's ability to rebid the work until January.
The project will place new railroad tracks 500 feet north of the present ones, which stand in the way of opening up the Railyards to the rest of downtown. Work is expected to take a total of two years to complete. With the current tracks out of the way and access to and from downtown provided, the gateway will open for future housing, shops, museums and entertainment venues and for future expansion of the depot into a world-class regionalmultimodal transportation center.