Special to valcomnews.com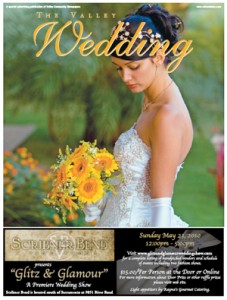 The early February edition of "The Valley Wedding."
"The Valley Wedding" Special Advertising Section is a new publication of the Valley Community Newspapers (publishers of the Arden-Carmichael News, the East Sacramento News, The Land Park News, The Pocket News, California Kids and The Valley Shopper). This section is aimed at brides and grooms living in the Sacramento region and planning a wedding using local vendors. Inside, articles have information ranging from planning schedules to selecting the different professionals.
Download the February edition of "The Valley Wedding" here.
Download the March edition of "The Valley Wedding" here.
 Download the second March edition of "The Valley Wedding" here.
This publication was inserted into all four community newspapers. The section was available in the early February and early March and late March editions of those newspapers. The February and March editions have different editorial content and are marketed as unique publications.
For information on advertising in The Valley Wedding or any of our future special editions, call (916) 429-9901 or contact an advertising representative directly, please e-mail them at (listed alphabetically):
Melissa Andrews:
melissa@valcomnews.com
Patty Colmer:
patty@valcomnews.com
Marc Harris:
marc@valcomnews.com
Linda Pohl:
linda@valcomnews.com
About "The Valley Wedding"
Not just a "List Of Things To Do," – this is helpful information and advice for today's wedding couples. From the planning process to all the options for the wedding, reception and honeymoon.
Weddings have changed. Although we'll still focus on traditional wedding ceremonies and receptions, with a general overview of the process, the articles will also explain the new trends and ideas.
The main emphasis in the columns will be to make it possible to plan easily, with a minimum of stress.
We're interested in vendors that know how to deal with the bride and groom – with respect and honesty. The goal is to make their wedding the most fun filled exciting time in the couple's life.