$500,000 gift to fund Sacramento State nursing lab
Sacramento State's efforts to help meet California's urgent need for highly skilled registered nurses will get a significant boost, courtesy of a $500,000 grant from the Frank M. and Gertrude R. Doyle Foundation, Inc. The gift from the Nevada-based foundation will equip and furnish a clinical simulation lab in the Division of Nursing's new facilities in Folsom Hall, the former CalSTRS building.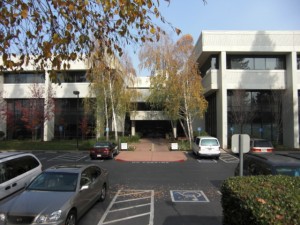 In response, the board of directors for The University Foundation at Sacramento State has pledged to raise $500,000 in matching funds.
"We are committed to helping create an outstanding educational environment for Sac State's nursing students," said George Crandell, chair of the University Foundation board.  "At some point, a nurse will touch your life. You will want that nurse to have the best training possible."    
"This generous gift from the Doyle Foundation, combined with the matching commitment of the University Foundation, will allow us to make significant strides in the university's efforts to provide the state with the well-prepared nursing graduates it needs," said Carole Hayashino, vice president for University Advancement. "It is an example of the type of community support for enhancing our academic programs that forms the foundation of our Destination 2010 initiative to make Sacramento State a premier metropolitan university."
The new simulation lab will play a key role in the nursing program's ability to expand both the number of nursing students and the preparation they receive. The lab will feature state-of-the-art human patient simulators-mannequins that mimic the symptoms and mannerisms of live patients, including a mother giving birth. These life-size "patients" will enable students to practice techniques and processes they've learned in the classroom in a hospital-type environment, complete with hospital beds and bed-side monitoring equipment.
While the university has been using simulated patients on a limited basis, the new lab will improve access and bring the clinical process to play in all types of coursework. "Simulation will give us the ability, in every class, to employ the clinical environment without relying on our fellow agencies to provide services, which are in short supply," said Ann Stoltz, professor and chair of the Division of Nursing.
Stoltz says the high-level lab will also ensure the each student gets equal opportunities to put their training in practice by responding to similar scenarios.
"We can standardize the learning experience. We can make sure each student experiences the same situations, which you can't do in a clinical setting," she said.
The lab will also be available as a resource to other agencies who don't have their own simulation equipment and as a possible training resource for first-responders to address organ and tissue donation scenarios at accident sites. At a future date, it also may be used to help students meet State of California Board of Nursing requirements for clinical hours.
In addition to the simulation lab, the Division of Nursing's new facility will have classroom and office space as well as standard skills labs. Stoltz says the Division of Nursing, which recently celebrated its 50th anniversary, could be physically equipped to expand its student base by Fall 2011, depending on the status of the university's budget.
The Frank M. and Gertrude R. Doyle Foundation, Inc. has a history of supporting nursing education programs in California as well as scholarships for students from northern Nevada and southern California. In awarding the gift to Sacramento State, the Doyle Foundation praised Sacramento State for its "dedication to the life-altering potential of learning that balances a liberal arts education with depth of knowledge in a discipline."
For more information, contact the Sacramento State Development Office at (916) 278-6989.