Rio Americano musicians selected in national competition
"Spaghett!" a jazz combo comprised of Rio Americano High School students Zachary Darf, Zach Giberson, Victor San Pedro, Nathan Swedlow, Jarrett Tracy, and David Williams was selected in early January to participate in the Charles Mingus High School Competition and weekend festival at the Manhattan School of Music in New York City February 12 – 15, 2010.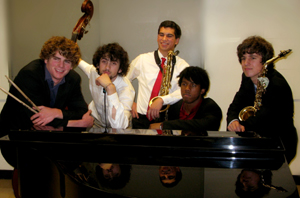 "This honor brings a new level of prestige and exposure to the amazing students we work with each day. Their hard work and effort is rewarded with the opportunity to perform with some of the finest jazz musicians in the country," said Rio Americano High School Band Director Max Kiesner in response to the announcement of finalists by festival sponsors last week. 
Sponsored by Let my Children Hear Music/The Charles Mingus Institute, a New York City-based 501(c)(3) non-profit organization devoted to expanding and promoting the legacy of Charles Mingus, the festival will include master classes, clinics, lectures, and concerts in connection with Mingus music.
The event will culminate in a "battle of bands" between twelve top big bands and combos from around the country. In the Regular Combo Category, the Rio group is one of only three combos selected nationwide, and one of the first groups ever selected to participate from outside of the New York Tri-State area.
For more information on the Charles Mingus High School Competition and Festival, visit www.mingusmingusmingus.com/jazzeducation.  
The Rio Americano High School band program, under the combined direction of Josh Murray and Kiesner, provides high quality music education to over 180 students in four levels of concert band and three jazz ensembles. Rio Americano High School bands have toured in Australia, Europe, Japan and China and won national recognition at such prestigious events as the Essentially Ellington and Monterey Jazz Festivals. Plans are currently underway for a summer 2010 performance tour of Argentina.
For additional information on the Rio Americano High School band program, visit www.rioband.net or contact Josh Murray (jomurray@sanjuan.edu or 916-971-7512).