Bocce Ball: An East Portal Park tradition
Among the premier historic landmarks of the East Sacramento area is East Portal Park and just about anyone who knows about this neighborhood park is familiar with its bocce ball courts.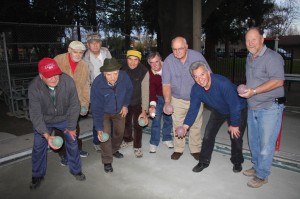 As the centerpiece of the park, which has deep Italian roots, are the courts, which on just about any given afternoon or evening are occupied by groups of people engrossed in the game, which brings out heavy doses of both competitive spirit and camaraderie.
Originally connected to the rich Italian culture of East Sacramento's historic Little Italy neighborhood, the game initially drew only men of Italian descent.
But despite continuing to draw about 45 percent Italian players to the courts, the sport is more closely a representation of the diversity of the community.
No longer is it a men-only sport and the East Portal Bocce Club, which is part of the United State Bocce Federation, consists of members with heritage from throughout the globe.
This decision to allow women and non-Italians to join the club was initiated in 1991 through the club's then-president Vic Cima.
As a result of this decision, many new faces joined the club and became educated about bocce ball, which is believed to have been derived from a more primitive Egyptian version of the sport.
The first bocce clubs
Popularized in Italy, where the first bocce clubs in modern times were established, the game, which is generally played in groups of two or four and most closely related to lawn bowling, was brought to the United States by Italian immigrants who came to America in masses during the turn of the 20th century.
Originally played in Sacramento at Southside Park as early as the 1930s, the sport has been a staple of East Portal Park since its opening in about the early 1940s.
Although bocce has been played at East Portal Park since the park's early years, it was not until the early 1970s that the club was founded under the direction of Tony Peretti.
As a proud Italian, American and war veteran, Peretti founded the East Portal Bocce Club Fourth of July Tournament, which continues to be held each year and begins with the Pledge of Allegiance and the playing of the "Star Spangled Banner."
The club hit one of its lowest points during the beginning of its second decade, as membership dropped by about 50 percent.
This decline in membership was not indicative of the popularity of the sport, however, as is evident by a joke among members at the time that the club had "too many visitors at Nicoletti's" – the funeral home at 5401 Folsom Blvd.
In response to the club's membership woes, Cima recruited new members from the Piemonte Reale Benevolent Society, where he was serving as president.
Cima's inclusion of women and people of other cultures proved to be the biggest turnaround for the club, which grew to more than 150 members by the late 1990s and now consists of about 260 members of which about 80 are female.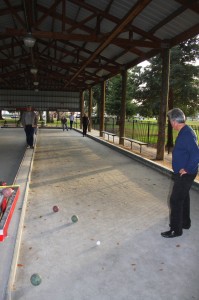 Additionally, membership of the club ranges from about 20 years old to 93 years old and the average age of its members is 65 years old.
Diversity and depth
East Portal Bocce Club President Bob Martinez is a prime example of the diversity of the club.
Martinez, who is an East Sacramento resident of Mexican heritage, was first introduced to the game while vacationing with his wife in Monterey.
"We were staying by the Presidio right there by the wharf and it just so happens that in the Presidio itself there are three bocce courts and so I was kind of watching these guys playing bocce," Martinez said. "The Sicilians were coming off the fishing boats in the late afternoon and they were playing the Mexican restaurant workers from the (nearby) restaurants. They invited me to play and I just rolled a few balls and I just got really interested in (the sport)."
A friend of Martinez later invited him to the East Portal Park courts, where he became more acquainted with the game and soon afterward joined the club.
Although each member of the club is proud of their own particular heritage, Martinez said that those who become involved in the game of bocce ball join an intimate group of people who are like a big Italian family.
"Once you (get involved with bocce ball), everyone starts recognizing you and you feel a part of something much bigger," Martinez said. "It's like an extended family and everybody's Italian when you start playing bocce."
Martinez, who joined the club seven years ago, said that although bocce ball is a very simple game to learn, it is undeniably a very challenging sport.
"A lot of people know this and it's like (one of the club's members) Chito (Negri) said, 'It takes about 20 minutes to learn bocce, but it takes a lifetime to learn the strategy.' And it's true. It's a simple game that's easy to learn, but it can be very complex to learn in terms of strategy and that strategy is what's endearing and creates kind of this opportunity for exchange in banter. So, I would say that anyone who is interested in learning something that is not all that difficult to learn the rules of (would likely) enjoy this game. You can be as good as you want to be. All you have to do is stay with it and the more you're with it, the more you realize all the nuances that are associated with this game and the people and the camaraderie. It's great."
Mr. Bocce Ball
Poggio, Italy native Dante Urbani, 77, who is known as "Mr. Bocce Ball," said that he is very aware of the strategy of the game.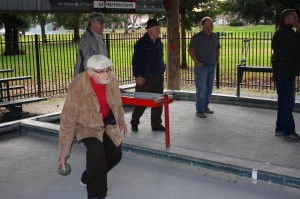 "There's a lot of strategy," said Urbani, who grew up with the sport and joined the local club 10 years ago. "You have to have a lot of finesse and you have to be convinced that you are better than everybody and that gives you more of an edge. You have to have a lot of confidence, but I think that people should just have that in general in life and feel secure about things."
Another member of the club, 84-year-old Ottavio Luchini, said that his memories of bocce date back to about 1935 when he used to play the game in his native town of Massarosa, Italy, near Lucca, with his childhood friends, Basilio, Renio, Filippo, Sandrino and several others.
"When I was in Italy, we used to play with rocks on the dirt, because we didn't have any balls or courts," Luchini said.
Although he first arrived in Sacramento on Feb. 4, 1949, Luchini said that he has only been playing bocce in the capital city since about 2000, since he was a longtime card player at the Dante Club.
Known nationwide
The East Portal Bocce Club is far from just a community story as the organization has gained much recognition as a premier club throughout the nation.
And being a premier Northern California club is alone quite notable, considering that the majority of the nation's bocce clubs are located in Northern California.
Hanging from the wooden rooftop that covers a pair of the East Portal Park's four courts is a banner, which celebrates the 2004 USBF B-bracket national champions, which was won by a team consisting of Jim Fellos, David Zaffa, Jack Roupp and Jack Toige.
With efforts being made to add bocce to the sports of the Summer Olympics, the club hopes to have a few of its members become Olympians, including Vern Cooper, who is currently ranked No. 10 in the United States.
Cooper, who is working toward his goal of participating in the World Bocce Championships, is also a certified world bocce referee.
Martinez said that he enjoys being a part of the rich tradition of bocce ball at East Portal Park.
"It really is something that's community affirming and I'm very much committed to the East Sacramento community and to me, bocce is very much a part of its lifeblood," Martinez said. "It sustains and enhances the community and it brings that cultural vitality and to me, that's what makes it so special. And also, I just love playing it, so anything I can do to encourage others to play, I want to do it."
And encourage, he does, as Martinez said that he always advocates new membership in the club.
With league play occurring every Monday through Thursday from the spring through the fall, Martinez noted that generally the best time for newcomers to visit the courts is on the weekends.
"There is always somebody down here on the weekends who is willing to talk to people about the club," Martinez said.
Those desiring to learn more about bocce ball, the club or are interested in becoming a member of the club can call Martinez at (916) 717-1947 or visit the Web site www.eastportalbocceclub.com.
E-mail Lance Armstrong at lance@valcomnews.com.