East Sac artist thrives at Brickhouse Art Studios
Everyone deals with a traumatic event differently. Some get depressed, others get angry while some shut down completely. For East Sacramento resident Jeff Mains, he found art to be his coping mechanism.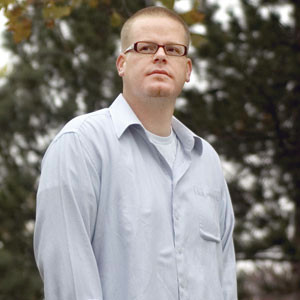 On September 10, 2001, Mains was shot in the abdomen by Joseph Ferguson, who killed five people and then himself in one of the most horrific rampages in Sacramento history.
"I just got caught in the crossfire when he was shooting at the police," Mains said. "I was just in the wrong place at the wrong time."
Understandably, the event caused Mains' life to flip upside down.
He moved to Napa for three years to recover from his injuries, both physically and mentally, as well as work.
"(Napa) was a nice place to be," he said. "But I was at a crossroads in my life."
The time he spent in Napa gave him time to reconnect with drawing, a passion that lay dormant since high school. He drew a lot as a child but never considered it to be something he could do for a living.
"Half the time in school I was drawing instead of listening," he joked. "But I kind of lost direction after high school."
After he recovered from his injuries, Mains moved back to Sacramento. He went on to get a job at the Crocker Art Museum where he worked for three years. His passion for the arts continued to grow and his work at Crocker qualified him for a new job.
"A friend of mine at Crocker introduced me to Dave DeCamilla (owner of the Brickhouse Gallery & Arts Complex) and it just kind of went from there," he said.
Life at the Brickhouse
Three months ago Mains was hired as the gallery director of the Brickhouse in East Sacramento. And if Mains has his way, the Brickhouse will become a shining example of Sacramento's burgeoning art community.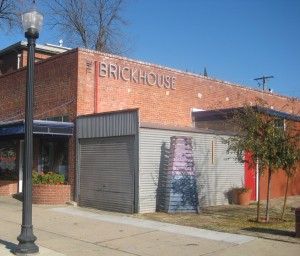 "We have pretty much everything on display here," he said when asked what kinds of art can be found at the Brickhouse. "I would say that it's borderline abstract with paintings using all kinds of materials."
Mains' vision of what the Brickhouse could eventually be has impressed DeCamilla. "Before Jeff was here we had some people that were talking about art more than they were making it," DeCamilla said. "We had all kinds of noise and parties but no real body of work."
The talent currently on display has Mains excited about the future of art not only at the Brickhouse, but in the Sacramento area.
"I think people who come in and look at the pieces we have in here will come away with an understanding that the art is pretty raw and that the place has a positive energy," he said. "I want the place to give off a strong vibe of the local art community."
Along with the pieces that can be enjoyed from the perspective of an art-lover, the Brickhouse also offers classes as well as studio space to perspective artists. Move quick, though. Eight of the nine workspaces were taken as of Monday.
"We're going to try to have classes for all kinds of art," Mains said. "Oil painting, charcoal drawing and mixed media as well."
And while Mains himself is an artist, none of his works adorn the gallery walls. Instead, Mains' paintings, which he calls "representational with a twist of impressionist," are often given away to interested parties. However, all the art in the Brickhouse is for sale. According to Mains the prices vary but nothing inside the shop is outrageously priced.
The Brickhouse participates in Second Saturday festivities, which has brought people in the doors to see the raw works of the talented local artists.
"We have all kinds of finger foods available for people who want to walk through and look at everything during Second Saturday," he said. "People can walk through workspaces and we're trying to get to the point where we have demonstrations in the gallery such as ice sculpting."
While the Second Saturday event is a good way to bring people in the door, Mains wants to eventually host events specific to the Brickhouse. "I'd like to mix it up in terms of the art we have here," he said. "Different people enjoy different types of art and I think we can provide that."
The Brickhouse Gallery & Arts Complex is located at 2837 36th Street. For more information on the gallery, its works and operating hours, call 457-2502 or email art@brickhouseoakpark.com. The gallery's Web site can be viewed at www.brickhouseoakpark.com.
E-mail Benn Hodapp at benn@valcomnews.com.