The Art of Ramen: Shoki Ramen House
Tucked into a little, unassuming building in a Curtis Park neighborhood is one of the precious gems that make Sacramento a culinary treasure.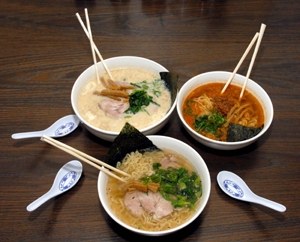 The Shoki Ramen House boasts an authentic Japanese chef who is not only talented and well trained…he is innovative as well.
Yasushi Ueyama started his culinary career in Japan. His intended career path was to become a dietician, but he discovered that he loved the food industry more.
"My husband was going to be a nutritionist," said Kathy Ueyama. "Then he opened a restaurant in Japan and it was a success."
Kathy grew up in a military family. Her mother was Japanese, her father was Canadian. Her parents were posted all over the world, eventually retiring from Mather Air Force Base. She travelled to Japan to learn more about her heritage. That's when she met Yasushi and the rest, as they say, is history.
"We came back to the United States and opened up a new place in Folsom," she said. "It was a hard start. Business is different in the U.S., and it was also at the height of the sushi boom. American customers had only one concept of Japanese food. Yasushi wanted to prepare food that is healthy for people, and not all sushi is as healthy as people think it is. And, he had discovered that his heart is in ramen."
The Ueyamas decided to focus entirely on ramen, and moved their business to Sacramento.
Ramen in Japan is very salty, and typically only the noodles are consumed. The broth is too salty to be consumed most of the time. Yasushi wanted to use his nutritional and food chemistry education, his restaurant experience and his personal experience to create a new kind of Japanese ramen that is a healthier option. His concept was that everyone, from babies to senior citizens, could enjoy his ramen.
Yasushi's "magnificent obsession" has taken the craft of ramen making to an art in this one-of-a-kind Sacramento enterprise.
After much experimentation, he created several ramens that are healthy, delicious and nutritious. Yasushi spends hours working with the finest ingredients, custom blending flavors for his specialty broths.
Recipe like no other
At Shoki Ramen House, the broth for the ramen is made entirely from scratch, from the finest ingredients available. No cans are used. No MSG or preservatives are added to enhance the flavor of the broth.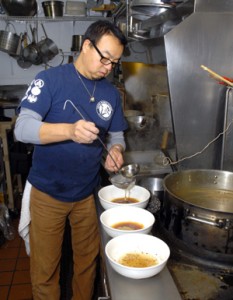 Yasushi spends six to eight hours each day, carefully crafting broths: one is made from meat and vegetables; another is "ocean" based and is made from fish, kelp and other ingredients harvested from the sea. A third broth is created from blending the two. He has also created something unique in Japanese cuisine: a vegetarian/vegan broth.
"In Japan, you won't find vegetarians or vegans as a rule," Kathy said. "We've found that people here request it. In Japan, ramen is usually pork or meat based. Don't assume that all ramen is vegetarian or vegan, because it isn't. We recommend that vegetarians and vegans let us know their preference when they order, so we can meet their needs."
When creating the broths, Yasushi carefully removes the unhealthy fats by skimming them off the surface. This leaves only healthy, flavorful oils in the end product.
Noodles are a key component of ramen. What many ramen lovers may not realize is that the thickness of the noodle can change the subtle flavors of the ramen.
"Thin noodles go well with the Shoyu Ramen," Kathy said. "It is a soy sauce based broth. Thicker noodles go best with a spicy ramen, such as the Tan Tan Men Ramen. The balance and harmony of all the ingredients is very important."
Ramen bowls at Shoki Ramen House come in three sizes: small, regular and large. The ramen is to be consumed on site, right at the restaurant. In fact, in Japan, it is considered polite – and culturally appropriate – to slurp your ramen and run. It is the ultimate "fast food" because the fresh noodles must be consumed before they become soggy. This is also why Shoki Ramen House is not able to offer "take out."
"We encourage people to enjoy their ramen quickly," Kathy said. "Because there is often a line at the door, filled with people waiting for their turn."
On the menu
There are five basic ramen bowls offered at Shoki Ramen House. All can be customized, so feel free to ask for recommendations. Each bowl is a work of art, crafted for the individual.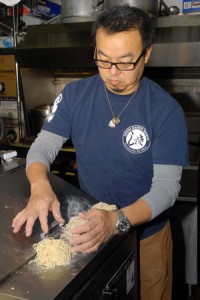 The Shoyu Ramen is crafted with a high quality soy sauce imported from Japan. It is topped with one slice of Chashu (pork imported from Denmark), spinach, menma (bamboo shoots), green onions and one wafer of seaweed. (Small $5.90, Regular $6.90, Large $8.90).
Shio Ramen uses a special sea salt imported from Japan. It is also topped with one slice of Chashu, spinach, menma, green onions and one wafer of seaweed. (Small $5.90, Regular $6.90, Large $8.90).
Tan Tan Men Ramen is a spicy soy sauce based broth with Shoki original minced beef with goma (sesame seeds). It is topped with spinach, menma, green onions and one wafer of seaweed. It is available in a variety of spiciness levels, from mild to super spicy. The Ueyamas recommend that beginners start with mild and work their way up. (Small $6.90, Regular $7.90, Large $9.90).
"Remember, we can always make your ramen spicier, but we can't make it milder once it's made," Kathy said. "It isn't possible to 'un-do' a spicy ramen."
Tsuke Men Ramen is chilled ramen noodles served with warm soy sauce based broth on the side. The dipping broth is slightly spicy. As with all Shoki Ramen House dishes, the spiciness can be adjusted, just tell your server. It is also topped with one slice of Chashu, spinach, menma, green onions and one wafer of seaweed.
Shoki Ramen House's specialty Soy Milk Ramen is a hearty, filling and satisfying dish. It features a noodle of Yasushi's own creation: a whole-wheat noodle.
"This is a ramen noodle of Yasushi's own creation," Kathy said. "It goes well with all of our broths. He has it made to his specifications at a company in San Jose."
The Soy Milk Ramen features a soy sauce based broth that uses soy milk produced locally by the Sacramento Tofu Company. The broth is about 80 percent soy. It is also topped with one slice of Chashu, spinach, menma, green onions and one wafer of seaweed. Sesame oil is served on the side. (Regular size only, $7.90).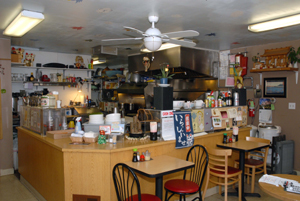 The little Curtis Park restaurant is developing quite a following for its tasty and healthful cuisine. In fact, many of Shoki Ramen House's customers are from the medical field.
"They appreciate the effort he puts into sharing healthy foods," Kathy said.
What's next for this ramen master and noodle innovator?
"Yasushi's next goal is to find a way to create a noodle that can do 'to gos'" Kathy said. "He is also a sake sommelier, so a larger location with more seating would be nice in the future, so he could focus on ramen and sake. This is America, and anything is possible here."
To get to Shoki Ramen House
Shoki Ramen House is located at 2675 24th Street in the Curtis Park neighborhood of Sacramento. Hours are Monday 5:30 p.m. to 9 p.m. (dinner only); Tuesday through Friday 11 a.m. to 2 p.m. (lunch) and 5:30 p.m. to 9 p.m. (dinner); Saturday 12 noon to 3 p.m. (lunch) and 5 p.m. to 9 p.m. (dinner); and closed on Sunday. For additional information, call (916) 454-2411.
E-mail Susan Laird at susan@valcomnews.com.