City officials push for more green waste containers in Pocket
They came with both barrels blazing: A city councilmember, a former mayor, and a dozen or so city employees there to make a point – containerized pick-up for green waste is the future, and it is time to get on board.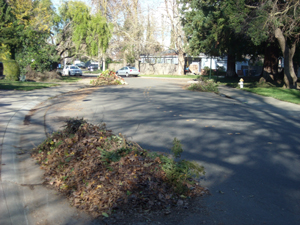 The Department of Utilities invited residents to an informational meeting Jan. 21 at Kennedy High School to discuss the benefits of using cans to dispose of yard and lawn clippings. Edison Hicks, general manager of Integrated Waste from Sacramento's Department of Utilities, led the charge, along with Sacramento City Councilman Robbie Waters and former Sacramento Mayor Anne Rudin.
The advantages are overwhelming: lower costs, cleaner streets, safer streets, and less likelihood of fostering West Nile virus.
"In 2004 we (the city of Sacramento) began using containers on a voluntary basis," said Hicks. "Right now, about 70 percent of the city is using containers, and we hope to be at 80 percent by the end of February. With loose-on-the-street pick up, we pay two employees, driving two vehicles, to service 1200 households. With containers, one driver can service 2,000 households a day."
And that difference in cost may be reflected in utility bills for Sacramento customers.
Currently, about $10 of your utility bill is for the removal of yard waste. If residents continue to use loose-on-the-street, their bill may increase by about $30 a month. A second can may be requested, for a charge of an additional $5 a month.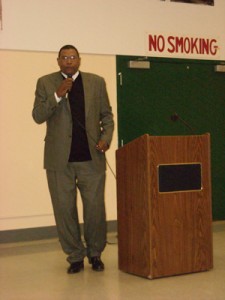 Customers using the 96-gallon cans will receive an additional eight loose-in-the-street collections, once a month for January, February, May and October. The months of November and December will see collections a minimum of every other week.
Walt Siefert from the Sacramento Area Bicycle Advocates spoke of the dangers to bicyclists by having to ride through piles of leaves, or around piles, thus riding into traffic.
And David Brown, manager for the Sacramento-Yolo Mosquito Vector Control told the group how piles of yard waste create a haven for mosquitoes.
"When people hose down their driveways and sidewalks, the yard waste gets into our sewer system, creating an ideal environment in the catch basins for breeding mosquitoes," he said.
"I couldn't wait to get the yard container," said Kathy Garcia, a 16-year resident in the Pocket. "I love it. I've been using the container since they first offered us the cans. And we put our green kitchen scraps in there, too. But I do hate seeing the cans left out on the street."
"I'm glad we went to containers," said Sue Armi, who has lived in her Pocket area home 33 years. My concern is during leaf season or after a big storm, if we'll have too much waste for the container. But I don't like the piles in the street. We live on a curve, and when cars come around the corner, it's constant clean-up."
But not everyone is in love with the idea of using the containers.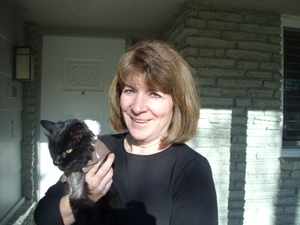 "It's not that I'm against them," said Ted Kellogg, "I think they (city utilities) should provide enough flexibility. Occasions arise when you need extra pick-up. During the summer there's often a need for some extra pick-ups without charging extra. I would not like a rate increase at all, but I guess I'd be forced to use a can if my bill goes up."
"Originally I chose to use the container. It used to be when you had overflow you could put it out in the street and it would be picked up," said Phyllis Hill, who moved into her Pocket home in 1973. "But a few months ago, I got a notice on the door saying I had 5 days to remove the yard waste, or I'd be fined $500. It took two days to cut it into small enough pieces to fit in my can and the cans of two neighbors. In the process, I found out I could turn my container back in, so I did. I'm unhappy if I have to go through that again. With our yards that are on the levee, we have a lot to deal with. I have 80 roses, 12 fruit trees, five redwoods, plus oak and dogwood. And I have three compost piles going. I can only do much."
What do you think about green waste containers? Do you want one? If you have one, what do you think of the service? And should the city be mandated to pass on the savings from the containers back to citizens? E-mail ryanrose@valcomnews.com. Letters on the matter will be printed in a future edition of The Pocket News.