By BENN HODAPP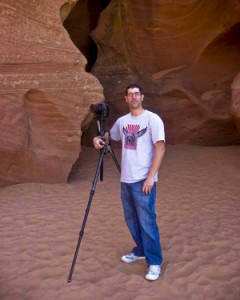 Now a world-class photographer, Jay Canter graduated from El Camino High School in 1996. (Photo courtesy Jay Canter)
Like many children, Jay Canter was given something to do with his curious and potentially destructive hands. Unlike most of them, however, Canter developed an infatuation that continues to grow to this day. At age six or seven, Canter was given a camera to keep his hands busy during the annual family trip to the Smithsonian in Washington, D.C. Idle hands could be a very expensive proposition in such a place, after all.
At first it was just point and shoot, of course. He knew nothing of lighting and shadows and any number of other tricks known by professionals. But what started as a project to curb youthful exuberance for the Carmichael-raised Canter, eventually turned into a life-long artistic journey.
"I had my first stuff published when I was 16," Canter said. "I was really into race cars and that was what I photographed first."
It wasn't long before car magazines became aware of his skills. Executives came from all over to see this kid with the camera. He went on to graduate from El Camino High School in 1996, but photography was still just a hobby for the most part.
The first national magazine to feature his work was a high-performance car magazine called "Turbo." The honor came at a pivotal time for him, as he was unsure about whether or not to pursue photography as a job.
"Photography is absolutely my full-time job now," he said. "I left corporate America 10 years ago."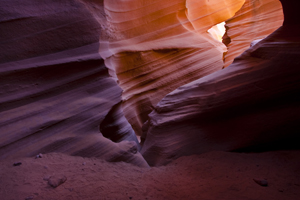 Eventually Jay Canter would like to open a gallery and studio where people can come and see his work permanently on display. (Photo courtesy Jay Canter)
But how did he come to be so outstanding that he was able to make a career off his skills? He took photography class in high school, but he never really absorbed the nuts and bolts aspects taught in structured classes. Instead, he learned by doing.
"I am totally self-taught," he said. "I have always had an artistic eye."
That might be just a bit of an understatement for someone who was named The Best Photographer in Sacramento by the Sacramento News & Review in 2008. Canter knew he was good, but even he was shocked to be given that honor.
"I had no idea about the award," he said. "I wasn't even in town when the issue came out."
Canter recalled getting a text from a friend congratulating him.
"Congratulations for what?" he laughed. After hearing the news, he sent his parents on a search for copies of the end of the year "Best Of" issue of the publication. The voting is all anonymous and to this day, he doesn't know who voted for him or which works of his inspired said votes.
Shots from around the world
In his career, Canter has traveled all over the United States as well as internationally. He has shot fashion, commercial, weddings, parties and the aforementioned sports cars, but now most of his work deals with scenery and architecture photography.
"I consider myself a real world photographer," he said. "I'm not going to cut your head off and put it on Brad Pitt's body. That's not what I do."
Canter takes pride in tinkering as little as possible with his pictures. Either he got the shot he wanted, or he didn't. It would appear that he generally gets the shot he wanted. His scenery pictures have been so well received, in fact, that Mercy San Juan Hospital features 32 works in its new six-story critical care facility.
Twenty pictures are in the lobby of the facility, while the others are in the actual patients' rooms. The pictures are what Canter describes as "iconic stuff from the western U.S." The pictures are from all over California including Pollock Pines and Placerville. They are meant to be colorful and cheery pictures in the hopes that they might make a stay in a critical care facility a little more comfortable for the patients.
An eye on the future
As for future projects, Canter has something in the works for Second Saturday on March 13 at the L Street Lofts at 1818 L Street. He will have an entire floor dedicated to his work alone and proceeds from the event will go to a local charity. As of right now, some of his pieces can be seen at the Appel Gallery at 931 T Street, which Canter said is the only photography-exclusive gallery in Sacramento.
Eventually he would like to open a gallery and studio where people can come and see his work permanently on display. In the meantime, Canter continues to spread his message about his craft. He teaches seminars, gives private lessons and helps with the photography department at El Camino.
"Just because you have a camera doesn't make you a photographer," he said. "I want to get that awareness out there that photography is an art and that we need to support local artists."
He also encourages people to ask him questions. He says that he has people come up to him all the time with photographical queries and he always answers each one to the best of his ability.
Canter has made it as a big-time photographer published all over the world, but he still calls just one place home.
"I love Sacramento," he said. "I have had opportunities to move to Los Angeles and New York, but I stay here because I love the community."
In the end, it looks like his parents had the right idea sticking that camera in his hands. He found what he loves and has become a success without destroying even a single priceless artifact.
People interested in buying some of Canter's artistic works can do so at his Web site www.jaycanter.com. There you can find contact info and pretty much anything you need to get a hold of his one-of-a-kind works.
E-mail Benn Hodapp at benn@valcomnews.com.