El Camino High School: Six decades of education, memories, tradition
With the recent change in the calendar year, El Camino High School is nearing a special milestone in its history, as this September will mark the 60th year since the school's opening. And in recognition of this fact, the following history of the school is presented.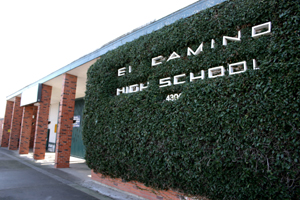 El Camino High School was a pioneer school of the San Juan Union School District, which became the San Juan Unified School District on July 1, 1960.
As the district's second high school, El Camino High began with a class of 225 students, a staff of seven full-time teachers and three part-time teachers, who met in a new unit that included eight classrooms and a shop building.
The school, which is located on 40 acres at 4300 El Camino Ave., at Eastern Avenue, continued to be in an under construction status for the following nine years, as more classrooms and facilities were added each year.
The early years
During the first year of its existence, El Camino High was complimented by its first principal, W.F. Hunter, who expressed his satisfaction with the school's growth.
"Less than a year ago, El Camino High School existed only as a partially completed building," Hunter wrote in 1951 for the first edition of the school's yearbook, The Aerie.
Continuing, Hunter wrote: "(The school) had no student body, no constitution, no organizations, no teams, no colors; it didn't even have a name. Today (in 1951), it is a living institution, full of dynamic, intelligent boys and girls. With the cooperation of the board of trustees and the administration, the faculty, the parents and the entire community, it has demonstrated its abilities in athletics, in public speaking, in the dramatic field, in preparing a constitution and organizing the student body. Best of all, it is developing students who can think, who can and will become leaders in community, national and world affairs."
During El Camino's initial year, the school established its green and white colors, its eagle mascot, a constitution, the aforementioned yearbook, various clubs and The El Caminian newspaper, the predecessor to today's The Eagle Eye, which was first published in 2001.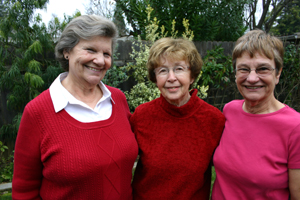 By the beginning of its second school year, El Camino expanded to include 585 students and 19 full-time and two-part time faculty members.
And by following school year, El Camino had grown to an even greater degree, as the number of students reached 1,014 and the number of teachers reached 41.
Growing the campus
Much of the school's expansion during its early years was due to the rapid growth in the area's housing market and the increase in military and civilian personnel at the nearby McClellan Air Force Base.
The school's first graduating class was the Class of 1954, which consisted of 269 students who participated in commencement exercises at the Memorial Auditorium on Saturday night, June 19, 1954.
Other events of the 1953-54 school year, which began with 1,535 students and 60 full-time teachers, included the first football game at the school's football field, Eagle Field, which later included 5,200 seats, and the first Senior Ball.
In 1956, the school was under the direction of its second principal and the former superintendent of Yuma (Arizona) Union High School, Dr. Alva D. Abbott, who headed El Camino High for the following 16 years.
Abbott is remembered for his overall love and dedication to El Camino High.
In speaking about the alumni and then-current students at El Camino in 1967, Abbott said, "My heart fills with pride to have had a share in the making of the great Eagle image and tradition. El Camino has taken its rightful place among the leading schools of California and the nation in scholarship, athletics, music, drama, journalism, student government, cadets, school activities and clubs."
In appreciation of Abbott's longtime commitment to the school, El Camino's football field became known as Abbott Field and the 1973 yearbook was dedicated to Abbott.
Replacing Abbott as principal at the beginning of the 1972-73 school year was Bill "Doc" Dresser.
Dresser arrived at the school to encounter a much improved campus, which by this time had grown to include 45 classrooms and administration offices in the main building, eight annex classrooms, a shop with eight classrooms and a little theater, a pair of gymnasiums, a swimming pool, a library, a music building, guidance offices and a cafeteria.
Memories of yesteryear
According to the school's records, El Camino, which added midterm graduations in 1963, had 7,093 graduates by the end of its 1968-69 school year.
And of course, many more students have graduated from the school since this time and like students before them, they carry with them many memories of their years spent at El Camino High.
One of the school's early graduates, Mary (Ahlquist) Harger of the Class of 1959, which was the last El Camino class to graduate at Memorial Auditorium, recently shared her memories of the school.
"To those of us attending El Camino in the 1950s, it was a great place to be," Harger said. "We received a great education, but found lots of time to work together on activities that included the pep club, The Aerie yearbook, the El Caminian newspaper, dance committees, student government and attending many sports events, including football and basketball games followed by fun at the "Oaks," our local drive-in. Recently, we celebrated our 50th class reunion and we were able to bring back the original school fight song, which was performed by the current El Camino pep band at the reunion. We continue to treasure these traditions and our memories of El Camino High School."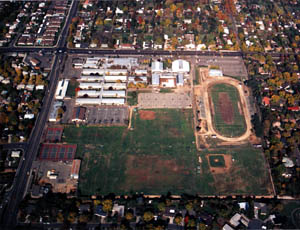 El Camino is also recognized for its most notable alumni, who include: Larry Linville, who played Maj. Frank Burns on the famous television series, MASH, former state assemblyman and Sacramento mayor, Phil Isenberg, Chicago Cubs first baseman Derrek Lee, Olympic gold medal swimmer Mike Burton and Ken and Tom Fat of the Fats restaurant fame.
Changing and evolving
In September 1979, El Camino, which was then under the direction of Principal, Dr. Joseph Petterle, became known as El Camino Fundamental High School.
In an attempt to set higher standards for a school that had declining enrollment and a truancy rate of about 20 percent, El Camino underwent various changes as a fundamental school.
These changes included a closed campus with an atmosphere conducive to learning at all times, challenging curriculum with an emphasis on basic English and mathematic skills, college preparatory classes and a four-year educational plan for each student.
Another unique aspect of El Camino as a fundamental school is that it has no specific attendance area and is open to any student in the district.
With the school's commitment to providing an atmosphere conducive to learning, several projects have enhanced the campus, such as its more recent modernization project, which included new parking lot surfaces, new concrete near the A-wing, tree, grass and flower plantings, and the installation of new sprinklers, cameras, heat detectors, clocks and an intercom system.
Unfortunately for El Camino, an earlier enhancement of the school occurred as a result of a tragedy.
A mysterious firebombing at the school in 1970 caused about $25,000 in damages and resulted in an unexpected rebuilding and remodeling project that was paid for through district funds.
In addition to the passion for El Camino demonstrated by many of the school's alumni, many current El Camino students have developed much pride in their historic school.
Julio Escoto, 15, of the Class of 2012, for instance, said that he especially enjoys that the school offers various high level learning opportunities.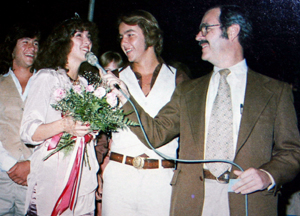 "The classes are great and they have good programs like the Back on Track afterschool program to help (students improve their grades)," said Escoto, whose uncle Tino Perez also attended the school. "We also have good sports teams."
El Camino today
Sixteen-year-old Lorin Sukkary of the Class of 2011 said that she truly loves El Camino High.
"I just love El Camino," said Sukkary, who writes for the school's newspaper and is a member of the school's nationally-ranked dance team. "It's not necessarily a school where you have to pretend to be someone who you're not. It's a place where the teachers will sit down with you and help you through anything, whether it's a school matter or a personal matter. It's like a second home to a lot of people. It's a really good place to go and it's a really good place to send your kids. I want to live (in the area) and teach here (at El Camino), just because I want to give generations further down the experience that I had here."
At the entrance to El Camino High is a sign, which reads: "Through these halls walk some of the finest people in the country – our students."
And with the school's six decades of developing many students, who have led successful lives in the local community, the nation and beyond, it is difficult to dispute such a time-tested statement.
As El Camino High nears its milestone anniversary, the school appears on track for another 60 years of maintaining and establishing traditions and producing many more contributing members of society.
E-mail Lance Armstrong at lance@valcomnews.com.