Winning design for first 'I Voted' sticker contest recognized by Board of Supervisors
Sacramento County voters will get a newly designed "I Voted" sticker after they cast their ballot on June 5. The winning sticker, created by an area high school student in the County's first "I Voted" sticker contest, is also featured on the cover of the June 2012 sample ballot booklet.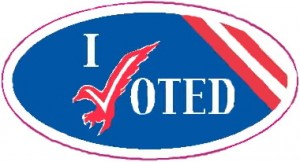 First place winner Alicia Chan, C.K. McClatchy High School and runner ups Kevin Thao, Grant Union High School and Darian Rosengard, Rio Americano High School were recognized by the Board of Supervisors on May 8.
The Department of Voter Registration and Elections invited students from five area high schools to design a new "I Voted" sticker for the June Statewide Primary Election. Participating high schools were Rio Americano, Galt, Grant, McClatchy and San Juan. The response was overwhelming, with 76 entries submitted.
"The goal of the contest was to engage high school students' talent, while at the same time encouraging their participation in a civic activity by creating a new 'I Voted' sticker for the voters of Sacramento County," said Registrar of Voters Jill LaVine.
The artwork was judged by former Sacramento Mayor Anne Rudin; Kim Alexander, president and founder of the California Voter Foundation; and Debbie O'Donoghue, deputy secretary of state, voter education and outreach.