Sam's Hof Brau continues longtime traditions at Watt, El Camino avenues
Editor's Note: This is part two of a two-part history series about Sam's Hof Brau and other restaurants that were founded in Sacramento by the late Sam Gordon. Read Part one

As presented in the first part of this series, local restaurateur Sam Gordon (1907-1998) established four restaurants in the Sacramento area from 1955 to 1960. And with the popularity of these eateries, he continued to open other local restaurants.
Sam's Plaza Hof Brau
His next dining establishment, Sam's Plaza Hof Brau at 2500 Watt Ave. at El Camino Avenue, opened in January 1962.
In its Jan. 21, 1962 edition, The Sacramento Union noted that the restaurant had "opened to the public last week."
The announcement was accompanied by a few details regarding the then-new Sam's Plaza Hof Brau and a photograph of Gordon standing alongside a tall, wooden American Indian statue.
The carved statue was part of the décor of the restaurant, which was mainly designed with a "Gay 1890s" theme and had 6,000 square feet of floor space.
Other decorations placed in the restaurant were old signs, paintings and stained glass from a collection in Scottsdale, Ariz. and solid brass, gas lanterns from the grand ballroom of the old Union Hotel in Saratoga Springs, N.Y. The lanterns had since been converted for electrical use.
The restaurant also opened with its 1890 Room, a banquet room with a safe from the Western Hotel, which was located at 209-219 K St. and owned by William Land, who willed the funds for today's William Land Park. The banquet room was built to accommodate 60 to 90 patrons and the remainder of the restaurant seated 180 guests.
More than 100 photographs and etchings of early Sacramento and nearly life-sized paintings of Lillian Russell and Diamond Jim Brady were hung on the walls.
One of the more notable decorations at the restaurant is a large painting of the 1869 "golden spike" celebration, which ceremoniously marked the completion of the first Transcontinental Railroad.
But beyond its unique, inviting décor, Sam's built its positive reputation through its entrées featuring fresh meats such as roast beef, roast turkey, prime rib, corned beef, baked ham and pastrami.
And of course, these meats can always be used to make this eatery's signature "Sam'wiches."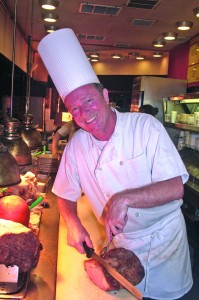 Special hof brau memories
Tom Tolley, who grew up in Carmichael and was a 1968 graduate of Del Campo High School, was one of this restaurant's earliest diners.
"Sam's Hof Brau was always a favorite," Tom said. "In 1962, my folks (Walter and Norma Tolley) and I first visited Sacramento and ate at Sam's on Watt and El Camino (avenues). I found it hard to believe that such a cool restaurant was right next door to such a fabulous bookstore and record store – the two Towers. Even Los Angeles and the San Fernando Valley, where I lived, couldn't match that sort of arrangement. We moved to Sacramento two years later and my dad and I would eat there. When Sam's celebrated their 25th anniversary, they rolled prices back to match their opening menu for about a week – a roast beef sandwich for around 65 cents – and the lines were out the door. Even though I was working at a quality restaurant – Coral Reef – I ate there almost every day during that week. Sam's is still a destination where I have lunch with friends or when I happen to be out that way. The one thing I miss is being able to buy a new book or album before or after lunch. The changes to Sam's have not been drastic over the years and I can still load up on free pickles."
David Spieth, 60, who graduated from El Camino High School in 1970, also shared his memories about the Watt and El Camino avenues restaurant.
"Sam's Hof Brau was always a neat place to eat roast beef sandwiches," Spieth said. "And, of course, if you wanted a taste of turkey, they always had one turning in the window. It was always dark and cozy and had a lot of privacy when you ate. It was a place where you could take your girlfriend or friends and family. And it was close to the Country Club (Lanes) bowling alley, where I used to bowl. (It was) next to Tower Records, where you could always get your vinyl or tapes. (The area has) changed a lot. The bowling alley and Sam's Hof Brau are the only original places left."
Carmichael resident Pete Lennarz, who owned the Watt Avenue hof brau for about 16 years, said that he began leasing the Watt Avenue building from Gordon in 1991.
Lennarz added that since the Denny's restaurant corporation owned Sam's eateries at that time, he simply shortened his business's name to Plaza Hof Brau to avoid any conflict with Denny's.
In 2007, the restaurant was purchased from Lennarz by the Hof Brau Restaurant Group, which included several Mikuni restaurants partners. And since 2009, this hof brau has operated under the name, Sam's Hof Brau.
Among the earlier events held at the restaurant under its then-new ownership was a 50th anniversary celebration on May 18, 2009.
To eliminate any confusion regarding the timing of this event, it should be recognized that upon acquiring the hof brau, these owners were incorrectly informed that this Watt Avenue business had been established in 1959.
It was not until the publication of the first part of this article series (see May 24 edition of this paper at www.valcomnews.com) that the ownership learned that the event was unfortunately held three years prior to the restaurant's actual anniversary.
Sam's Big Top
Less than two months following the opening of Sam's Plaza Hof Brau, construction began on Gordon's sixth Sacramento area restaurant – Sam's Big Top at 1101 16th St. The business was opened to the public in October 1962.
The location was an ideal place for this circus-themed eatery, since Sacramentans had routinely dined at the popular Stan's Drive-In at the same site.
This Sam's restaurant, which was originally managed by Art Davis, featured 24-hour booth and counter service and seating for 100 guests.
Another Sam's Big Top later opened at 2721 El Camino Ave. at Sandringham Road, but was operating as a Denny's by 1970.
Sam's expanded outside Sacto
Many Sacramentans also have fond memories of Sam's Town entertainment center and restaurant, which operated off Highway 50 in Cameron Park from 1963 to 2000.
Additional Sam's Hof Braus were opened outside the capital city, including in Auburn (Placer County), Oakland, Portland and Los Angeles.

A Sacramento tradition continues
Certainly the days are long gone when Sam's restaurants could be spotted in different parts of the Sacramento area.
But fortunately the last remaining Gordon-founded eatery in the city, Sam's Hof Brau at Watt and El Camino avenues, continues to carry forth its tradition of serving "fresh, stick-to-your-ribs food at piggy bank prices."