by Carl Lamera, Team Manager Special to Valley Community Newspapers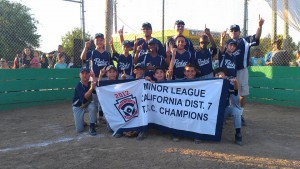 Pocket Little League is the local little league for the Pocket/Greenhaven area. To play in the league you have to be a resident or a recent resident of the Pocket/Greenhaven area. Our team was a pure 9-10 year old team. The teams we played against were allowed to have 11-12 year olds per Little League rules. We faced two teams that featured older kids (11 and 12 year olds) as their premier/star players.
Our team, the Yankees, won a 6 team league at Pocket Little League. The Pocket Little team with the best record after 20 inter-league games is crowned Pocket Little League champions and is sent to a tournament to represent Pocket Little League. The tournament is made up of 9 league champions primarily from the South Sacramento area. The leagues represented are Land Park, Oak Park, Florin, Cosumnes, East Sac, Airport, Parkway, Tahoe Tallac, and Pocket Little League. The tournament is called the Tournament of Champions (TOC).
In the Championship game, Vicente Lamera pitched 4 solid innings, striking out 9 batters. AJ Wallace stayed hot and went 3 for 3 at the plate, scoring 3 runs, and 1 RBI for us. Adrienne Lott came up with a huge 2 RBI hit in the top of the 6th that gave Branson Ferengel some cushion for the Save. We had a huge defensive play at the bottom of the 6th inning. Cosumnes hit a hard ball to the fence with a runner on first. Antonio Jacobo retrieved the ball and started a Championship relay to Vicente Lamera at the cut-off. Vicente spun and threw a dart to a perfectly positioned Nathyn Brown, who made solid catch and tag on a disappointed Cosumnes player. Pocket LL came out on top 6 to 4 over Cosumnes LL.
This was the first District 7 Championship win for Pocket Little League since 2005. We broke the 7-year Championship drought, including All-star tournaments. We beat Land Park in the first round. It was the first time in recent memory (7 years) that a Pocket Little League team, in any scenario, has beaten a team from Land Park. In our second game we beat East Sacramento. The Championship was against the reigning TOC Champion, Cosumnes.
We received the banner as shown in the picture that will be displayed at the new Conlin field during the playing season. It is the first championship banner won since Pocket Little League moved to the new Conlin fields. We are working on placing the player names on the banner that will be displayed at the Pocket Little League fields for years to come.
Our District 7 City Council member, Darrell Fong, congratulated the Yankees on winning the Pocket Little League and Tournament of Champions games.