By LANCE ARMSTRONG Pocket News Writer lance@valcomnews.com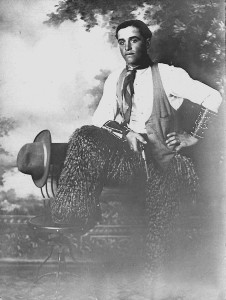 Editor's Note: This is part two of a two-part series regarding the history of the Pocket's Antone Silva and Joao Luiz Silva families.
In continuing the story of Antone L. Silva and his wife, Maria (Mary), who had seven children, the couple's son, Anthony "Tony" L. Silva was raised to work on his father's farm along with his brother, Joseph.
As is typical for farm workers, Tony began his daily routine very early, as he would regularly milk the cows by lantern light at 5:30 a.m.
Upon returning from school each day, Tony fed the farm animals and once again milked the cows.
With his busy schedule, Tony, who was born in the Pocket on Nov. 25, 1906, often remained active for 16 hours per day.
Despite his hard work on the farm, Tony's thoughts were more on music than his work at hand. This mindset eventually led to friction with his father.
Music and friction
At that time, one of the sons of a farmer would be destined to take over the family farm after the father's retirement or demise. This tradition was far from Tony's desired intentions.
In 1925, Tony moved to San Francisco, where he lived for several years and held various jobs, while Joseph and his father worked on the ranch.
As a young man, one of Tony's interests was the cowboy life and he would often dress in cowboy attire.
His love for dressing in this manner led to his acquisition of the nickname, "Tom Mix." Tom Mix was a popular Western movie star of the day. He appeared in nearly 300 films from 1909 to 1935.
To this day, people who remember Tony refer to him as "Tom Mix," since there has been multiple Tony Silvas in the history of the Pocket.

Sacramento and music
After returning to the farm from San Francisco, Tony began to have music take command of his life.
His venture into music began through his singing lessons with well-known Sacramento vocalist Evangeline Baker.
Through his lessons with Baker, he gained the confidence to perform in recitals and various special occasions.
Tony's confidence as a singer grew much greater when, in 1937, he won two amateur singing contests that were conducted by Sacramento radio station KROY 1240 AM.
After winning these contests, Tony began singing on a weekly KROY program called "Ecos of Portugal."
It was through this radio program that he eventually met his future wife, Marie Furtado, who emigrated from the Azorean island of Flores when she was very young.

Singing sweethearts
Both Marie and Tony performed as vocalists on the KROY program, which was conducted by Maria Cabral.
As Tony and Marie became sweethearts, they would sing popular songs in dedication to one another, with Marie singing, "Amor," and Tony singing, "You Belong to My Heart."
They personally recorded these songs, which were (much) later transferred to compact disc.
In addition to her solo performances on KROY, Marie also performed on the station with her Portuguese friends, Lillian Rose and Muriel Quintel.
This popular trio, which was known as "The Three Musketeers," also sang on a weekly Portuguese musical program on the Stockton, CBS-affiliated radio station, KGDM.
Eventually, Tony and Marie were married in Sacramento on Sept. 13, 1941.

Married with children
After their marriage, the couple moved into a home at 2648 17th Street.
While at this address, Tony and Marie's first child, Antoinette, was born.
After the death of his father, Tony and his family moved back to the old Pocket ranch, where he resided with his family in his parent's two-story home, which was built by Manuel Valine, a local contractor who was known as "Calisto."
It was there that Tony and Marie's second child, Timothy, was born.
In 1949, the family moved into the smaller house on the property.
Five years later, a new house was built for Tony and Marie at 7330 Pocket Road on the corner of the property between his father's ranch and his uncle John's ranch.
The Tony Silva family continued to reside in this house until 1970, at which time the house was sold, along with part of the farm. The family then purchased a house at 6745 Harmon Drive.

Return to the ranch
Following the death of Tony's mother on Feb. 4, 1971, Tony and Marie returned to the big farmhouse on the old Antone Silva ranch.
A year following the Dec. 10, 1984 death of Marie, Tony sold the old farmhouse and the accompanying property.
Selling historic farmlands in the Pocket was a common thing in those days, as farms were being sold for the redevelopment of the area.
This redevelopment marked the end of the era for pioneer Portuguese farming families.
After selling his home, Tony moved into an assisted living facility on Riverside Boulevard, near Florin Road.
A second marriage
Tony, who was elected to the board of directors of the Portuguese Historical and Cultural Society in 1990, was eventually involved in a brief second marriage.
Following his second marriage, Tony moved to Citrus Heights, where he began attending dances at the Moose Lodge.
At these dances, he met Martha Prater, whom he began dating.
Tony and Martha also enjoyed dancing to a combo at The Big Yellow House, a restaurant which was located at 1788 Tribute Road, near Cal Expo.
At this restaurant, Tony and Martha, who was also a soloist, would sing to the music until the late hours of the night.
A sad moment in Tony's life occurred in 2003, when Martha made the decision to move to Missouri to reside with her family.
Following Martha's departure, Tony moved into an assisted living facility in Walnut Creek to be close to his daughter, Antoinette.
Musical tradition continues
Tony's relationship with Antoinette was especially strong, since she had also developed talents as a musician.
For instance, during her youth, Antoinette sang with the Music Circus ensemble.
In 2006, Tony became a centenarian and Antoinette and Timothy and their families celebrated the occasion with a party that was held at the Lafayette Park Hotel in Walnut Creek.
Tony maintained his involvement in music as a vocalist for The Snappy Cats, a group that dressed in decorative costumes and featured piano, kazoos, tambourine and vocals. The group added to their performances with puppets.
Tony later became a resident of Atria Senior Living.
A full life
For Tony's 101st birthday, a celebration was held at Atria, and a San Jose-based Hispanic television station arrived at the party and filmed an interview with Tony and a performance by The Snappy Cats. The station later aired the recording.
As a sign of Tony and his group's popularity, more than 100 people attended the gathering.
After a full life, Tony passed away from an age-related illness at the age of 102 on Aug. 19, 2009.
And at his services, the recording of Tony singing, "You Belong to My Heart," was played.