Land Park resident launches campaign to attract Whole Foods Market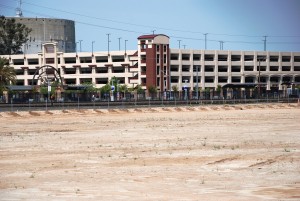 Earlier this year, Land Park resident Whitney Roberts decided to put up a Facebook page devoted to Sacramento Whole Foods fans who would like to see a store in the planned project area of Curtis Park Village.
"We are a neighborhood of people who value healthy eating options, and we're willing to pay for them," Roberts said. "We are using social media because people are too busy to go into the stores and fill out comment cards. It's much easier to click a button and know that you're heard."
The proposed project is at the abandoned Western Pacific rail yards off of Sutterville Road, behind Sacramento City College via a traffic roundabout at Donner Way and 24th Street.
The property is owned by Paul Petrovich of Petrovich Development Company, Sacramento's largest retail developer.
While Whole Foods has made no formal announcement that it plans on moving into the area, Roberts says the high-end, natural foods retailer at Curtis Park Village would be an ideal fit.
"It's centrally located, easily accessible from two freeways, near a college campus, nestled in an affluent neighborhood and nowhere near another one of their locations," she said.
In the last few months, the "Bring Whole Foods to Land Park" Facebook page has collected nearly 300 "likes" from people stating that they "strongly want a Whole Foods Market."
Even some city leaders are using their own social media profiles to support the cause.
"It's a great area," said Joseph Devlin, spokesman for District 5 Councilman Jay Schenirer. "Who wouldn't want to move in to Curtis Park Village? Whole Foods would be a welcome addition to the neighborhood."
District 4 Councilman Rob Fong was one of the first city leaders to post his support on Facebook. He was also one of the "yes" votes for Curtis Park Village, a mixed-use urban infill project with retail spaces and housing.
"Councilman Fong believes the vision put forward by Petrovich Development will add many amenities and residential options to Curtis Park and other surrounding neighborhoods," said Lisa Nava, spokeswoman for Fong. "Whole Foods would be a wonderful addition."
The question that remains is whether Whole Foods is right for an area that is already served by two similar markets offering high-end, organic products — Taylor's Market, which is celebrating 50 years of doing business in Land Park, and newcomer Sunflower Farmers Market in South Land Park.
"Whole Foods, as far as I'm concerned, is a high-end grocery store," said Curtis Park resident Robert Palmatier. "If you bring a Whole Foods Market here to Curtis Park, it's like placing a Super Wal-Mart smack in the middle of a small hometown with mom-and-pop stores. It'll take everything away."
Courtney Clendenin disagrees. She and her sister Jaime Silva own The Sandwich Spot on 18th Street in Land Park, just a couple of blocks from the proposed area.
"We've just celebrated our third year at this location and we welcome the new business and new customers that Whole Foods would bring," Clendenin said.
Terri Shettle, Executive Director of the Sierra Curtis Neighborhood Association, declined to comment only to say, "We have not taken a position on the issue regarding bringing a Whole Foods Market to the area."
Whole Foods Market announces new store openings with its quarterly financial earnings and, for now, has not announced plans for Curtis Park. The next Sacramento-area Whole Foods is set to open in October in Davis.
"Whole Foods Market appreciates the interest and excitement that our current and potential customers have around a store in the Curtis/Land Park area," said Jennifer Marples, Whole Foods Market spokeswoman.
Whole Foods Market currently has locations at 4315 Arden Way in Sacramento, 1001 Galleria Blvd. in Roseville and 270 Palladio Drive in Folsom.
Trace L. Johnson, Vice President of Leasing for Patrivoch Development Company, did not return phone calls seeking comment about the latest developments on Curtis Park Village as of press time.
elizabeth@valcomnews.com