Special to Valley Community Newspapers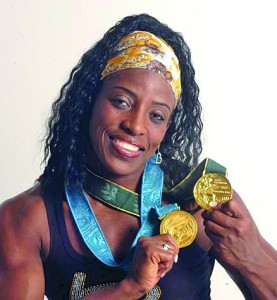 Former WNBA Sacramento Monarchs Player and Olympic Gold Medalist Ruthie Bolton will be sharing her Olympic story and autographing her new biography, "The Ride of a Lifetime: The Making of Mighty Ruthie" on Aug. 12.
The book signing will take place from 2 to 4 p.m. at Avid Reader at the Tower, 1600 Broadway, in Sacramento.
Bolton is a two-time Olympic Gold Medalist, USA Basketball Female Player of the Year, Sports Illustrated Best Woman Athlete and one of only four players to be inducted into the Women's Basketball Hall of Fame, Class of 2011.
Also known as the "Mighty Ruthie," this athlete, educator, former First Lieutenant of the U.S. Army and First National Spokeswoman for the WNBA's "Play Fit and Stay Fit" youth development program, has an accomplished record of public service and significant experience reaching a variety audiences.
Her motivational story empowers women and young girls to pursue their dreams.
In her book, "The Ride of a Lifetime: The Making of Mighty Ruthie," Bolton shares her story—"a ride that started when [she] entered the world in McLain, Mississippi."
She has 19 siblings. Ruthie reveals not only her own story, passion for basketball and helping others, but she provides reminders and principles to help others pursue their passion.
"If you practice the principles (Ruthie) sets forth about discipline, commitment, and work ethic, you'll definitely experience your own success," said former Olympic Coach and Coach of Stanford University Women's Basketball, Tara Vanderveer.
The general public is invited to attend the event.