By LANCE ARMSTRONG
The Riverside-Pocket area is certainly rich with history and among the earlier stories of this area is the history of the Frank Enos Service Station.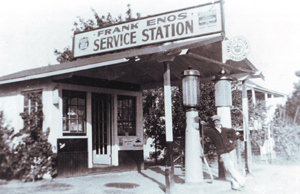 Louie Enos stands next to a gasoline pump during the late 1920s at the Frank Enos Service Station, which was the only service station in the area south of Y Street (today's Broadway). (Photo courtesy of PHCS)
Opening in about 1921 on 3.7 acres of property purchased by Frank Enos, Jr. from Frank George on the levee side of Riverside Road (now Riverside Boulevard) near 35th Avenue, the business was the only service station between Y Street (today's Broadway) and the town of Freeport.
In its early years, the service station was essential to many people in the area who had transitioned from horse and buggies and surreys to Model Ts and other early automobiles.
Like many people in the area at the time, Frank Enos was of Portuguese heritage, as his father, also Frank Enos, was born in Pico, Azores Islands, Portugal.
From slough to service station
Frank Enos, Jr. (who for the remainder of this story will simply be referred to as Frank) was born in 1872 on his father's 27-acre ranch, adjacent to Babel Slough in Freeport in the area that is now known as Clarksburg.
Following the death of his father, Frank, along with his brother Joe, inherited his family's ranch.
In about 1890, Joe purchased his brother's portion of the ranch and the two brothers opened Enos Bros. Grocery on the northwest corner of 10th and O streets.
Alfred Enos poses at a gasoline pump in the late 1920s at the Frank Enos Service Station. In the background stand Jake Buckley and Evelyn "Toodie" Lewis, near what is most likely Buckley's automobile. (Photo courtesy of PHCS)
A few years later, Frank purchased Joe's percentage of the business and moved the business to the northwest corner of 4th and L streets, where Macy's department store is located today.
With this move, a bar was added to the business, which was renamed Frank Enos Grocery Store and Bar.
Occasionally during this era, other bars were also connected to grocery stores, including the Portuguese businesses, the Da Rosa grocery store on Riverside Road and the Souza grocery store on Freeport Road in the town of Freeport.
While operating his grocery store and bar in 1897, Frank married Philomena "Minnie" Brown, the daughter of prominent Freeport resident John Joaquim "King" Brown, who also had two sons – John, who was a guard at the Bank of Italy (later Bank of America) at 6th and K streets, and Manuel, who was the captain of the dredger, Argyle.
The newlyweds moved into their newly purchased home at 2419 L St., where they resided until they moved to Riverside in 1913.
It was in this year that Frank purchased the property where the service station was built and opened about eight years later.
The property also included the family's new home – a small, white, two-story, c. 1910, wood-frame house.
The service station, which was referred to by many local residents as "Frank Enos' gas station," originally included three pumps, which provided regular and ethyl gasoline. The station was later downsized to include only two pumps.
In addition to offering gasoline, the station included large scales, which were used to weigh horse-drawn wagons and small trucks with loads of hay and produce that were shipped out on boxcars on Front Street, near today's Sacramento History Museum in Old Sacramento.
People, property and petrol
Pocket native Dolores (Silva) Greenslate recalled a very early story relating to the Frank Enos Service Station.
"In about 1923, my father (Victor Silva), who at the time worked in dredging around Sutter Bypass raising the levels of the existing Sacramento River levees, upon leaving for work in the Riverside area, discovered his Model T Ford truck was low on gas," Greenslate said. "Frank Enos' gas station was not yet opened for morning business, so he pushed his little truck up Riverside Road to Y Street in order to buy gas from Ed Fortado's gas station, which was the next closest station. It is hard to believe that he had the strength to push the truck over the Sutterville Road hill and still had strength enough to push it about another mile to Y Street. I knew he was very strong, but I didn't know he was that strong."
Greenslate said that Frank was a very kind man who would have gladly been awoken to assist her father to accommodate him on his way to work.
She added that her father, however, would not have wanted to inconvenience Frank at that predawn hour.
"My father was a very polite and classy man," Greenslate said.
Frank Enos, Jr. (left) stands alongside his son, Melvin Enos, at the Frank Enos Service Station during the late 1920s. (Photo courtesy of PHCS)
Greenslate further described Frank, referring to him as a "short, wiry man, who was mild-mannered and kind-hearted."
Eventually, two of Frank's three sons, Alfred and Louis "Louie" Enos, regularly assisted him with various service station duties, including pumping gas, changing oil and changing tubes in tires.
Louie later worked as a junior high school teacher, including his time at California Junior High School at 2991 Land Park Drive at Vallejo Way, where he was a substitute English teacher during the 1930s.
Ironically, Greenslate, who attended California Junior High School from 1935 to 1937, was one of Louie's students.
Fueled legacy
Although the Frank Enos Service Station was closed in 1940 and Frank and Minnie passed away in the early 1960s, the Enos presence in the area continued after this time, as Alfred, who was a lifelong bachelor, had a house built on his property at 5720 Riverside Blvd. Alfred resided in this small, stucco, single-story house, which still stands today, until at least 1982.
Greenslate said that the site of the old service station, which is located near Interstate 5, represents one of the historic landmarks of a much changed Riverside-Pocket area.
"I experienced the last of the horse-drawn wagons and surreys going up and down Riverside Road and then we had Frank Enos' gas station, which was the beginning of automobiles commonly traveling along Riverside Road. (The station) is part of my many memorable childhood recollections, as we always stopped by (the station) before we went any place and my parents would talk to Frank while getting their gas. It was just one of the notable places that I remember being in the area, which also included my grandmother's house and other farmhouses and farmlands. Those were very special times, but the area has changed drastically since these days and is obviously a much different place today."
E-mail Lance Armstrong at lance@valcomnews.com.