By MARILEE FLANNERY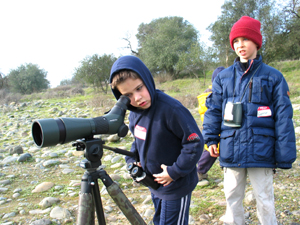 Children participate in one of many learning opportunities at the Effie Yeaw Nature Center. (Photo courtesy of Effie Yeaw Nature Center)

Editor's Note: As many in the region already know, the Effie Yeaw Nature Center, located at 2850 San Lorenzo Way, may close due to Sacramento County budget cuts. Originally, the nature preserve was to be closed in April; the center has since received a reprieve, staying open until at least June 30. Now the director of the center, Marilee Flannery, is offering an innovative way for this hidden treasure of the Carmichael area to stay open.
Great news – The County of Sacramento Department of Regional Parks will not close Effie Yeaw's doors in April as previously announced.
Because we face high budget cuts for the next fiscal year beginning July 1, we will propose a transition to a nonprofit foundation. Fairytale Town and the Sacramento Zoo each transitioned from a unit of the city of Sacramento to individual nonprofits in the 1990s. We will need your help to accomplish this major step of becoming a nonprofit organization.
Your help has been critical. Since the first budget cuts announced in September 2009 there has been a tremendous outpouring of concern, donations and people asking how they can help. Thank you to all of you who have given your money, your extra hours, your passion and your heart to the Effie Yeaw Nature Center. You have opened your wallets and checkbooks to fill our donation box, or clicked the Web site link (or e-mail at eync@saccounty.net) to donate. Thank you.
You have trusted us with your children. Thank you.
You have given us your precious time: those late-night hours building exhibits from next to nothing, those afternoons cleaning smelly animal cages, those early mornings stoking the fire in celebration of Maidu Indian Day. Thank you.
Maybe you worked for me and with me and now you sit at home because we've already had to cut so many staff hours at the beginning of this fiscal year. You deserve special thanks. No one will ever know how much you have managed to do with so little.
What can you do now?
The Effie Yeaw Nature Center is the heart of the American River Parkway and you the volunteers, supporters and staff all made it what it is. Though it is winter and the heartbeat is quieter, we know spring will soon arrive. As spring wakes the Nature Area and it thrums with life, the Nature Center will begin an exciting transition with your help.
The EYNC will certainly need some financial support from the County of Sacramento while it transitions from a unit of County Parks into a strong nonprofit foundation of the American River Parkway. We hope this transaction will be accomplished so that the schools of the Sacramento Region can continue to receive our popular nature education programs, and the nature preserve will be protected and safe.
If you have skills that can help to guide this transition, please volunteer to help the American River Natural History Association (visit them online at www.arnha.org) negotiate a transition contract with the County of Sacramento.