'Walk with a Doc' kicked off at McKinley Park Walks planned each month at different parks around town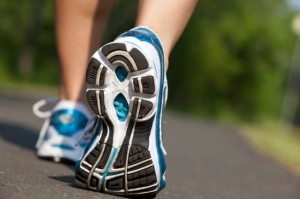 Walk with a Doc is a national program developed by cardiologist David Sabgir in Ohio.  The California Medical Association Foundation held a kickoff event for bringing the program to California at the State Capitol.  The program is being piloted in Sacramento, Fresno, and Humboldt counties.  Locally, the Sierra Sacramento Medical Society is now in charge of organizing these events. 
 The organization has four walks planned for this fall, which began Saturday, Oct. 27 at McKinley Park.  The group plans to host one walk a month (at different parks around town) in 2013.  Walks will be held on Saturday mornings and will last about an hour each.  Each event will start with a physician giving a quick 10-15 minute talk about healthful living, followed by about 30 minutes of walking around a local park.
Walk with a Doc strives to encourage healthy physical activity in people of all ages, and reverse the consequences of a sedentary lifestyle in order to improve the health and wellbeing of the country.  Walk with a Doc is a free, non-profit program for anyone interested in taking steps for their health.
East Sacramento News Editor Monica Stark asked Kristine Wallach Program Director of Sacramento Physicians Initiative to Reach out, Innovate and Teach (SPIRIT) Program some questions about Walk with a Doc.
MS- HOW ARE DOCTORS CHOSEN?
KW- Physicians volunteer to lead walks.  Walk with a Doc offers physicians a chance to model healthy behavior in the community, as well as to interact with the public in a different way. 
MS- WHY IS THIS BEING PILOTED IN SACRAMENTO (AND FRESNO AND HUMBOLDT) COUNTIES? ARE WE AMONGST THE MORE SEDENTARY COUNTIES?
 KW- Walk with a Doc was created by Dr. David Sabgir, an Ohio cardiologist.  Spearheading the effort in California, the California Medical Association (CMA) Foundation kicked off a partnership with local county medical societies across the state, including the Sierra Sacramento Valley Medical Society (SSVMS), to get the Walk with a Doc program up and running in California.
More than half of all California adults age 18 and over are either overweight or obese, which can contribute to a number of chronic diseases. Research shows one of the most effective ways to address obesity is through exercise and physical activity and that walking for as little as 30 minutes a day can have significant benefits.
The California Medical Association has chosen to work with Fresno, Humboldt and Sacramento Counties to launch Walk with a Doc.  These counties range in their physical inactivity from 21 percent in Fresno County and 19 percent in both Humboldt and Sacramento Counties.  22 percent of adults in Fresno report having moderate physical activity, compared to 23 percent in Humboldt and 19 percent in Sacramento Counties.  These counties surpass national and state benchmarks for adult obesity, which are 25 percent and 24 percent respectively with Fresno at 29 percent, Humboldt at 26 percent and Sacramento at 28 percent.  These counties, with their diverse populations, represent the pilot counties with the program expected to expand statewide.  
 
MS- HOW ARE YOU INVOLVED WITH THIS? WHY DO YOU THINK THIS IS A WORTHWHILE EVENT?
KW- The Sierra Sacramento Valley Medical Society (SSVMS) is a professional association representing physicians in all modes of practice and specialties as well as medical students, residents, and fellows. In continuous operation since 1860, SSVMS is the oldest medical society in California and represents nearly 3,000 physicians in El Dorado, Sacramento and Yolo counties. The Sierra Sacramento Valley Medical Society is dedicated to upholding the authority and autonomy of physicians in the delivery of professional and ethical medical care.  All physicians, regardless of mode of practice, are uniquely qualified and committed to compassionate treatment of patients.  One of our guiding principles is to promote the art and science of medicine and defend the public health thereby improving access, quality, and continuity of care in our community.  Walk with a Doc is a natural fit with the mission of SSVMS. 
According to the American Heart Association, walking has the lowest dropout rate of any physical activity and walking for as little as 30 minutes a day can reduce the risk of coronary heart disease, improve blood pressure and blood sugar levels, maintain body weight and lower the risk of obesity, enhance mental well-being, improve blood lipid profile, reduce the risk of osteoporosis and breast and colon cancer, and reduce the risk of Type 2 diabetes.  Walking is low impact; easier on the joints than running. It is safe – with a doctor's okay – for people with orthopedic ailments, heart conditions, and those who are more than 20 percent overweight. In addition, research has shown that you could gain two hours of life for each hour of regular exercise!
By encouraging people to make walking a part of your fitness regimen doctors are taking a preventative measure and inviting people to improve their health.
MS- CAN PEOPLE BRING QUESTIONS UNRELATED TO EXERCISE FOR DOCTORS TO ANSWER? 
KW- Walk with a Doc is designed as an encouraging, social activity.  It is not designed to replace a visit to a medical practitioner. The interaction that a walker will have with a physician is casual and not intended as a diagnostic opportunity.
MS- WHAT KIND OF TURNOUT ARE YOU EXPECTING?
KW- We are hoping for 25 to 50 walkers at each event.  All walks are WEATHER PERMITTING. 
 
MS- WHAT WILL THE 10-15 MINUTE TALKS CONSIST OF, TOPIC-WISE?
KW- We have left the talk topics up to our physician leaders.  The first walk, on October 27th at McKinley Park included a talk about exercise specific to women's health and pregnancy.  November is national COPD and Lung Cancer Awareness month, so those three walks are co-sponsored by Breathe California – Emigrant Trails and the America Lung Association.  Walk leaders in November will focus their remarks on breathing and lung related issues.  In 2013 some physician leaders may tailor their remarks to a nationally recognized health topic for that month (i.e. February is American Heart Month, so our walk leader will be a cardiologist; March is Brain Injury Awareness month, so our walk leader will be a neurologist who will address brain injury prevention, etc.)
MS- DO YOU HAVE DATES, LOCATIONS SET FOR FUTURE WALKS?
KW- We have three more walks scheduled for fall 2012. 
 
DATE:  Saturday, November 3, 2012
LOCATION: Tahoe Park
8th Avenue and 61st Street, Sacramento
DATE:  Saturday, November 10, 2012
LOCATION: UC Davis Arboretum
Wyatt Deck on Old Davis Road, Davis
 
DATE:  Saturday, November 17, 2012
LOCATION: Southside Park
Between W and T Streets at 6th Street, Sacramento
Our goal is to plan walks in different parks around town once a month in 2013.   Dates and locations will be available at www.ssvms.org/events.aspx