Panama Pottery celebrates 100 years by staying open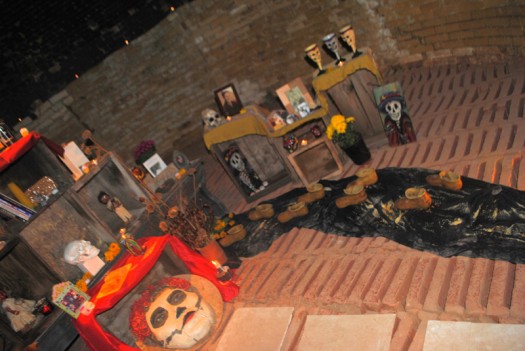 By Monica Stark
Despite rumors announcing the closure of Panama Pottery, a quiet resurrection is under way.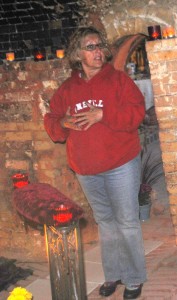 Under the new ownership of Maria Vargas, Panama Pottery Retail will now have the opportunity to celebrate its upcoming centennial birthday – 2013.   In an effort to preserve the rich history of both the land and the original business, Vargas is committed to breathing life into the Sacramento's art world, supporting local economic vitality and simply, providing a groovy little place for things that will enhance a garden.
"I can make it possible for Panama to have its 100th birthday but, it's the community that will keep it alive for the next hundred.  It has to be a community effort – this business is not supported by a Texas owned corporation, it's just us local Sacramentans who I hope will take pride in supporting Panama."
Vargas and a collection of Panama Artists created an elaborate altar honoring loved ones who have journeyed. The altar is stationed within the walls of a kiln that has been on the property for a hundred years.  In Mexico, Día de los Muertos – Day of The Dead is a day of celebration, honoring the lives of those departed.
To Vargas, Dia de los Muertos is a significant holiday. Vargas is of Mexican descent and has been in Mexico to celebrate this holiday, honoring those lives of loved ones. She participated in a march from the Cathedral to the cemetery, with parents celebrating children and children celebrating parents.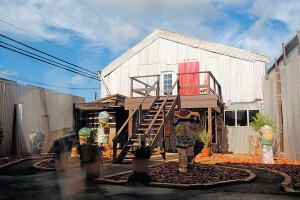 "My Father – (he's) my most beloved person in my life. I celebrate his life with love and I mourn his departure with a heavy heart everyday," Vargas said. While Dia de los Muertos is a time to celebrate the lives of those passed, the feeling of her father's passing is still heavy on the heart. "No matter how many years pass, it still feels like yesterday! I cry during the celebration – why is that?"
This time last year Vargas said she was bald.  "I had my third diagnosis with breast cancer and well, heck, don't need to go into the 'fear' about living and dying." She recalls praying for just "one more birthday" to celebrate her life no matter how long she had.
"I got that birthday and when Panama closed I thought, 'how does someone let something die at 99 years old – that cannot happen. I am going to save it for the 100th birthday celebration and I will manifest that!'" Vargas then spoke with the landlord and moved onto the property.
Vargas clearly expressed her passion to save a 99-year-old Sacramento enterprise from dying at the hands of "nothingness!"  She described how her family, friends, and many in the community clearly remember the painful "Death" of the Alhambra Theater…"that just can't repeat itself" Vargas stated.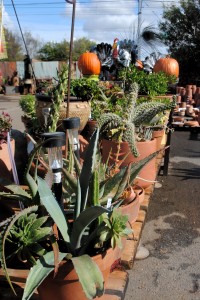 One of the artists who has studio space at Panama Pottery is Marsha Schindler, whose prominent project is a 35-foot mural for Maria Shriver currently at the California State Capitol in the Governor's Office. Schindler has been creating art at Panama Pottery for seven years, before it eventually became a place where artists could rent space, spawning the birth of the Panama Artist Collective.
To Schindler, putting the Dia de los Muertos altar together as a collaborative has been a powerful experience. "It's not really mourning anymore; it's remembering together," she said.
Schindler said the altar was built in an hour. "All the set-up was laying in the yard. It was part of Panama. We brought them and arranged them to make it feel like an altar," she said.
Once the structure of the altar came about, one artist brought in cloths and candles. Another built a church kneeler; another sculpted clay shoes.
"People just started to bring their photographs. There's a sugar skull there. I had a dog and cat I absolutely love and miss. I made a sculpture of Kiva (Schindler's cat) and I actually painted her face," Schindler said, pointing to a picture of her cat. I do miss them. "When you think about pulling back those memories and spirits, it is a powerful feeling," she said.
Schindler said she has always worked at home before and that she has never been so prolific until she came to Panama Pottery, put on her apron and work clothes and got busy. "You have the opportunity to work alone. And you have the opportunity to collaborate. As a community, you want to share that. You get really inspired," she said.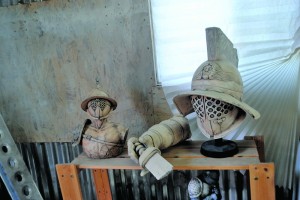 Before Vargas took over the business, the previous general manager, Carol Honda, went to work for the State of California and tried to run the business while working state hours "and it became impossible," said Vargas. "She closed the business.  The owner of the property, David deCamilla, allowed me to open a new business Panama Pottery Retail."
Vargas said Honda harbored hard feelings for having giving up on the business. The website,  www.panamapottery.com, still states the place is closed for business. Vargas said she may start a new website because she has no control of the current one, reiterating the store is very much open.
According to Vargas, there is a history of two to three owners. David deCamilla is now the owner of the property, where he has more than 32 artists showcasing their art.
Asked if there is symbolism of celebrating Day of the Dead at the same time as the reopening for Panama Pottery, Vargas said, "there's been a lot of pain and a lot of glory in this. Time has lifted itself."
Added Schindler: "There's the struggles and there's the joy. It's really powerful to have such a joyous place of creative energy and a lot of community."
Vargas is now in the clean-up phase and just celebrated Dia de los Muertos, plans on celebrating Black Friday, Second Saturday in December; a rainy January and then a HeART Opening on Feb. 9 with all art studios open, music, food trucks and hopefully the sun, she said.
Panama Pottery offers artist space to rent month by month. Artists are given 24/7-access with a key. For more information, call Panama Pottery at 452-7181.