Greenhaven resident makes doll clothes: Hobby becomes therapeutic
Walking into Jean Siler's spare room is a treat for folks who are unaware of her hobby.
From one corner of the room to the next, there are dolls of every size, shape and color. There are baby dolls to grown up dolls. All of the dolls, except one, are wearing clothes sewn by Siler.
Siler, a Greenhaven Pocket resident since 1993, has been sewing doll clothes since 2008. Siler's hobby began when she had to endure two major back operations and then suffered a stroke. She lost all independence; unable to drive or walk for very long, she knew she needed to find a way to keep from going bonkers.
"When you have an illness that is never going to go away and there is no cure for it, there is a certain type of hell you go through," Siler said. "I said to myself, let's see what I can do and literally taught myself how to sew doll clothes."
Siler retired from the California Youth Authority in 1993, then immediately went into 12 years of volunteering as a docent at the Sacramento Zoo. She loved her work and learned how to handle some of the smaller exotic animals. Siler majored in drama in college and was at one time quite active with the civic theatre in Stockton.
Used to being physically active, after the stroke, Siler became chronically depressed.  She knew she had to find some kind of a hook to keep her mind from becoming stale.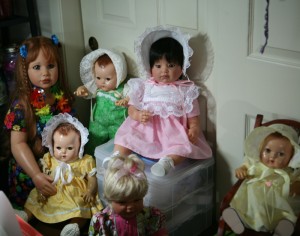 One day Siler looked around her spare room and decided to start cleaning things out. She had her husband move things from the spare room to their garage. While in the garage, Siler spied her old Singer sewing machine.
Siler, married 53 years, had to make all of her family's clothes when they first married because they were so poor.
"I vowed I would never sew again," Siler says. "It wasn't fun to sew at that time, it was sheer work."
Remembering her years of sewing, she started to wonder how doll clothes were made. The clothes were so small. Siler's curiosity grew and she started reading books on how to sew doll clothes. She had no idea that dolls were not just for children, but a whole, big industry that catered to adults too.
"It had been 30 years since I had last sewn and I had to learn texture, color and what draping was," Siler said. "One can't imagine how much money was wasted learning these things."
Siler's husband set up the spare room with bins and shelves, giving Siler a place where she could sew the doll clothes and display her newly outfitted dolls. He also bought her a new sewing machine.
Siler wanted to know how the dolls were made. She found out there were artists who make the dolls and these artists have prototypes, one-of-a-kind dolls.
Two artists she enjoys are Helen Kish and Diane Effner. Effner works with porcelain and Kish is best known for her vinyl dolls. Both artists are well known for their facial sculptures.
Siler still has a Bitty doll given to her at age 13 by her mother. She has another larger Bitty doll she found through E-Bay. Siler likes the fact there is so much history in the dolls. The Bitty dolls were popular during World War II.
Siler said sewing the doll clothes is great therapy and her specialists approve. It not only helps her mentally and emotionally, it improves her fine motor skills.
"I suffer from frequent insomnia and pain," Siler says. "This is like a form of yoga. Instead of popping oxytocin at two o'clock in the morning, I get up and start sewing the doll clothes, which helps relieve the pain."
Millie Baird, Siler's housekeeper for the last 10 years, said Siler has turned into an excellent seamstress and is creative.
"This has been the best therapy in the world for her," Baird said. "Being able to sew these doll clothes has kept Jean from being bedridden. It keeps her mobile and there are always new outfits for the dolls."
Siler knows she can't go out much but believes she now does something in an almost professional way. It fulfills almost everything.
"This hobby gives me so much pleasure, "Siler says. "I can measure what I have done and there is a finished product. I can tell if I have improved my skill."
Siler said she would be glad to show her dolls and doll clothes to those interested. She sells the clothes, but not the dolls.
Maryanne Walt met Siler at the dentist office where she works. Walt was looking for doll clothes for her grandchildren and visited Siler's collection. She was amazed at how beautiful the doll clothes were.
" I have never seen so many beautiful dolls, Walt said. " I am a detail oriented person and Siler is an artist, you can see the detail and passion she has for the doll clothes."
Looking around the cheery room filled with dolls, Siler feels a warmth and happiness for what she has accomplished and the dolls all seem to have their special place, showing off the custom made clothes.
If you are interested in seeing Siler's collection or perhaps even buying some doll clothes, email her at jean.siler@comcast.net