Sing-Along Messiah Tradition Returns; Community Invited to Free Christmas Concert on Dec. 9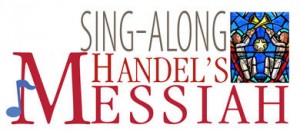 A free Christmas "Sing-Along Messiah" concert will take place Sunday, Dec. 9, starting at 4 p.m. at Bethany Presbyterian Church, 5625-24th Street, Sacramento (off Fruitridge Road between I-5 and Highway 99, just 10 minutes south of downtown Sacramento). Free parking is available.  Donations of canned or packaged goods for the local food closet will be accepted at the door. Map and driving directions: www.bethpres.com.
There is no charge to participate as a singer or audience member, and free refreshments will be served following the concert. A goodwill offering midway through the concert. Chief beneficiary of the offering is the South Sacramento Interfaith Partnership Food Closet, which is struggling to provide emergency supplies of groceries to thousands of in-need area residents this holiday season. In the month of October 2012 alone, food was provided to more than 7,000 individuals.
Everyone is invited to join in the volunteer choir, which will be led by choral conductors from area colleges and churches.  Last year's combined choir and audience totaled more than 200 people.  Participants are encouraged to bring their own musical scores; a limited quantity of Messiah scores will be available for purchase (just $10) at the door.
"To make this truly a participatory event, we are repeating our custom of not using professional soloists," says Dr. May Tuan Tucker, Bethany Presbyterian Church Music Director. "Solos will be performed in group fashion at the front by anyone and everyone who desires to sing them." This special feature is not offered at most Sing-Along Messiah events.
Singers of all ages and abilities are welcome to attend an informal public rehearsal on Sunday, Dec. 2, at 4 p.m. at Bethany Church. For more details, contact event coordinator Dr. May Tucker at 428-5281 or e-mail maytucker@mac.com.
The Messiah, composed by George Frideric Handel in 1741, is based on bible passages that tell the story of Christ. This musical celebration has since become a Christmas tradition in many parts of the world. The December 9 concert will feature primarily the Christmas portions of the Messiah, concluding with the triumphant "Hallelujah Chorus."
A downloadable Sing-Along Messiah flyer is available at www.bethpres.com.
The Sing-Along Messiah is presented by Bethany Presbyterian Church in partnership with local congregations and schools.