Moon, animals populate Sacramento State play
A howling, dancing moon and talking animals help a woman learn more about her life and marriage in References to Salvador Dali Make Me Hot, playing at Sacramento State's Playwrights' Theatre. Performances are 8 p.m., April 22-24 and April 30-May 1; 2 p.m. April 25 and May 2; and 6:30 p.m. April 28-29.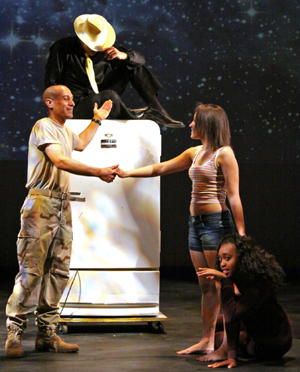 Written by award-winning playwright Jose Rivera and directed by Theatre and Dance Department Professor Manuel Pickett, the play tells the story of Gabriella, a woman living in Barstow while her soldier-husband Benito serves in the Gulf War.
During a dream state, Gabriella dances with the moon while her cat strikes up a relationship with a wild coyote. "All these elements come to life and start teaching her about what she needs to do with her life," Pickett says.
References to Salvador Dali embodies magic realism, in which the world takes on a different perspective. "Those who believe this don't see reality as strictly visual, but also spiritual, taking on different forms," Pickett says.
Sophomore Roshawnda Bettencourt plays Gabriella. "She's a very complex, confused character trying to figure out what she wants in life and if she still loves her husband," Bettencourt says, adding that the magic realism allows the cast to "take something so real, bring it to the stage, play with it and have some fun with it."
The play contains strong language and adult subject matter.
Tickets are $8 general admission for the 6:30 p.m. performances. All other performances are $10 for students, seniors and Sacramento State employees and $12 general admission. Tickets are available at the University Ticket Office, (916) 278-4323 or www.tickets.com.
For more information, visit the Theatre and Dance Department at www.csus.edu/dram or call (916) 278-3569.