East Sacramentans gather unwanted citrus for Harvest Sacramento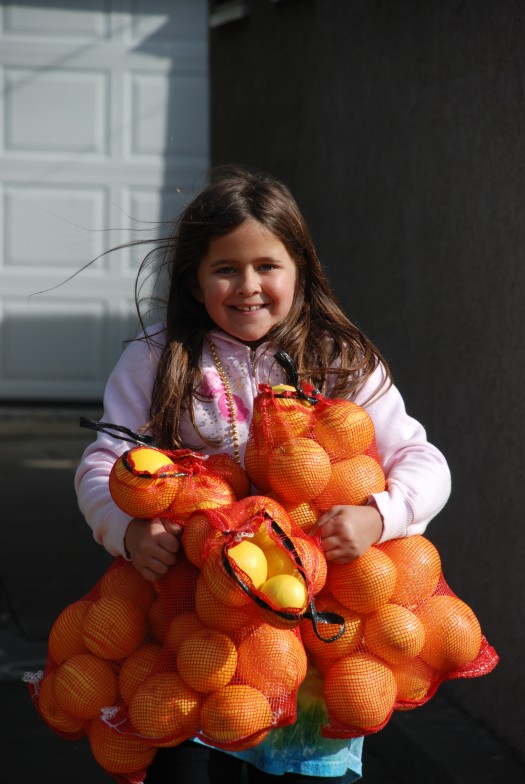 Every winter, starting in late November and early December, massive amounts of citrus fruit begin to show themselves on front yard and backyard trees throughout Sacramento.  Lemons, limes, grapefruit, oranges and kumquats all begin turning from their "hidden" dark green color towards ripeness.  For most people in our area, even with the color change, this amazing food source is still hidden in plain sight—grocery stores and farmers markets sell massive amounts of this same fruit, while our truly "local" fruit falls to the ground to rot.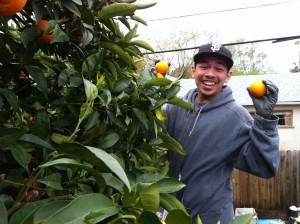 Soil Born Farms' Harvest Sacramento has been organizing neighborhood residents for the past four years to not only help people see this fruit, but to harvest the fruit and distribute it to local food assistance agencies like Sacramento Food Bank and Family Services.
In 2012 alone, over 53,000 pounds of fruit was harvested and donated with the help of 800-plus volunteers.
Mary McGrath, one of the East Sacramento home owners who initially started the project idea mentions,  "When I went to the gym, I got some exercise, but when I went out to pick, I got some exercise, and a huge pile of oranges to share, plus the good smell of oranges on my hands."
One of the goals for this coming citrus season is to have neighborhood-based teams help coordinate the harvesting activities in the areas where they live.  Harvest Sacramento received a large donation of harvesting tools, so teams can have access to their own set.  In addition to tools, Harvest Sacramento will provide training, outreach materials and staffing support to help get teams started.  "This can start with one motivated individual, a student community service project, a family or a neighborhood association and at any scale.  There is no one right way to do it.  It is easy, fun and has tangible results" said Randy Stannard, Harvest Sacramento Project Coordinator.
Volunteers of all ages and abilities can provide meaningful contributions.  Harvest Sacramento is as interested in bringing people together and building community relationships as they are in harvesting fruit.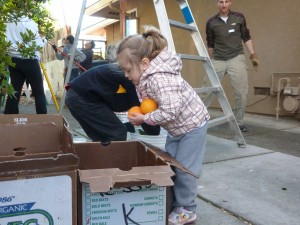 Randy Stannard added, "We don't just need people to get up on ladders and pick fruit.   We can always use volunteers who like to enter data, organize and help with the coordination efforts via computer and phone.  We need people to walk neighborhoods and find trees to harvest, photographers, videographers, bloggers, and cooks to make food for post-event meals.  Young kids can help move buckets and sort fruit…we need people to drive vehicles.  Everybody can help—that is the beauty of it!"
In addition to volunteers, the project is still looking for more fruit trees to harvest.  Harvests take place year-round, so while they are looking for citrus to harvest this winter, they are also looking for stone fruit, apples, pears, figs, pomegranates, and persimmons.  They are willing to pick up pre-harvested fruit and vegetables as well.  It is easy to offer fruit from your tree or garden—they have an online form on their website or give a phone call or email to Harvest Sacramento.
For more information visit www.soilborn.org/harvestsacramento or contact Randy Stannard, stannard@soilborn.org or (530) 204-8082.