Now open for business: Sugar Plum Vegan Cafe
There are several reasons people choose to go vegan. Some are driven to it due to food allergies; others do it to stay away from processed foods; and some just think it's wrong to use animals as a food source. Thanks to a new vegan cafe in midtown near East Sacramento, there might be many more vegans in our neighborhood.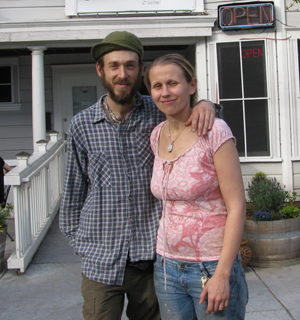 The Sugar Plum Vegan Cafe opened as a rousing success on March 14 during Second Saturday festivities. Co-owner Khyem Amri said that the line was out the door with folks ready to try all manner of baked goods and other vegan delicacies.
During the nearly two weeks since it opened at 2315 K St. in midtown, business has been good for Amri and his wife Melissa Wilhelm. Together, they hope to bring a taste of something of which Sacramento just doesn't have much.
The idea, however, did not materialize overnight.
Khyem and Melissa met in a farmer's market in Brentwood three and a half years ago. Melissa, who is the head chef and baker at the Sugar Plum, was there selling some of her vegan delights. Khyem remembers his initial reaction to seeing Melissa that day.
"I had just gotten out of a relationship, so I tried to ignore what I was feeling when I saw her," Amri said. "But I couldn't ignore the fireworks."
He helped Melissa develop her business, which was a vegan food company called Jivana Vegan. They were a natural fit as far as business went, as Melissa did all the food preparation while Khyem drove the attention-getting portion that got people to stop at their booth. Eventually they went on to sell their products in a much more lucrative Los Angeles farmers' market where they soon quadrupled their profits.
Sugar Plum in Sacramento 
One of the early signs that they might have a chance at starting a restaurant was when one of Melissa's gluten-free carrot cakes took a silver medal in a culinary competition. Impressive considering it was the only vegan entry. While still in Los Angeles, Melissa became pregnant with the couple's first child. The business went on hiatus and the two thought about where they wanted to raise their son. Amri, who grew up in Sacramento and graduated from El Camino High School in 1999, suggested moving back up north.
Both have held a number of jobs since the birth of their child, but a fortuitous meeting set in motion what would one day become the Sugar Plum Vegan Cafe.
Melissa spoke at a meeting for the Sacramento Vegetarian Society and was immediately approached by an investor. They found a place in midtown that could accommodate all they needed and six months later, they were moving in.
The two-story Victorian house-turned-business was formerly a restaurant that featured Mediterranean cuisine. A temporary sign hangs above the entrance, making it difficult to know the café is there unless you knew beforehand.
"I think people are finding us pretty well," Wilhelm said. "We're working on a permanent sign to put out front."
Since the opening, there has been little rest for either of them, but both are quick to acknowledge that being too busy is better than not being busy enough.
Moving back up to Sacramento allowed the couple to be close to Amri's family and they saw it as an ideal place to raise a child. But they also saw it as an opportunity to open up a place in an area brimming with vegans, vegetarians and quality-conscious foodies. In fact, the Sugar Plum is the first vegan bakery in Sacramento.
So far, it looks like the cafe might have found a permanent home.
"There are a lot of excited vegans around Sacramento," Wilhelm said. "There have been a lot of curious people coming in because they want to try a healthier way to eat."
Unlike vegetarians, vegans choose not to eat any animal products in food preparation – no milk, cheese or the like. It is a lifestyle choice for a growing number of people who are worried about what they are putting into their bodies.
Wilhelm went over a number of things having to do with veganism and why it may be a good idea for people to consider it as an alternative.
"Everything is fresh and organic," she said. "There are no preservatives or pesticides, so obviously that is good for your health."
The Menu
While you may notice that everything on display in the front of the store is of the dessert variety, the cafe does have a lunch and dinner menu featuring panini sandwiches, salads and nachos. They also recently featured a Portobello mushroom meatloaf.
The most popular lunch/dinner item is the nachos, according to Wilhelm. It consists of corn chips topped with black beans, olives, vegan meat alternatives, vegan cheese, avocados, salsa and vegan sour cream. A plate of them will cost you $11, but will comfortably serve three.
As far as the dessert menu is concerned, the Sugar Plum has your sweet tooth covered. The cafe features 12 different types of dessert items ranging from cinnamon rolls to cookies, cupcakes and muffins, all made fresh daily.
Also on the menu are a number of gluten-free products for people who have problems digesting it.
The cafe also features a catering service for all kinds of private functions.
Visiting the Sugar Plum Vegan Cafe
The Sugar Plum Vegan Cafe is located at 2315 K St. Business hours for the café are Mondays, closed; Tuesday through Thursday, 8 a.m. to 8 p.m.; Fridays, 8 a.m. to 9 p.m.; Saturdays, 10 a.m. to 10 p.m.; and Sundays, 10 a.m. to 8 p.m. For more information, call (916) 706-3302 or visit sugarplumvegan.com. Free wifi Internet access is available.
E-mail Benn Hodapp at benn@valcomnews.com.