Bigger than life mural reflects school's passion for the arts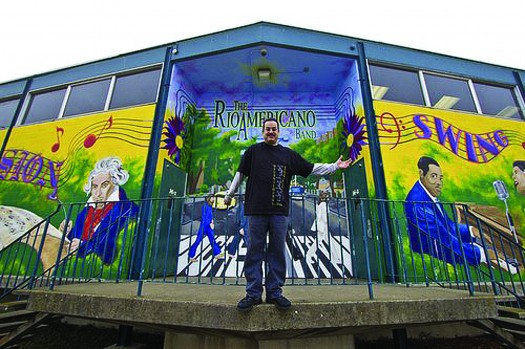 It's complete. It took almost three years, but the Rio Americano High School mural is complete.
"Markos has gone way above and beyond what we expected," Rio Band Director Josh Murray said.
Late in 2010 Markos Egure of WesKos Images, was sought out to make the outside of the Rio Band rooms look like what it feels like in the inside- full of music, inspiration and passion.
"I wanted it to represent visually as what I felt when I arrived on the campus and listened to the students play, musically," Markos said. "I see extreme talent here from youngsters. That was my inspiration to make it as best as it could be with all the time and budget allotted."
The funds to make this project happen came from a Sacramento River Cats grant and money raised by the Rio Band Boosters. That covered the mural agreement, but Markos' took it further.
"It was much more elaborate and detailed than we expected," Murray said. "He was wonderful. It really represents the three main aspects of our program- classical, jazz and the pop and modern music side."
The painting was originally going to be about 25 percent of the size it is now. But after that much of it was complete, Markos just wasn't satisfied. So he donated his time, his tools and his hard work to make it perfect.
"My art is very clean and neat," Markos said. "One of my teachers told my mom, she tells the story now- that when I was in the second grade I would re-write my name until it was perfectly written or until I accepted it. And here I am painting, and I still feel the same way. I want to come out here and paint some more."
The huge mural has been well received by students, staff and the Rio community. The school prides itself on creativity, the arts and especially its band program. So this just fits.
"I'm ready to go around the other side when Rio is ready to go around the other side," Markos said. "Let this project grow. We have two more sides. It is under negotiation right now. There might be more for Markos and for Rio."
In other news for the Rio jazz band, for the fourth year in a row, students are headed to The Big Apple to participate in the Charles Mingus Jazz High School Festival & Competition.
"It's a really incredible opportunity for the students,' Rio music teacher Max Kiesner said. 'They get to investigate the place where jazz lives and breathes in New York City.'
Juniors Taylor Mesich (tenor saxophone), Andrew Stephens (trumpet), Joey Cozza (piano), Jeric Rocamora (bass), Emery Mesich (alto saxophone), Harrison Smith (trombone) and seniors Paul Slater (drums) and Henry Lunetta (electric guitar) will represent the high school at the Manhattan School of Music from Feb. 15-18. While the students are there, they will have the chance to tour the city, visit some colleges and mingle with some of the best professional and high school musicians in the country.