Carmichael Triplets Earn Eagle Scout Award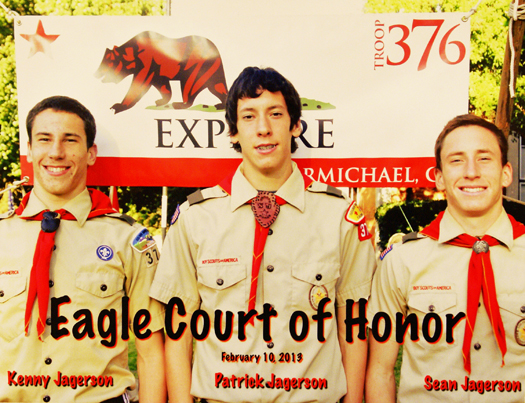 Sunday evening, February 10th Patrick, Sean and Kenneth Jagerson were awarded the Eagle Scout Award.  They are all members of Troop 376, located at the LDS Church at Garfield and Locust.  It is the highest award in Scouting and only about 4 percent of the Scouts who enter accomplish it.
The ceremony opened with the Pledge of Allegiance and a prayer. They are administered the Eagle Scout Oath including all adults who have earned the rank, renewing their oath.  The Scouts each pin an "Eagle Pin" on their mother and she in turn pins the Eagle Badge on their uniform. In addition, they receive their Certificates, a Special Eagle Picture from the Troop and their names on the troops "Eagle Plaque".
To earn the award, each had to advance through the Scouting Ranks of Tenderfoot, Second Class, First Class, a Minimum of 21 Merit Badges, several of which are required.  Five Merit Badges are for the Start Rank and Ten for the Life Rank.
They also must complete an approved Community Service Project. The projects varied from reconstructing and painting the Del Campo High School Football Stadium visitors bleachers to constructing infrastructure for rain collection barrels at Will Rogers Middle School to constructing a large covered kiosk sign at Will Rogers Middle School. Each Scouts Eagle Project called for various skills including ability, leadership, community service and more.
A reception followed the ceremony.