By SUSAN LAIRD
The timeless themes of tradition, love, faith and a world rocked by change come to the theater at C.K. McClatchy High School, as the students open their musical production of "Fiddler on the Roof" this week.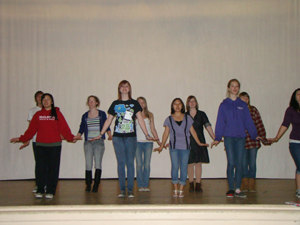 It takes lots of practice to put on a high school musical, as these students at C.K. McClatchy High School well know. Here, they practice a musical number for their spring musical production of "Fiddler on the Roof" which runs through April 24. (Photo courtesy of C.K. McClatchy High School)
This compelling, hilarious and poignant musical centers on the life of Tevye, a poor dairyman, as he tries to instill in his five daughters the traditions of their tight-knit Jewish community of Anatevka. It is a time of changing social mores and growing anti-Semitism in Tsarist Russia, circa 1905. The musical's universal theme of "tradition" cuts across barriers of race, class, nationality and religion.
Musical theater programs such as the one at C.K. McClatchy bring valuable teaching moments to students, as well as providing great, affordable entertainment to the community at large. Students in the production say that the musical has taught them teamwork, acting skills and a realization that generations and times are not always set in stone – that adapting to new circumstances can be a tremendous struggle.
"'Fiddler on the Roof' has made me more aware that all cultures are dynamic, they are changing," said Malcolm McElheney, a junior who portrays the lead role of Tevye. "In the show, the Jews in Anatevka are very secure in their culture and are not very susceptible to change. We can learn that a change for a better future is a step in a good direction."
"This play addresses the tug of war between a culture's traditions and the changing ideals of a new generation," said Adrianna Gonsalves, a senior who portrays Tevye's eldest daughter, Tzeitel. "It encourages kids to question the rules of society and decide which ones are well-founded and which ones are out-dated. 'Fiddler' is about self-discovery."
The production is under the direction of Patrick Stratton, who directs the Lion's Pride Players in the CKM Theatre Arts program at the school. He believes that "Fiddler" is a musical that challenges students to examine themselves and to stretch their talents.
"In order for the actors to truthfully portray these characters under these circumstances, students have to pose 'as if…' questions," Stratton said. "'What would I do if …,' 'how would I react if…,' and so forth. Using their creative imaginations, combined with script analysis and research, they can inject their own humanity through these characters. In so doing, it would be almost impossible not to examine themselves while trying to find the truth of the characters under these circumstances. It's pretty much technique and surrendering themselves emotionally to take themselves through these experiences."
The students have noticed personal growth and the development of important life skills during the process of learning how to put on a professional quality musical.
"I have definitely matured as a performer in the process of doing this show," McElheney said. "Challenging roles, in my opinion, are what make actors work harder to make their craft more enjoyable to their audience. I have grown as a person because having a lead role hones one's leadership skills and that is a valuable skill to have."
"This is one of thirteen shows I've been in so far, and it has taught me the importance of cooperation between the cast members and the director and choreographer," Gonsalves said. "The established relationship of a boss and his workers is similar to that of working in a show, and in this sense it helps me prepare for the real world outside of high school."
The theater arts program is a vital part of the educational programs available at C.K. McClatchy, and those involved in the program are passionate about the values such a program brings to students and the community at large.
"The arts in general and theater in particular teach commitment, teamwork, play study and analysis, and any number of transferable skills and critical thinking and problem solving," Stratton said. "As well, of course, acting, singing, dancing, orchestra and other performing skills and work habits. It is a continual process of learning at critical mass."
"Having a musical theatre program gives actor, dancers and singers (or a combination of the three) a creative outlet that enables each of its members to work hard to produce a final piece that they can be proud of," McElheney said. "I have been in multiple productions at C.K. McClatchy and they have been all amazing experiences. When I see a fellow actor performing and their face just starts beaming after they've finished, you know that something has touched them deeply. Performing arts programs in schools show their value in this form every day."
Audience members might be surprised to learn that putting on any theater program requires students who are willing to learn skills that are beyond acting: the so-called "Techies."
"We have several student technicians who will be learning from professionals," Stratton said. "These include: Lights, Sound, Scenic Painting, Set Construction, Props, Costumes and moving set pieces during performances."
C.K. McClatchy High's production of "Fiddler" is produced and directed by Stratton, with musical direction by Chris Congdon, technical direction and set design/construction by Christi Galela, choreography by Heidi McLean, light design by Isaiah Leeper, stage management by Chaunte Singleton, makeup design by Orlando Perez and sound design by Erik Carey.
"Fiddler on the Roof" runs through April 24. C.K. McClatchy High School is located at 3066 Freeport Boulevard in Sacramento. Performances are April 16–17, and April 21–24. Curtain time is at 7 p.m. Admission is $10 for adults, $5 for students and seniors. Special community group nights are: Friday, April 16 (High School Student Night); Saturday, April 17 (Senior Citizen Community Night); and Thursday, April 22 (Jewish Community Night). Tickets are available at the door or can be reserved by visiting www.LpPlayers.com.
E-mail Susan Laird at susan@valcomnews.com.