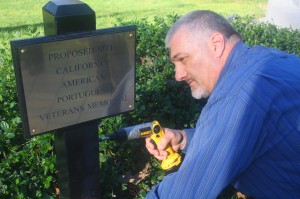 Steve Kanelos installs the temporary sign for the future California American Portuguese Veterans Memorial at Capitol Park. Photo by Lance Armstrong
Having a California American Portuguese Veterans Memorial placed at the southern end of Capitol Park is something that a group of local people have been striving to have become a reality for several years. And it appears that the group's dedicated efforts are finally about to pay off.
On Monday morning, March 9, Steve Kanelos arrived at the park and installed a sign, which reads: "Proposed site: California American Portuguese Veterans Memorial."
Steve's father, Gus, had suggested the idea of such a memorial many years prior to the formation of a committee for the project.
After being asked to describe his feelings regarding having that sign placed at the park, Steve said, "Well, it's been a long time coming, and we've been waiting a long time for this (moment). It's a great accomplishment and we feel that it's just the beginning of what's next to come here."
The group working to have the monument set in place at Capitol Park prefers the name American Portuguese, as opposed to Portuguese American, because they are dedicated to the notion that they are "Americans first and Portuguese second."
In commenting about that point, Eddie Maria III, the chairman of the committee, said, "We never lose sight of the fact, of course, that we are Americans first that have a strong, rich (appreciation) of our Portuguese heritage."
And part of that heritage is the service of "American Portuguese," who served in the United States military.
During an interview with this publication following the installation of the sign, Maria said, "(Portuguese) came here from Portugal and without being required to do so, signed up and said, 'I want to fight for this country. I'm from Portugal, but I'm an American citizen and I want to fight for the freedoms of America. And even if I'm not being asked to do so, I'm going to step up and fight for this country.'"
Maria, whose Portuguese grandparents came to America through Hawaii in the 1910s, also shared details about the project to have the memorial placed at the park.
"It all started at an American Portuguese Club meeting some years ago," said Maria, who grew up in the Pocket and graduated from John F. Kennedy High School in 1987. And Gus Kanelos (who had a very Greek American upbringing and is also part Portuguese and part Italian) came in as a past president of the APC. He attended the meetings regularly, and at the meeting that I attended – one of my first meetings, actually – (Gus) talked to the group about the opportunity to honor American Portuguese that served for this country (from) California.
"There was quite a bit of excitement about the opportunity. It was something that I'm sure a lot of the people within the organization had not considered before. We knew about these monuments (on the grounds of) the state Capitol, but they always looked to be so expansive, in such that we never thought that a little group like the American Portuguese Club could do something like that. We saw hundreds of thousands of dollars into these incredible looking monuments, and thought, 'What could we really accomplish?' But we set forth to see."
The group met with people who had previously worked on monument projects to obtain a better understanding of what it would take for the group to meet its goal of honoring "American Portuguese" military veterans from California through a special monument.
The first official meeting of the committee was held at Balshor Florist at 2661 Riverside Blvd. in May 2011, and later meetings were held at the Cabrillo Club at 4605 Karbet Way.
Maria acknowledged the ongoing efforts of the committee, saying, "I believe that the only reason we're here today putting the temporary sign to let people know the future of this monument is because of the hard work and the passion and the dedication that the eight-member committee had to making this happen."
Additionally, Maria praised the APC, noting that it "took (the monument project) by the horns and ran with it."
APC presidents during that time have been Wes Silva, Phil Soto and Jack Cornelius.
In speaking about one of the obstacles of the lengthy process of reaching the present status of the monument project, Maria said, "Maybe 18 months or so ago, I didn't even know if we would be able to put a temporary sign in this spot. There were a lot of concerns from different departments of the state Capitol. They just didn't want this to be a situation where you had a bunch of monuments all over the place. And they termed it as looking like a graveyard."
The group had originally planned for a much larger memorial, which was described in the Sept. 15, 2011 edition of this paper, as follows: "The arched-topped center piece of the green granite memorial, which will include American and Portuguese national flags and insignias of military service branches and the POW-MIA insignia, will stand 96 inches tall by 24 inches wide by 10 inches thick, and will be accompanied by two outside wing pieces, which will each measure 86 inches tall by 24 inches wide by 10 inches thick.
The base of the monument, which will be created by the Ruhkala Monument Co. of Sacramento, will be 10 inches tall by 96 inches wide by 16 inches deep."
That large monument plan was eventually abandoned, and a compromise was agreed upon.
The committee mentioned that the project now calls for a granite memorial bench, which is anticipated to be installed as early as this summer, but no later than the end of this year.
The cost of the project is estimated at $80,000, a sum that includes an $8,500 state inspection fee. Thus far, about $43,000 of those needed funds has been raised.
In front of the bench, which will be about 7 feet long, will be four pavers, with the names of sponsors, donors and honored veterans.
Maria spoke about the bench, saying, "Over time, we got some responses back from the Department of General Services (and) the California Department of Veterans Affairs. And their point of view was that we needed to do something a little different than we initially anticipated. We needed to create something that could be useful in the park, and that's where the bench idea came into play."
A very significant day in the process of having the memorial placed in the park was Sept. 28, 2012, when the bill for the memorial was signed. The bill's author was Assemblywoman Kristin Olsen, of Modesto. There were also about 10 coauthors of the bill.
In speaking about Olsen, Maria said, "Without her support, we would not be here. There is no doubt about it. She's been part of (the monument efforts) every step of the way."
Maria also commended various members of the Department of General Services, and J.P. Tremblay, deputy secretary of the state Department of Veterans Affairs, who he described as "a huge supporter and somebody that we've counted on from the very beginning."
But Maria's highest praise was given to committee member Loretta (Petit) Kanelos, who was heavily supported in her efforts by her husband, Gus, who is also a member of the committee.
"It is amazing the amount of time that (Loretta) has put into (this project). She has never wavered in her desire to make this a reality. Her mindset has always been, 'This will happen.'
"I can't say enough of how much gratitude the American Portuguese community of California should have for Loretta Kanelos. And, of course, with her husband, Gus, as well, she is really the reason that all of this came about. They came up with an idea, they plugged people into place to make sure that idea came to fruition. And every step of the way, they've been there supporting us, not only from an emotional standpoint, but from just a work ethic that I've never seen before. It's just amazing, and I'm very proud to have been able to work with them. I can assure you that we would not be here today without their efforts. And Loretta really is the backbone. There's no doubt about it. But it has been a group effort."
Loretta, who was present with her husband at Maria's interview with this paper and at the sign installation, responded to Maria's comment, saying, "No matter what I've done, I couldn't have done it if (Maria) would not have led (the committee)."
Maria said that having the California American Portuguese Veterans Memorial placed at Capitol Park sets a precedent for future cultural veteran memorials at the park.
"(The state commented), 'You're really the guinea pigs in all of this, because you're the first of a kind when it comes to a group coming together from an ethnic perspective or a nationality perspective, and placing something in (Capitol Park) as this bench,'" Maria said. "To have a bench here and to have the American Portuguese be honored in that way, it is the first of its kind and it will be the template for groups that want to do something similar in the future."
Salute dinner to be held April 11
As a fundraiser for the California American Portuguese Veterans Memorial project at Capitol Park, a "Salute Dinner" will be held at the SPHSS Hall at 6676 Pocket Road on Saturday, April 11, beginning with a no-host bar at 4 p.m. and continuing through 8:30 p.m.
The event will include guest speakers, a "Portuguese in California" presentation, entertainment, a silent auction and appearances by Nuno Mathias, consul general of Portugal in San Francisco, and Assemblywoman Kristen Olsen.
The cost of the event is $50 per person.
Additional information about this fundraiser can be obtained by calling Rod Rosa at 916-924-3000 or by visiting the American Portuguese Club's Facebook page.
Further donation information, including how to reserve a name on the memorial's pavers or how to contribute items for the dinner's silent auction, can be obtained by contacting Maria at 314-757-0474 or by email at Eddie.Maria@att.net.