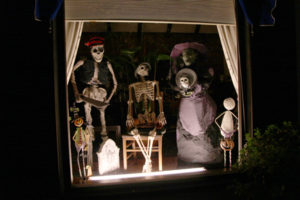 Boy, is the Land Park area festive this time of year? Check out this selection of photographs taken on the evening of Friday, Oct. 5. Get out of the house, take a walk and see for yourself. Happy Halloween! The area is also home to many events big and small we hope you enjoy.
On Friday, there will be a fall festival at Sutterville Elementary, starting at 5 p.m. with various festivities and a dinner. Sutterville Elementary is located at 4967 Monterey Way.
Fairytale Town: Safe & Super Halloween: The Adventures of Percy Jackson
Three nights of trick or treating and family friendly fun await at Fairytale Town's 28th annual Safe & Super Halloween (Friday, Oct. 24- Sunday, Oct. 26) from 5 to 9 p.m. The park will be transformed into Rick Riordan's mythological world of Percy Jackson and the Olympians. Young heroes can venture through the transformed park as they make their quest to Mount Olympus and the infamous Olympian Zeus. Visit Polyphemus' lair, the replica Parthenon, the Oracle of Delphi and Medusa's garden, just remember not to look her directly in the eyes! Keep an eye out for plenty of mythological characters and creatures along the way. The event features 17 candy stations, a nightly costume parade at 8:30 p.m., hands-on activities and lots of mythological fun! Puppet Art Theater Company will perform Frankenswine, a zany, Halloween-themed puppet show, each night at 6, 7 and 8 p.m. in the Children's Theater. Puppet show tickets are an additional $1 for members and $2 for nonmembers. This is a special ticketed event. Advance tickets are $7 for members and $10 for nonmembers. Ticket prices increase beginning Oct. 24 to $9 for members and $12 for nonmembers. Children 1 and under are free. Member restrictions apply.
On Saturday and Sunday, Funderland presents its annual Spooktacular Halloween. This year, Elsa the Snow Queen will wow the youngins at noon and 2 p.m.; there will be a magician at 1 p.m. and trick or treating will be available for $3. Also for that price, kiddos can traverse the Happy Little Pumpkin Patch or for one ticket ride the The Not So Spooky Train or venture into the Silly Haunted House. Funderland will have kids' costume contests, face painting, a photo booth, vendors, crafts and more! Get Free Tickets: When you bring in new games or new art supplies for River Oak Center for Children Funderland will give you free tickets as a thank you (amount of tickets based on items donated). Parents – Don't forget: Children can come dressed in their favorite Halloween costume and enter into the kids' costume contest happening at 11:30 a.m., 1:30 p.m., and 3:30 p.m. They'll also have festive totes you can purchase for $2 each for all your trick-or-treating fun!
Boo at the Zoo will be happening two nights this year, Thursday, Oct. 30 and Friday, Oct. 31 from 5 to 8 p.m. Two nights of ghoulish family fun, Thursday or Friday rain or shine. Kids can safely trick-or-treat around the lake at 25 different candy stations! Other activities include magic shows, costume dance party, ghoulish games, and lots of family fun! You can also ride the Spooky Train or Creepy Carousel for an additional fee. Please note: Only the front half of the Zoo will be open during this event. The spookiness is appropriate for children under 10 years of age. Early bird ticket prices, through Oct. 28: Non-members: $10; Sacramento Zoo members, $8; children age 1 and younger are free. General ticket prices, Oct. 29 until the event, are $12. Children age 1 and younger are free. There will be no member discount. Buy tickets online at  www.saczoo.org, by phone at 808-5888 or in person at the zoo, daily from 9 a.m. to 4 p.m.
Belle Cooledge Library will come alive with ghouls and ghosts for a tween/teen gaming program on Halloween day from 1:30 to 2:30 p.m. The library encourages youth to finish off that creepy month of October with a Ghoul and Ghost inspired teen/tween gaming program! They'll have Minecraft and the Nintendo Wii! Snacks will be provided and costumes are encouraged!
A few local churches will have events that day too! Trunk or Treat will be at Greenhaven Lutheran Church on Halloween night from 5:30-7:30 p.m., 475 Florin Road. Also, on Halloween night there will be a harvest festival at Riverside Wesleyan Church, 6449 Riverside Blvd., from 6 to 8 p.m. It will be filled with free family fun.
Further into the Pocket area, there will be a Spooktacular Halloween Party at the Sacramento Portuguese Holy Spirit Society, 6776 Pocket Road. There will be music by DJ Dick Daniel, a costume contest, candy bags, and a haunted house on Halloween night, starting at 6:30 p.m. Adults are $7; kids $4; children age 5 and younger are free
And while the following event is not necessarily Halloween related, it's family friendly and costumes are involved! Join Storytime Theatre of Sacramento City College for "The Little Mermaid" which is adapted and directed by Matt K. Miller. Plays run through Nov. 9 on Saturdays and Sundays at noon. Admission is $5 for all ages (children two years and younger are admitted free of charge). No reservations are needed. To purchase tickets in advance or for more information, go to www.citytheatre.net. All performances int eh Little Theatre in the Performing Arts Center (PAC 106) on Sacramento City College Campus, 3835 Freeport Blvd. There is a group rate for parties of 20 or more, 20 percent off. Parking is free on campus. The Sunday performance on Oct. 26 will be interpreted in American Sign Language.