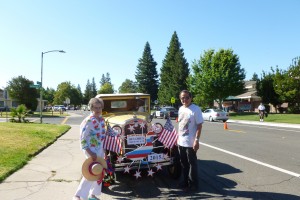 Shown here is Dolores Silva Greenslate, the grand marshal of this year's Spirit of the Pocket Parade with driver David Chin and his convertible. David, a master wood carver, designed the duck display as a tribute to Greenslate, who was known as the "Duck Lady" when she saved ducks during the construction of the Greenhaven 70 housing development. / Photo courtesy of David Chin
This year's Spirit of the Pocket Parade was my first attendance to this yearly event. In the past, our family custom is a gathering in Santa Cruz on the 4th of July, but this year because of family illness, the trip necessitated postponement.
I was astounded when I was notified that I had been chosen to be grand marshal for this event. "For why?" I asked. Born to early-day Portuguese Pocket settlers, I coined the question when I was 5 years old and in the first grade. It was a time when I couldn't yet understand the English language. I uttered the words spontaneously and am still confused about the choice, but very honored and happy that the request to be grand marshal was valid!
I hope I did not disappoint anyone. I had a great time!
A special thank you to artistically talented David Chin who decorated the vehicle, and was also my driver. His politeness and thoughtfulness was greatly appreciated, making me comfortable in his 1930s beautifully restored vintage coupe with rumble seat. Also a thank you to Monica Stark, Pocket News editor, for prompt arrangements and my transportation.
David's vehicle nostalgically reminded me of my late brother, Marvin Silva and myself, as young children, riding in the rumble seat of our young uncle's same vintage coupe. What fun that was!
I must state that I was very pleased to observe such an abundance of adults and children, families watching the parade along its route. Early Sacramento holidays (1930s-1940s) featured many outstanding downtown parades, which were very well attended by entire families. Entries typically included marching bands, Irish bagpipers elaborately dressed drill teams and Masonic members driving funny little cars – for all to enjoy.
I, as grand marshal, was pleased to observe the enthusiasm of families watching this parade had not diminished from past parades. Neighborhood events, such as this are still important to the congenial environment of families. We must not lose sight of this. All the effort and work is still valued when you observe their combined delighted faces.