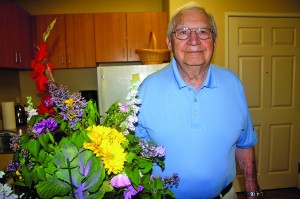 Photo Caption: Ed Mauricio grew up in the Riverside-Pocket area in the 1920s and 1930s. Photo by Lance Armstrong
Editor's Note: This is the first article in a series about Riverside-Pocket area native Ed Mauricio.
At 92 years old, Riverside-Pocket area native Ed Mauricio is a rarity, as he is one of the few people who can tell firsthand stories about life in that area during the 1920s and 1930s.
It was because of that point that he was asked to share some of his memories of his life with readers of the Pocket News.
During his interview with this publication last week, Ed said that there is a possibility that he was born at a roadhouse that was located a short distance north of the old bar, which is known today as The Trap.
"I could have been born at home (at the roadhouse on the old Riverside Road)," Ed said. "I don't know. I know the doctor used to make home calls."
Ed was the youngest of the children of Manuel Mauricio and Carrie (Nevis) Mauricio.
His siblings, in order of their births, were Beatrice "Bea", Isabel, Manuel and Herman.
Ed, who is the last survivor of these featured Mauricio family members, experienced hardship in the early part of his life, as his father died when he was 5 years old and his mother died five years later.
After being asked to speak about his parents, Ed said, "I don't remember that much about my parents. It was pretty hard on my mother taking care of us. I figure we were on welfare. And I think the (St. Maria) Church – the old church down there on (today's) Pocket Road – helped us out.
"We lived (in the roadhouse) until my dad passed, then we moved to the home there across the street (at 5890 Riverside Blvd. on the west side of the road near the levee), where Wesley Silva lives. We moved to that house when I was about 5 or 6."
Ed said that his father operated a 33-acre ranch that was located on the east side of the roadhouse, and that his father's ranch was one-third of a once larger property.
"It was (formerly one property) and they split it three ways," Ed said. "I don't remember who (originally owned the property). There was a man we used to call Black John. He was one of (the ranch owners). Then there was my father. I don't know who the other person was (who owned the third ranch). And I don't know who bought the acreage, but they split it three ways. (The ranches) were all about the same size. They were all Portuguese who owned the properties."
The Mauricio ranch had wheat, grapes, alfalfa, and some orchards, which included peach trees.
Following his father's death, Ed moved with his aunt and uncle, Tony and Lena Silva, and their children, Wayne, Arlene and Harlan, into the house where Wesley Silva now resides.
During his grammar school years, Ed was a student at the old Sutter School, which is now home to Cabrillo Civic Club #5 at 4605 Karbet Way.
Ed said that he lived in that house until he was about 11 years old, at which time he moved to (the Merced County city of) Gustine, where he worked on a dairy farm milking cows.
"I went to a dairy and that was a bad time in my life," Ed said. "I felt like maybe (his aunt and uncle) didn't want me anymore. I went to work for the Souzas in Gustine. I don't remember their first names. I was milking cows. I would get up in the morning and go to school and then when I was 13, I got sick and I was still milking cows. I got to where I was milking 13 cows a day. I got down to one cow, and my uncle who happened to come by, he brought me to Sacramento and took me to the doctor and they put me on medication.
"What I remember was I thought the doctor said I had Asian flu. I know I was sicker than a dog. I lost a lot of weight. It took me about six months for me to get my weight back. When my uncle brought me back, I went to my grandma's house in the Pocket and I stayed with my grandma (Mary Nevis) for a while. My oldest sister, Bea, got married (to King Silva) and then I moved in with her in the old house there where Wesley lives. I was still about 13 then. I stayed there until I went and joined the Navy (in August 1942)."
Ed, who also attended California Junior High School and was one of the earlier students at C.K. McClatchy High School, spoke about some of his neighbors, saying, "One of the neighbors was Dolores and Marvin (Silva), and Victor, their father, and Mamie, their mother, and then (Dolores and Marvin's) grandparents (John Joseph and Clara Perry Machado) were next door. The DaRosas were down the street. That was my uncle (Antone Garcia DaRosa, who was married to Maria Filomena Simas DaRosa). Elmer and Francis were the sons. Alice and Marie were their daughters. And then there were the Rosas. Manuel (Garcia) Rosa was the one who married Mary Dutra, who was one of the daughters (of Antone Perry and Louise Florence Lewis Dutra of the old Dutra House at the present day address of 8144 Pocket Road). (Manuel) had the box factory (Florin Box and Lumber Co.). And they had a couple of kids. And then we had Japanese neighbors (the Masuharas, near) us. There were a lot of Japanese in the area."
In responding to a request to describe the distances between houses in the area at that time, Ed said, "Where I was born and raised, maybe it was 200 or 300 feet between the Silvas' house and maybe 200 or 300 feet to where the Japanese (neighbors) lived. Maybe it was further than that. The houses in those days really weren't that close. The next house after the Machados was maybe a couple of blocks, maybe three blocks from the next house, and I don't remember who used to live there."
With a smile on his face, Ed continued to describe his memories of the area during his meeting with the Pocket News.
More of those memories will be presented in the next edition this paper.