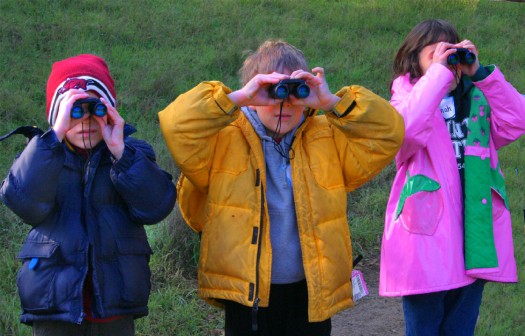 For Carmichael resident Diana Parker, visiting the Effie Yeaw Nature Center in Ancil Hoffman Park is a meditative experience.
"You just feel good when you're there – it's a real break from all the hustle and bustle of a busy life, which we all experience," she explains. "It's a break from technology and those other things that keep
you hopping."
"It's a very serene little pocket where there's lots and lots of wildlife," adds Betty Cooper, development director at Effie Yeaw Nature Center. "The woodland that's in our nature study area wildlife preserve is pretty much untouched by development, so people are so excited when they come here because they can't believe how wild it is."
Cooper said the center first opened in 1976, which is part of an almost 100-acre preserve tucked away in a quiet part of the American River Parkway.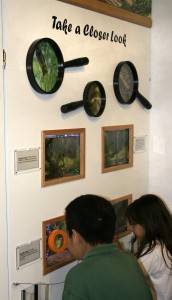 Right now in the museum is the "Wild About Wetlands" – an interactive exhibit that teaches visitors the importance of wetlands in the environment. Cooper says the exhibit was originally built and shown in 2007. "'Wild About Wetlands' was really a popular exhibit, so it's having a little encore display right now," she adds.  The exhibit will be up until the end of the year.
Features of the exhibit include a crawl-through space for kids to see what it's like being under the water in a wetland, animal displays, puzzles, and a five-panel mural on the history of wetlands painted by an art teacher from Sacramento, according to Cooper.
Cooper says it's important to teach kids and adults about wetlands because wetlands are a very important part of our environment, especially in the Central Valley, as they perform a number of important functions such as filtering runoff water and not to mention they are habitat for wildlife.
"There's only about 5 percent of them left of the original wetland areas in California, so it's really important that we keep what we have left and do some restoration work as well to try to restore some of those areas," Cooper explains.
The Nature Center will be offering a series of Fall Nature Camps, which Cooper says will be held on Thanksgiving week and during other school breaks. And every Saturday and Sunday the Nature Center offers free presentations and nature walks for all ages.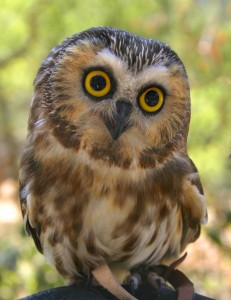 Then March 23-24, 2013, Cooper says the Center will hold its popular "Bird and Breakfast" special event in partnership with the Audubon Society. The event puts attendees in small groups with an expert guide who takes them out to see birds nesting and other sights they might miss on their own, and answer questions. "So it's a beautiful morning walk and then they come back and get fed an incredible breakfast," Cooper adds.
Cooper says having programs and special events like these – as well as the Nature Center in general – gives community members an opportunity to come out and experience the natural world through direct experience by having "a chance to look into the eyes of a deer (or) a hawk so they can feel that connection and that wonder that is so important (for) people staying in touch with the importance of nature," she explains. "Our connection to nature is what keeps us connected to each other."
Parker agrees, adding the Nature Center helps teach the next generation about the world they share with others. "It's really teaching anyone who's interested in the connection between nature, healthy communities, and a healthy planet," she explains. "We are hoping to impart upon people how to be good stewards if they see the connection between there actions and the natural world around them."
Today Cooper says the Effie Yeaw Nature Center includes a visitor center with live animals – such as hawks and snakes – that are native to the area, as well a gift shop and bookstore, a museum with changing exhibits, and a replica Maidu village. Also outside the preserve offers three self-guided trails.
The Nature Center is named for Effie Yeaw, who Cooper says was an elementary school teacher and environmental activist in Carmichael who worked out an arrangement with the original land owners to bring her students to the area.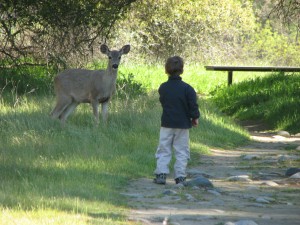 "They gave her permission to bring her students here so that she would have a place to teach them about nature with direct experience rather than just reading about it in books or watching it on television," Cooper says. "She felt that was really important having people develop an affection and appreciation for the natural world through direct experience."
As president of the American River Natural History Association (ARNHA) – a nonprofit that for many decades has supported the Nature Center, Parker has seen the center nearly close.
In July 2010, ARNHA took an even deeper role by deciding to become financially responsible for the Nature Center after Sacramento County ceased all funding for the Nature Center because of the budget crisis, according to Cooper.
"The whole staff was laid off and it looked like the Center was going to close," Cooper recalls. "ARNHA stepped up to say we're not going to let the Nature Center close and … we're going to take over the management of the Nature Center. The County granted them the opportunity to do that and we've become fully nonprofit since July 2010."
Cooper says the Center relies on memberships, donations from the community, lots of volunteer support, grants and special events to bring in revenue for the Center.
If you go:
The Effie Yeaw Nature Center is located inside Ancil Hoffman County Park, 2850 San Lorenzo Way, off Tarshes Drive in Carmichael. The San Lorenzo entrance to Ancil Hoffman Park is permanently locked and the only way to enter the Effie Yeaw Nature Center by car is from Tarshes Drive and California Avenue.
The trails are open daily from dawn to dusk. The Nature Center Building with exhibits, information, live animals and the book and gift store is open February through October, Tuesday through Sunday from 9 a.m. to 5 p.m. and November through January, Tuesday through Sunday from 9 a.m. to 4 p.m. The Center is closed Mondays, but open on public holidays that are Mondays, except Christmas Day and New Year's Day.  Hours of operation could change, especially in stormy weather.  Call to confirm hours of operation for the day 489-4918.