The milestone was actually achieved on Nov. 10, a century after more than 125 local citizens met at the O.D.E.S. Hall on W Street, between 5th and 6th streets, to officially work as a unit in securing needed improvements for the "South Side" section of the city, which was then described as being located from Front to 15th streets and from R to Y streets.
Although historic newspaper accounts recognize the Southside Improvement Club as operating for about a decade prior to its Nov. 10, 1913 anniversary date, the organization had not yet been incorporated during those earlier years.
On Tuesday, Nov. 11, 1913, The Sacramento Star published an article entitled "New improvement club is formed."
The article noted that the objective of the club was to clean up and improve the south side of the city.
The Sacramento Bee's Nov. 11, 1913 report on the same topic noted: "It was agreed that any person owning property on the south side (of the city was) eligible to membership" and that "the club (would) fight for desired public improvements."
Charter members of the organization included Ben Adams, J.V. Azevedo, F. Butler, Daniel H. Carroll, William A. Carroll, J.T. Connor, Cornelius C. Conrad, William A. Durant, Joe Enos, William S. Gloria, R. Arthur Leiva, John B. Martin, Joseph McDermott, Peter J. Nusbaum, Charles S. Ralph, William L. Rose, Elwood Santos, J.G. Thomas, Elmer O. Walker and Charles W. Walser.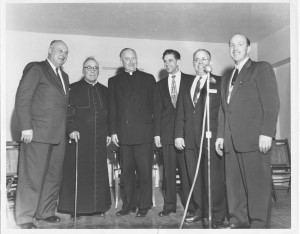 During the aforementioned Nov. 10, 1913 club meeting, the following officers were elected: Ralph, president; Rose, vice president; Nusbaum, treasurer; and Walser, secretary.
The club's constitution was read and approved during the organization's following meeting, which was held on Nov. 24, 1913.
Early activities and improvements instituted or supported by the club included the development of Southside and William Land parks, the repairing and removal of levees, the construction of the Robert E. Callahan Memorial and improvements to local streets.
The club was also influential in the efforts to have the current swimming pool constructed at Southside Park 60 years ago.
The 100th anniversary gathering began with an installation of officers presented by the club's President Joe Waters.
These incoming officers are Larry Budney, president; Manny Perry, vice president; Steve Silva, second vice president; Robert Salerno; secretary; Michael Budney, treasurer; and Judge Jerry Bakarich, sergeant at arms. These men will officially begin working in these positions in January.
In discussing his upcoming role with the club with the Land Park News, Larry said, "We have basically come from a political lobbying type of club (with) concerned citizens that were looking to improve and beautify the city, and certainly that probably still exists in people's hearts here. But the reality is we're getting older and politics is really complicated nowadays, and I'd rather just focus on doing something that's a little more practical and focusing on how we can be helpful to the community. In that way, we can work with individuals, like if you know a kid who needs scholarship money or if we're going to help a family and improve their life maybe by giving them some extra money for Christmas gifts or whatever. In that way, we would be more philanthropic. It's also going to require that we think about it. I'm going to throw it out there to the guys in my first meeting (as president) and say, 'Okay, we're called the improvement club, so in reality, what are we really improving? What is it that you really want this club to do that would be meaningful?'"
The next portion of the Dec. 5 gathering was a historical review of the club by Judge Jerry Bakarich.
Bakarich then introduced the club's historian, William Burg, who presented a slide show featuring historic photographs of the club, the south side area and other scenes of Sacramento.
The event, which was the club's second ladies' night of the year, also included a brief speech by Larry Budney and comments by Dr. Herbert Yee, a rib-eye steak and chicken dinner prepared by Joe Semon and his crew and a raffle for prizes that were donated by club members. The raffle was conducted by Jerry Balshor.
The club also had a collection area for donated coats for the News10 Coats for Kids drive.
In celebration of last week's special gathering, several members of the club shared details about the organization and their memories about the club and its anniversary.
Portions of the comments of these members are presented, as follows:
Al Balshor: "I think it's great (that the club is celebrating 100 years) and we'll keep it at $3 a year (for) dues. We've had many, many dignitaries in office – mayors, city managers, supervisors. The old club, if you didn't go through the Southside, you never got a job. The old dignitaries (who were members of the club included) George Klumpp, Frank Seymour, Jim Garlick. Bartley Cavanaugh was the city manager (and a member of the club). We (formerly) met back for many years at the Southside Park clubhouse. (The club) used to have, all the way from the early 1930s or so, fireworks in the park. The city would pay for the fireworks. It cost them $2,500 and we would put it on with entertainment at the Callahan Memorial there. I've been president (of the club) twice. I was president in 1954 and 1997, and each (term was) two years. I didn't join (the organization) much long before (1954), because I was under 18. You have to be 18 to get in. I think there are about 12 left of (the surviving) presidents (of the club). (Among them is) old Manny Perry. He's of my age. We meet on the third Thursday of each month at St. Elizabeth Church at 12th and S (streets), and occasionally we'll take bus trips. We'll go to Reno, (etc.). We have a ladies' night twice a year. It's still a men's club, but we'll bring them as our guests."
Manuel "Mannie" J. Viera, Jr.: "My dad (Manuel J. Viera, Sr.) belonged to (the club) for years. And I got my cousin, Ricky Dias, into it, too, or vice versa. I'm not sure which. I like the camaraderie (of the club). There are a lot of people who I've known since I was a young man going to (Holy Angels School and Christian Brothers High School). We reminisce about those things and stuff like that. I think it's tremendous (that the club is celebrating its centennial). A lot of clubs don't last that long. The membership drops and they get disinterested and that sort of thing. But (the Southside club) seems to be doing a pretty good job over there, so I'm glad I'm with them."
Ron King: "I joined the (club) about 45 to 50 years ago. Everybody at south side used to belong to it back then. They took care of everybody in south side. I lived right by (Southside) Park at 3rd and W (streets). I think (the 100th anniversary) is outstanding. A lot of old-timers went through that club, and big wheels, too. They had mayors, police chiefs, stuff like that. I get to see a lot of guys (at the club) who I grew up with. There are a lot of old-timers there who lived down by (Southside) Park. So, you get to see them and talk to them and hash over old times."
Bob Dias: "Ron King and a lot of friends I had in there (at the club) – Gene Plecas and a guy who worked for me, Tony Viegas, and his brother, Danny Viegas – (were members of the organization). I just got interested in it. There are few clubs that have lasted as long (as the Southside Improvement Club), so you've got to give them a lot of credit. Financially, they never had a lot of money to operate on, but they survived."
Joe Waters: "I joined about 20 years ago. My friend, (Tony Scalora), who passed (at the age of 78 on April 20, 2004), he and I were great fishing buddies, and he said, 'Why don't you come down (to the club) and I'll pay your dues?' It's $3 a year. It's the best two-bit club in America. I live in the north area. (Originally), there were no (residential) boundaries (for the club members, but today) some (members) live in the north area, some of them live in the Bay Area, some of them live in Elk Grove, Auburn, El Dorado Hills. They're scattered all over now. When I first got out of the Air Force (in 1960), I lived on W Street (near) 16th Street. I (initially) thought (the club) was a hoot. The guys, they would get up and they would talk about baseball and what we're going to do to help the area. (Despite its more social approach), it's still an improvement club. We give to (St. Elizabeth) church, we give to the different schools and what have you. It's a great club and I hope we're going to do another 100 (years)."
Members of the Southside Improvement Club gathered in the Monsignor Val Fagundes Hall of the historic St. Elizabeth Portuguese National Church at 1817 12th St. on Dec. 5 to celebrate a very special occasion – the 100th anniversary of the organization's incorporation.