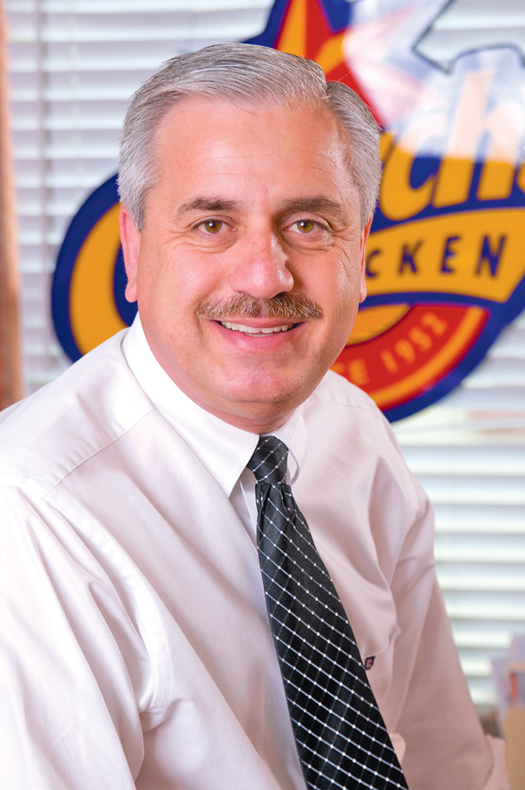 For much of his life, Tony Lutfi has had the goal of owning 50 restaurants before turning 50 years old. He was recently on the cover of Multi-Unit Franchisee magazine with the headline: Mega 99: Tony Lutfi soars from 52 to 134 units in three years.
Far surpassing his goals, Lutfi, whose corporate headquarters are in the Pocket area, is among the top 55 multi-unit franchises in the nation.
Born in 1960 in Amman Jordan as the youngest child for a refugee Palestinian family who then lived in Jordan, Lutfi immigrated to the United States in 1976 with hopes to pursue higher education in the medical field. He attended high school in Lodi and graduated in 1977, then quickly moved to Stockton and attended Delta College while sharing an apartment with his cousin.
"I did not want to be a burden to my family that struggled financially and I knew that I needed to work and make it on my own at age 16," he said. He worked at a 7-11 for a short period of time and then was offered a position with Jack in the Box for the graveyard shift, which worked out well allowing me to attend classes in the day and work at night.
Life quickly took its course. Lutfi quit college and decided to accept a shift manager position with Jack in the Box. In 1980, the rest of his family immigrated to the U.S. and they decided to purchase a corner grocery store in Stockton. He quit his position with Jack in the Box and worked for the family business for two years while his family became more accustomed to the life style and learned English.
In 1993, Lutfi applied to work for a franchise and was given an opportunity with Rax Roast Beef as an assistant manager making $925 per month.
In 1984 Lutfi married to Anna, whom I dated for five years. He did not want to pay rent for a home and decided to purchase his first home by borrowing money on credit cards.
"I knew that I will work hard to pay the cards off and hoped that I will build enough equity in my home to use it later to buy a business. Life took its course again and our first son was born in 1985 and the second in 1987. I was right with my first investment, the house appreciated in value and the credit cards were paid off," Lutfi said.
In 1988, he attempted to buy four restaurants from his employer, but lost the opportunity to another company who purchased the entire company and agreed to employ him.
A few years later, the president of the company decided to start a new company and asked him to be a partner operator. They purchased four Church's Chicken restaurants in Sacramento and partnered up with a local Pocket area dentist, Greg Maroni DDS.
They remodeled the restaurants and started the company while he continued his employment with company. In 1998, Maroni and he decided to purchase the entire company and committed to a partnership.
"My goal has always been to own 50 restaurants before I turned 50. Time was running out as I turned 38 and had only a total of 11 which included three Long John Silver's in the Bay Area, four Church's Chicken in Sacramento and four Arby's in Sacramento, Modesto and Tracy.
Maroni had two Arby's, which he owned since the late 80's in Auburn and Grass Valley.
They agreed to form a partnership and operate the 13 units.
They opened four restaurants between 1998 and 2000, one was Arby's in the Pocket area Promenade Shopping Center. They either sold or closed all four locations within two years and decided that the only way they can grow is by way of acquisition minimizing risk.
In 2001 just before Sept. 11, they agreed to acquire four Church's Chicken restaurants in Las Vegas. They took over the operations on Oct. 22.
"Naturally, the world changed after Sept. 11, especially in Las Vegas. Tourism came to quick halt and businesses suffered including our new acquired restaurants. I remember driving to Las Vegas weekly and working in the restaurants just to save labor and try to save the business. Luckily, we had great managers that maintained and quickly rebounded by 2003," Lutfi said.
They paid off the loan for the Las Vegas stores in 2006 and began a journey of growth.
In 2006, they acquired 11 Church's Chicken in Stockton and Tucson.
In 2007, they acquired 15 Church's Chicken in Phoenix and opened their first Little Caesars Restaurant in Orangevale.
In 2008, they acquired 11 Church's Chicken restaurants and opened their second little Caesars Restaurant in Carmichael.
In 2009, they opened another Little Caesars restaurant and a Church's Chicken in Las Vegas
In 2010, Lutfi acquired 21 Jack in the Box restaurants in Modesto, Los Banos, Oroville, Marysville, Placerville and Sacramento.
In 2011, Lutfi acquired 14 Sears Hardware stores in Houston and St. Louis, and Sears Appliance Showrooms in Dallas and St. Louis, but also opened two restaurants, one in Galt and another in Las Vegas. Lutfi also acquired five Sizzlers in Auburn, Sacramento and the Bay Area.
In 2012, Lutfi opened another restaurant in Las Vegas and another in North Highlands and added a Sears location in Chino, Calif.
Lutfi and Maroni closed last year with their largest acquisition to date, 42 Arby's restaurants in Oregon and Washington.
Today, Lutfi operates the following: five Sizzler restaurants, 21 Jack in the Box, eight Sears Appliance Showrooms, and six Sears Appliance & Hardware Stores.
With Maroni, Lutfi owns five Little Caesars, 43 Arby's, 46 Church's Chicken,
Lutfi and Maroni also offer management and consulting services to several organizations in Texas and California who operate 117 restaurants of various brands.
Lutfi is still married to the love of his life who worked with him years ago at the Jack in the Box. They were married in 1984 and had three boys, Metri 27, in the business operating the Jack in the Box Company and attended Fresno State, Stephen 25, a graduate from Fresno State as a civil Engineer; he also joined our company a few weeks ago and is currently our analyst; and Ramsey 20, in his third year at Fresno State pursuing his degree in Business.
Although the business has grown to near 150 in seven states, Lutfi says they remain a family business with several of the family leading and serving the business. Starting with my nephew Nader who has been an integral part of our continued growth and many others including Dr. Maroni who has remained committed for the entire ride.
Pocket area resident and attorney Shane Singh has been representing the MarLu Investment Group for over 11 years and handles a majority of their legal work.
The MarLu Investment Group office is in the Pocket area, 1531 Corporate Way.