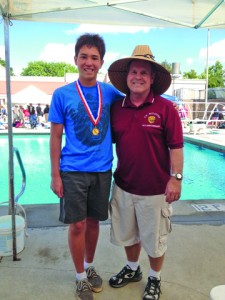 In the hours before a meet, Nevada Schultz visualizes himself performing each dive better than he's ever done before, but as he steps onto the diving board, his mindset changes. Thinking only about the dive he's about to perform and forgetting about the competition, the Sac-Joaquin Section Finals champion gets into a highly focused state of mind.
And then in a couple seconds, the dive is over.
But, it's the adrenaline rush from the excitement of completing a difficult dive that pushed Nevada to perform his best against great competitors.
At the section finals held at C.K. McClatchy High School on May 10, Nevada performed a backwards dive in a pike position so well it gave him momentum throughout the meet. His win was the first time a McClatchy student won Sections since 1979.
At the competition each diver performs 11 dives for Sections, each with a degree of difficulty rating which is then multiplied by the judges score. Nevada's dives ranged from a forward dive to a 1-½ somersault with two twists. Another dive included the challenging backwards (flip-toward-the-board) plunge.
Speaking about the day's excitement, Nevada said, "The pressure to perform was heavy; so completing all my dives at a high level felt great."
Competing against the divers on his Junior Olympic team who compete for other high schools, undoubtedly was Nevada's toughest competition. "They are all very good divers and any of us are capable of winning any meet," he said.
For a sport that normally doesn't get a lot of attention, Nevada said coming home a champion to long-time C.K. McClatchy's coach Dee Robbins was the best part this year. "The highlight of my season was making my coach, Dee Robbins, proud by winning Sections. It made all the hard work and training worth it to reach my goal for the season. It feels glorious to represent McClatchy successfully and bring home the championship after such a long drought (since 1979). Diving doesn't normally get a lot of attention, so this really helped bring attention to the sport at my high school," he said.
Diving for only three years this summer, Nevada said he found his passion for the sport a little later than most divers his age. Asked about his training regimen, Nevada said he jumps on a trampoline at home, dives year-round five days a week for at least two hours, and conditions on dry land with ab, leg, and stretching exercises.
Asked to describe what he likes most about diving, Robbins spoke on this very work ethic, exemplified by Nevada's hard work. "I enjoy watching kids improve and enjoy what they are doing. Diving takes commitment and hard work, but at the same time it is very satisfying and rewarding. The skills learned in the sport of diving carry over to help kids be successful in all aspects of their lives."
The highlights of Robbins' career continue to be the many deep and lasting friendships he's had with many of his divers.
Coaching for about 38 years, Robbins described how the sport has changed since then. "In 1976, there used to be many recreational diving teams. My team (The Sunrise Sharks) would compete against Park Terrace, Davis, Auburn, Placerville, Rosemont, and Arden Manor. Each team was limited to 40 participants per meet. I had about 80 kids on my team. Now, we have basically no recreational teams and very few beginning classes that teach diving. It also seems that the sport is evolving into a rich person's sport because of how expensive it is to participate," Robbins said.