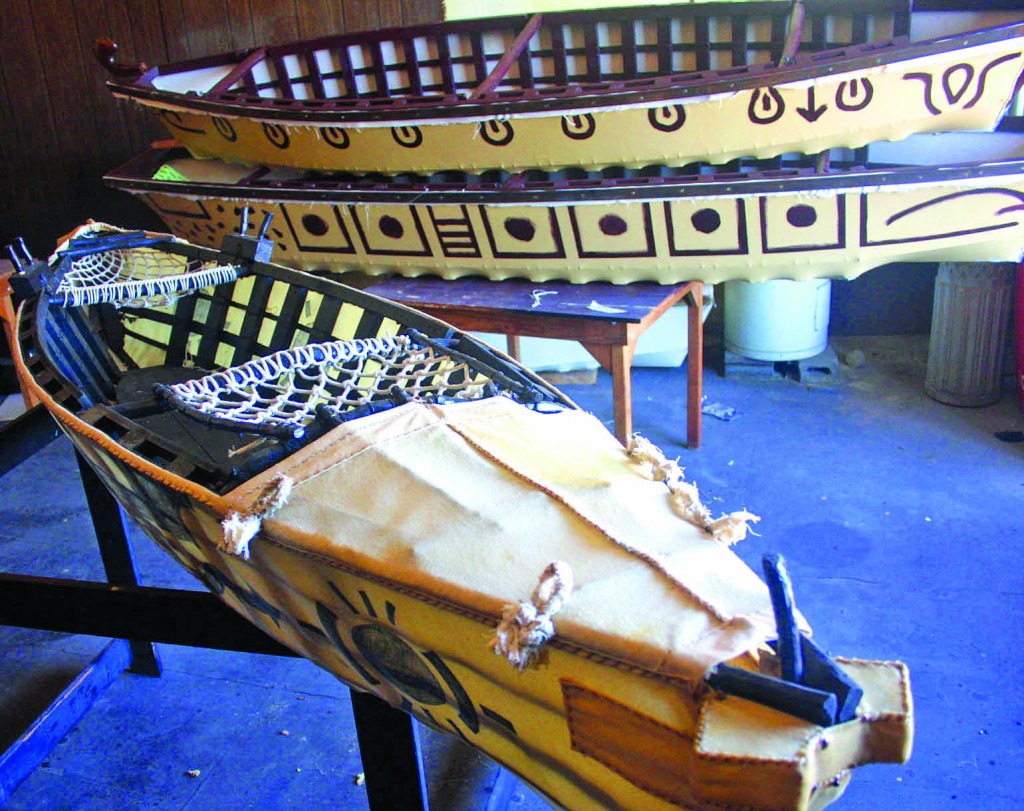 Ruben Unzueta, a 2005 graduate of McClatchy High School, believes he has found his niche in life.
Since his childhood, he has been drawn to the art of making things with wood. And this longtime interest has led to his currently growing recognition as a builder of canoes and kayaks.
One of Unzueta's earlier memories in his life was the time when his father – also named Ruben Unzueta – told him to stay away from some wood in his family's garage.
But the younger Ruben Unzueta, as he explained, ignored this parental order.
"I would just see wood and I would want to carve it," said Unzueta, who turned 25 in February. "I remember when I was 8 years old, my dad was cutting some wood and he left it in the garage and there was a chisel there. And he said, 'Don't chisel the wood, because you're going to cut yourself.' For some reason, I just gravitated to the wood and the chisel and I started messing with it and I cut myself. But even though I cut myself, I just couldn't stay away."
Carving wood
Fast forwarding to today, it is not uncommon for Unzueta to be driving down a Sacramento street and suddenly pull over to pick up some wood that catches his attention.
After picking up such random pieces of wood, Unzueta brings them to his home to store for one of his future projects.
Fortunately for Unzueta, he has the ability to recognize, as well as locate materials for his boat-building projects that do not take away from his limited funds as a young person who is paying for college out of his own pocket.
Unzueta explained that in addition to large pieces of wood, his boat building projects also require small pieces of wood.
"With the kayaks, I'm using actual branches and twigs," Unzueta said. "I'll just go down Freeport (Boulevard) to the river and there are overgrown trees and bushes down there and I'll just cut the branches I need to make the ribs for the boat."
And sometimes one can also be a little lucky, as was the case with Unzueta, who is also using some leftover wood from a project that was performed by a man who was working for his father.
Free wood
Overall, Unzueta prefers using fresh wood that can be found for free around Sacramento. And for him, acquiring such wood is much more than just a means to save money on materials.
Much of the wood for Unzueta's projects needs to have moisture, so that the wood can be more easily bent. Lumber available at a lumber mill has been dried to the point that it has lost much of its ability to bend.
Boat building, Unzueta explained, is a skill that requires much time and patience.
"Shaping and bending the wood, that's what really takes a lot of patience and time," Unzueta said. "If I go too fast, I'll break the wood. If I go too slow, (the wood) won't form the way I want it to. I've really got to measure how I'm doing it. It's really a skill sort of thing. You've just got to be one with the wood."
A confident builder
While Unzueta has gained confidence as a boat builder, he has also shortened the amount of time it takes him to build these watercrafts. He can presently build a canoe in two weeks.
In addition to wood, materials used in the making of Unzueta's boats include canvas and homemade nets.
Unzueta said that he hand ties these small nets, which he connects to inner parts of the boats to be conveniently used as places to set miscellaneous items.
The nets are very special to Unzueta, since he was taught how to make the nets from his grandmother, Rosa Muniz.
"My grandma is from Michoacan, Mexico and she lived right on the border of the biggest lake in Mexico," Unzueta said. "The town was known as a fishermen's town. She wanted one of her grandsons to learn how to make (fishermen's) nets, because this is part of our (family) history. All our family had been fishermen as far back as she could remember. She taught me how to make nets and I incorporate that into the boats."
Music maker
Although Unzueta has become a skilled canvas and wood canoe and kayak (which by definition is also a canoe) builder, he said that he initially began making ukuleles.
"I wanted to play a Mexican (stringed) instrument called the jarana, but I couldn't find anybody here who made them," Unzueta said. "I (thought), 'What am I going to do?' The closest thing (to the jarana) was a ukulele. So, I went to Kline Music (at 2200 Sutterville Road), where my sister (Rebecca) works, and I asked if I could pull down a ukulele and take some measurements on it, so I could see how to make it."
Unzueta said that he collected some wood, including a branch he found at William Land Park that would be used for the instrument's neck. And using information that he read in a book, he built his first ukulele.
Unzueta had previously taken guitar classes at Kline Music and creating his own ukelele meant he now owned an instrument, which he said had sort of his "soul and personality in it."
Among the ukeleles that Unzueta has built was a very Land Park ukulele, which he made entirely with broken tree branches from William Land Park. He sold the instrument to a local resident for $100.
Becoming a boat builder
Unzueta explained how he eventually became a boat builder.
"I go for walks with my dog a lot right there where the (Le Rivage) Hotel is at and I would see the water (of the Sacramento River) and would go, 'Wow, I would like to be on the water,'" Unzueta said. "I didn't really have any money to buy a boat. I just got to thinking, 'I made my own ukulele, so I'm sure I can make myself my own boat.'"
After a failure to find a local boat builder, Unzueta turned to the Internet and began researching various kinds of boats.
He became fascinated with an old-style kayak, which drew him to think, 'Wow, we have all (the materials to build this type of kayak) right here in Sacramento just floating down the river and everywhere."
Unzueta then followed details in a book about kayak building to construct his first kayak.
Thus far, Unzueta has made two kayaks, as well as five canoes and other wood projects, including masks and swords. He is presently working on another kayak and an outrigger canoe.
He said that he continuously receives positive feedback about his work.
Although he desires to one day own his own boat store to sell his custom-built boats, Unzueta understands that this dream is something that would probably take several years to become a reality.
In the meantime, he is interested in building one-of-a-kind boats and ukuleles for anyone who is interested in purchasing such creations.
And Unzueta said that he guarantees all of his work and will repair any minimal, normal use damage as a complimentary service.
Photographs and additional details about Unzueta's custom-made boats can be found on his Facebook page, www.facebook.com/lazyturtleboats.
For further information, write to Unzueta at lazyturtleboats@yahoo.com.
Lance@valcomnews.com