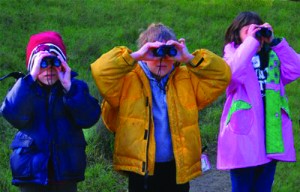 The American River Natural History Association (ARNHA) and Sacramento Audubon are teaming up to offer a special weekend of morning birding trips coupled with wonderful breakfast fare on Saturday, March 22 and Sunday, March 23.
This event, held at the Effie Yeaw Nature Center in Ancil Hoffman Park in Carmichael, starts with Bird Walks guided by some of our best local birders. For weeks in advance of the walks, these guides scout the Nature Study Area so they will be able to point out nests and local rarities. After the walk, you will join fellow birders for wonderful food, good coffee and other fun to help raise money for the Effie Yeaw Nature Center. No extensive birding experience is necessary-this event caters to all levels.
On Saturday, the bird walk will be approximately 90 minutes long, followed by the traditional casserole breakfast buffet provided by some of the best cooks among ARNHA Board members and Nature Center volunteers. Participants can also bid in a silent auction for attractive baskets and experiences.
On Sunday, you can choose to join either a family bird walk, a one hour walk with children 6 or over welcome, or a longer, approximately 90-minute, adult bird walk open to those ages 12 and older. The Sunday event features an excellent pancake breakfast prepared by the Carmichael Kiwanis. On Sunday, there will also be a natured-themed craft activity for children.
Mendocino-based Discount Binoculars will be available on Saturday showing a wide range of binoculars and spotting scopes. They feature more than 25 styles of binoculars and scopes, made especially for birding, for you to compare and test.
This event often sells out. Reservations are required. Call 489-4918 for information, questions and to make reservations. For more information and to reserve a spot online, visit http://www.sacnaturecenter.net/birdandbreakfast14.html.
General admission is $40 per person age 12 to adult.