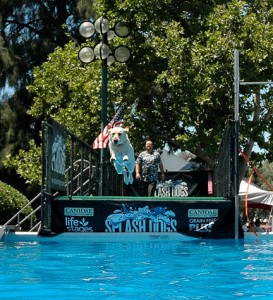 Splash Dogs is a nationally recognized dog enthusiast company that organizes and promotes dock jumping events across the United States.
From Border Collies to Pit bulls to Golden Retrievers, dogs named Dexter, Murphy, and Rowdy, the "Flying Weenie Dog," hail from all over Northern California to compete in the Splash Dogs competition at the California State Fair.
Water dogs are the best; they're fearless, fun and love to jump into water to fetch a doggie toy with reckless abandon.
Diane McKernon, of Carmichael, and her 3-and-a-half-year-old yellow Labrador Retriever, Daisy, entered the Splash Dogs competition at the State Fair hoping to make a big splash…or at least get a blue ribbon. It was their first time being Splash Dog contestants at the State Fair.
Diane told me she had seen the Splash Dogs at the State Fair for years and always enjoyed being a spectator. When she finally got a dog that would actually jump into the water, she decided to jump right into competing in the Splash Dog events.
The first competition they competed in was the Splash Dogs Pet-A-Palooza event in Citrus Heights last year. Daisy ended up jumping 18.4 feet at Petapalooza and took fifth place. She received a blue ribbon and when Diane hooked it on her collar "she looked proud, she has a sense of pride in being a good splash jumper," Diane said.
That's when they both got hooked on the Splash Dog competitions.
Daisy is a natural born jumper. She loves to jump in Diane's mom's pool on Rustic Road in Carmichael.
"She just runs and flies into the pool without any hesitation," Diane said. Daisy jumps into lakes and rivers and wherever she can get into the water. She's a true "water dog."
I could see Daisy sliding down the water slides at Cal Expo. "I think she would," Diane replied.
As I was talking to Diane about the competition, 92-pound Daisy was pulling her toward the Splash Dog dock and whining. She's a strong dog. She was chomping at the bit to make another jump into the cool water. Diane said, "Most of the dogs doing this are single-minded. All they can think about is getting in the water."
At home, Daisy is actually a laid back couch potato, eating Costco dog biscuits and waiting for the next Splash Dogs competition. Once Diane gets out the Remington Dog Toy and the leash, Daisy is ready to go for a walk near the river where she loves to get wet.
Her friend Bryan takes her up to the platform. He's the handler so Diane can take video of the jumps. She's like a proud mother; posting photos and videos of her baby jumping into the water. Another reason Bryan's the handler is Daisy is a very powerful dog who could probably tow a Buick. When she sees the dog toy and the pool…she's hard to stop. "I hold her til she screams and screams and let her go!" Bryan said. Bryan uses the "huck technique" which is basically just hucking the dog toy and letting Daisy go after it and fly through the air.
And how did Daisy do in the Splash Dogs competition? Her longest jump was 17 feet, 1 inch during the splashes, and she jumped 16 feet, 8 inches in the finals, where she placed ninth, which is pretty good considering it was only her second competition. She won a blue ribbon but was too tired to pose with it. She had jumped all day and was just "dog tired."
The day at the State Fair was all about Daisy and her joy of jumping. She loved it! Daisy is now relaxing at home in Carmichael, sprawled out on the kitchen floor, and waiting for her next big Splash Dogs competition.
If you want to stay up to date on Splash Dogs or enter your canine in a competition check out www.splashdogs.com