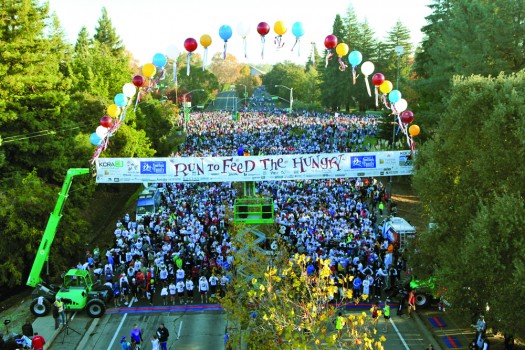 What has 56,000 legs, over 28,000 smiles and is the biggest "happening" in Sacramento every year?
If you guessed the 19th annual "Run to Feed the Hungry" for Sacramento Food Bank & Family Services, you guessed correctly.
For nearly two decades, members of the Sacramento community – and their friends and families from around the nation – have gathered to give back. Whether they are elite runners, average joggers or simple walkers, this event is one of the most respected 5K/10K events in the nation.
Held every year on Thanksgiving Day, participants agree: it's a great way to give back to the community…and burn a few calories before indulging in a piece of pumpkin pie. Last year, 26,825 people participated on the event's first rainy day. This year, more than 28,000 participants are expected.
"Run to Feed the Hungry is a Sacramento tradition for thousands of local families," said Kelly Siefkin, communications director for the food bank. "The event offers a 5K and 10K course through the beautiful East Sacramento neighborhood. The Run is owned and operated by Sacramento Food Bank & Family Services and raises funds to support six programs."
Need knows no season…and seems to know every neighborhood. SFBFS serves families in need throughout Sacramento County, including local neighborhoods including Land Park, Arden and Carmichael. Some 20,000 unduplicated men, women and children receive free goods and education through SFBFS programs each month. The food program serves 16,000 unduplicated individuals each month.
The run raised $850,000 for the food bank last year – approximately 20 percent of the organization's annual budget. Founded by Father Daniel Madigan in the basement of his Oak Park church in 1976, SFBFS runs a very lean, grassroots organization with an incredibly efficient, professional staff of 40 and a volunteer workforce of over 5,000 annually.
The Thanksgiving Day (Nov. 22) fun begins at 8:30 a.m. and concludes at approximately 11 a.m. Participants will meet at Sacramento State's J Street entrance for the start of the run/walk. New exit points from Sac State will improve traffic flow post-race.
Siefkin is excited about a new participant category this year: Virtual Runner.
"Is your spouse dragging you to Iowa for a snow laden Thanksgiving? Do you have 49 relatives descending on your living room around 11 a.m.? Are you more of a napper than a jogger? Then sign up as a virtual participant," Siefkin said. "Your registration fee supports programs at Sacramento Food Bank & Family Services and you'll still receive your shirt after the event, but you don't have to run or walk on Thanksgiving morning."
There is still time to sign up to participate, volunteer or join a team. There is also some new run attire available this year.
"Those who sign up to participate and who make an additional $50 contribution will receive a Run to Feed the Hungry knit beanie this year," Siefkin said. "Participants are very excited about it – apparently, it's becoming a hot collectible for those who participate every year."
Registration for the Run to Feed the Hungry is available online until Nov. 20 at www.runtofeedthehungry.com. Participants can also register via mail until Nov. 10 or at REI from Nov. 17–21. For more information about SFBFS, www.sacramentofoodbank.org.