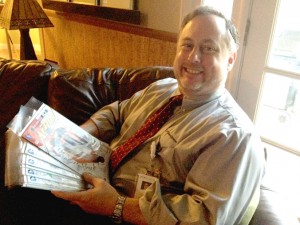 Carmichael resident Dr. Chris Gresens has a secret identity.
He didn't come from another planet with amazing superpowers. He's not a masked vigilante who protects the innocent, and he wasn't bitten by a radioactive spider.
By day, Gresens is a clinical professor in the Department of Pathology and Level 3 Medicine at UC Davis and senior medical director at BloodSource.
At night, Gresens is an avid comic book collector, with a collection of over 17,000.
Gresens' love of comics began at age 8 when he picked up his first comic – Action Comics No. 428 with Superman. "It just appealed to me on the newsstand and I haven't stopped collecting since," he said. "I still am (a collector) at 47 years old. Old habits die hard."
Zap!
Gresens says he loves both the art and storylines of comics, such as the Superman story. "The idea that somebody who can do something extraordinary chooses to for the right reasons to help others – I always like that mythos," he said.
Since then, Gresens has expanded his reading to a number of other comics, mainly those published by DC Comics. In fact, he purchases the new issue of every DC Comics each month – about 52 issues a month – and takes the time to read them all cover-to-cover.
Gresens said his love of comics is also based on nostalgia. Growing up without discretionary funds for comics, he recalled searching the coin returns in pay phones for an extra 20 cents to purchase a new comic, and recycling aluminum cans he collected to purchase comics or a ticket to Comic-Con.
"$20 went a long way back then – I could buy a stack of comics 15 inches high and get into an adventure," he says.
Nostalgia is also another reason. Rather than downloading and reading comics electronically, he keeps purchasing printed copies because he enjoys the feel of the comic in his hands.
"Even – and my wife laughs at me – I'll occasionally smell the print just because it reminds me of when I was a child," he explains. "There is something to having it in your hands."
Shazam!
Gresens' store of choice for comic books is Adventures in Comics and Games in Carmichael, owned and run for the past 18 years by Avrom Oliver.
According to Adventures' staff member Anton Dovydaitis, who is also an avid comic book collector himself, the store carries both new titles and about 20,000 different back issues of comics.
Dovydaitis said comics have been having a bit of a renaissance due to the popularity of TV shows, such as "The Walking Dead," and various movies based on comic books.
In addition to "The Walking Dead" series, another comic popular right now is "Before Watchmen" with characters and stories from the graphic novel, "Watchmen". And well-known comics like Superman, Wonder Woman and Justice League are still as popular as ever.
Plus Dovydaitis said artists and writers have more freedom in the stories they tell. "There's a lot of author-owned titles and a lot of comics where they'll take an established character and give the writer and artist the freedom to do whatever they want with that character," he explained.
Ka-Boom!
So why should someone who has never read a comic book before give it a shot?
For starters, Dovydaitis said one of the best things about comics is they create a world you think about and think about what the characters are doing. However, unlike movies where you have to wait a long time for the next part of the story to come out, with comics the next installment of the story come along a lot quicker.
"How long is it going to be until the next 'Avengers' film or even the next 'Hunger Games' film?" he adds. "But new comics are coming out every month and if you find a story that you like, the next episode will be along next month."
In essence, Gresens said give it a shot. "Take a look at a comic book store nearby, reserve judgment until you've tried reading a story or two, and talk to one of the shopkeepers to find out what is in the comic store that to might like," he said. "It may or may not be for you, but maybe something that you enjoy. And you may find out there's a whole lot more going on in the comic book world than you ever realized," he said.
Editor's note: Do you or someone you know have an interesting hobby or unusual collection? Email Monica at  editor@valcomnews.com or call 429-9901.