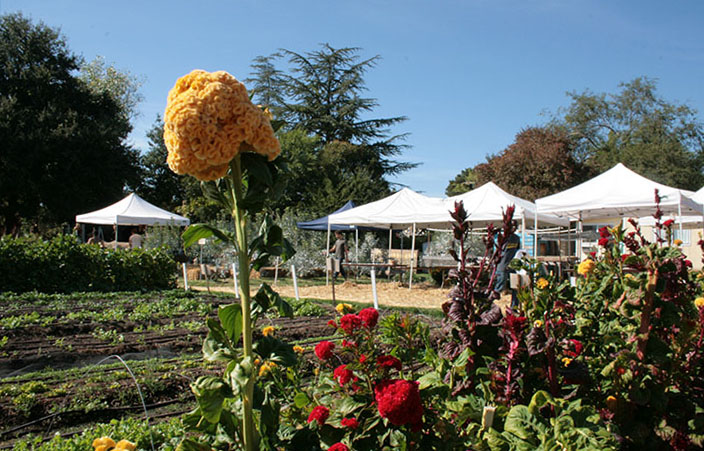 The earliest humans used the sky as both clock and calendar and hailed the Autumn Equinox as a time to celebrate the season–harvest the crops and prepare for the winter season of spiritual awakening.  Expanding upon this traditional concept, Soil Born Farms will host the 10th Annual Autumn Equinox Celebration Fundraiser, Saturday, September 22, 2012 (details below).
Nestled among the crops, in the beauty of their urban agricultural oasis, Soil Born Farms is known for its quaint location in the heart of Sacramento, growing tasty seasonal produce as well as serving as a training site for future farmers.
AUTUMN EQUINOX CELEBRATION DETAILS
Event:        10th Annual Autumn Equinox Celebration at Soil Born Farms
Sponsored By The Sacramento Natural Foods Co-op
With underwriting support from Union Bank, Dave and Maxine Clark Family, Western Health Advantage and Bank of America
Location:        3000 Hurley Way, Sacramento
Date/Time:        Saturday, September 22, 2012  4:30 p.m. – 8:30 p.m.
Details:        Wander among the organic gardens, sample seasonal and organic foods
prepared by prominent local chefs from Sacramento's finest restaurants.  Taste a varied and exceptional wine list from prominent regional vintners.  Enjoy live music with Mind X Quartet and Cousin Jimbo & Friends; raffle featuring prizes including domestic round trip airfare for two and more!
Invitation Info (Advance Purchase Only; No Tickets Available At The Door):
Sacramento Natural Foods Co-op, 1900 Alhambra Blvd., or
Soil Born Farms (916) 363-9685 or
Online www.soilborn.org
This annual event also helps Soil Born Farms raise the necessary funds to run its programs and service the community.  Among the farm's programs are scholarships for school field trips and donations of thousands of pounds of vegetables and fruit to families in need.
The Soil Born Farm Urban Agriculture And Education Project is a 501(c)3  organization
Sponsored by the Sacramento Natural Foods Co-op—a community partner since the beginning of the Soil Born Farms Urban Agriculture & Education Project—the Autumn Equinox event highlights their successful relationship to promote and support healthy food education and access for our region's population.  Soil Born Farms is a featured organic grower within the Co-op's 100% organic produce department.  The Autumn Equinox celebrates the accomplishments of Soil Born Farms while raising funds for the farm's education and food access programs.
Soil Born Farms 10th Annual Autumn Equinox Celebration Participants…
Fine Food:
Sacramento Natural Foods Co-op, A Healthy Kitchen, AME-Mean Eats, Bella Bru
Baking Co., Biba Restaurant, Dad's Kitchen, Ella Dining Room & Bar, Fat Face,
Figueroa Farms, Freeport Bakery, Grange Restaurant & Bar, Hot Italian, Magpie Café,
Mulvaney's B & L, North Valley Farms Chevre, Old Soul Co., One Speed, Pedrozo Dairy
& Cheese Co., Piatti Ristorante and Bar, Plates Café & Catering, Point Reyes
Farmstead Cheese Co., Restaurant Thir13en, Santa Fe Mi Abuelita Bonita Tortillas,
Selland's Market Café, Sierra Nevada Cheese Co., Smart Chicken, Soil Born Farms,
The Good Stuff, The Kitchen, The Waterboy, Tuli Bistro.
Wine, Beer, Cider:
Sacramento Natural Foods Co-op Wine Department, Amador Foothill, Berryessa Gap
Vineyards, Boeger Winery, Bogle Vineyards, Capay Valley Vineyard, Chambers &
Chambers Wine Merchants, Dancing Coyotes Wines, E2 Family Wines, Epic Wines,
Hoppy Brewing Co., Mammoth Brewing Co., Moniz Family Wines, Origin Beverages,
Peltier Station, Sierra Nevada Brewing Co., Revolution Wines, Rubicon Brewing Co.,
Two Rivers Cider Co.
About Soil Born Farms…
As part of its mission, the Soil Born Farms Urban Agriculture & Education Project connects everyone—youth, students and adults—of varying cultural backgrounds with locally grown organic food and provides a home for education about food, nutrition, ecological farming and sustainable living along with hands on volunteer opportunities.  Projects include the American River Ranch in Rancho Cordova, Harvest Sacramento and Youth Education Programs with field trips, classes, workshops, farm tours, summer camp and job training, and volunteer opportunities to help maintain and harvest the farm land while learning more about sustainable living, cooking, nutrition and bringing high quality foods from the farm to the table.  Additionally, a portion of the food grown at Soil Born Farms is donated to the Sacramento Food Bank & Family Services.