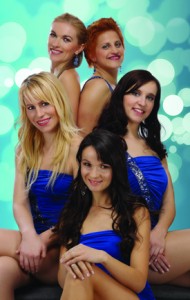 It took some complex negotiations, but Navihanke, the award-winning Slovenian women's folk music group, has just been cleared for a national U.S. tour during which they will perform several times at the annual Sacramento Banjo-Rama on May 1-4 at the Clarion Inn, 1401 Arden Way.
Slovenia is a tiny nation of slightly more than 2 million people that borders Italy, Austria, Hungary and Croatia. Slovenia once was the northwestern corner Yugoslavia, a former Soviet satellite country, and the girls from Navihanke are excited to visit the United States, as they consider it important to build relations and cultural exchanges with the West.
The resulting mix of Slovenian folk music and America's top jazz banjo players' sounds is hoped to produce a musical experience that has never been heard before. Interestingly, the banjo player of Navihanke isn't in the band anymore due to personal reasons.
If you want to be part of this experiment you are welcome to bring a banjo, guitar, ukulele, balalaika, or other fretted instrument and join in the unstructured jam sessions. There will also be workshops and formal concerts at various times during this year's Banjo-Rama. While a mainstay of American music, Sacramento Banjo Band's Jim Matthews traces the banjo's pre-African roots along the Silk Road through China, Mongolia, and central Asia. Matthews, who is writing a book on the history of the banjo, will be presenting his findings at the first workshop of the four-day event on Friday, May 2, starting at 9:30 a.m.
The Arden-Carmichael News got the pleasure of speaking with Sacramento Banjo Band's Bonnie Harris, Rex Inglis, and Jim Matthews about their involvement with the organization of this year's Banjo-Rama.
Asked about how Navihanke was recruited to play at this year's Banjo-Rama, Inglis first described how he came across their music to begin with.
"I was listening to my iPod. I had some old rock and roll and stuff I like. I downloaded videos. Jamaican steel band. Mariachi music. Then up pops two little girls in Germany 20s. They were maybe 12 or 13 at the time. They had on inline skates. One played a Steirische Harmonika, another a diatonic accordion. Then I searched. Then the song played Banjotastic played. These girls – they were making fun of the banjo player. We had more YouTube videos. I liked them. I figured they were from Slovenia. I went on the website. I tried to buy their CDs. That was a week or two before Christmas in 2001 and there was nothing but crickets.
"Then I got a message from them. I talked to manager. They said it would be 89 euros. And I said it would be nice if they autographed them. Six days later, here comes the CDs, signed by Sonja. She put a heart instead of dot over the 'j'. I asked her if there was any chance they might be in the U.S. She said, 'sorry.' In the meantime, I wrote a formal proposal and sent it off to the manger (performer Marjan Hercog's father). Days later, I received a thank you. They said, 'give us more information.' And I asked them, 'If we could raise the money, could you come?' I went to Slovenia in 2012. I got lost and I went to the police department where I met all the girls. Then they asked to see if (we) could put a tour together. Maybe there are people across the country like us that have shows that could do it."
The girls were able to fundraise their way to a full blown U.S. tour, which began in Cleveland on Wednesday. Other stops include: Pittsburgh, Lemont, Milwaukee, Duluth, Twin Cities, Sacramento for Banjo-Rama, and Palo Alto.
While none of the band mates play the banjo, Navihanke is sure to add a bit of je ne sais quoi to Banjo-Rama. As Bonnie, said, "I love banjo players and they are so good. But I get bored of them. This will be a refresher to spice up the banjo again."
What follows are biographies of the members of Navihanke. To see a complete schedule for Banjo-Rama, visit banjo-rama.com.
Sonja Hercog
Her role with Navihanke is to blow into the saxophone, she is also learning to play drums, and she is the one to connect the program and animate the audience. She adores dancing and whenever possible goes on the dance floor instead to the stage. She spends her free time on nature walks and studying and gathering medicinal and wild plants. She doesn't use her fingers only for playing saxophone, but also loves gardening, storing old seeds, making natural cleaners, creams, and cooking syrups. She is eager to learn and loves reading books about farming, spirituality, etcetera. She never runs out of questions and that is why her profession, which is ethnology and cultural anthropology, is a perfect fit for her. The majority of her work in the field includes interviewing people about various topics and learning about different ways of life currently and in the past. She is currently finishing her studies of nature conservancy and is advocating for a balanced relationship between nature, clean environment, and humans. She likes to be surrounded by funny people and loves to make people laugh by being cynical about herself, since, there comes a day when the motto holds: Why not make things more complicated, if there is a possibility for this? She is very responsible, detailed and flexible. She likes to sleep in, and before going to bed, she is happy to join a good debate with a glass of wine, and discovering the culinary specialties.
Tamara Gobec
I play guitar and sing for Navihanke. I've completed my Slovenian and English language studies and am soon to graduate. I plan to be a teacher and am therefore learning to be patient within a group with four other girls. Based on my "professional deformation" I like to annoy the other girls from time to time and correct their grammar, and they are of course happy to return the favor. As I'm in the process of taking my last few exams, I have very little free time. But when I do, I like to have a cup of coffee with my friends, see a movie, or go for a walk. I love animals and because I currently don't have much space, I envy other Navihanke girls who already have almost real "farms" full of kittens, dogs, and horses. But I'm even happier when I visit them. My weakest point is definitely chocolate; this is something that anyone can bribe me with. But otherwise I adore sweets of all shapes and tastes. Luckily all the jumping on the stage during our performances is helping me out so that I can have some sweets every now and then. I'm good-hearted and kind, although very stubborn and sometimes moody. It's likely that many would also say that my words precede my thoughts and that I can unintentionally offend them, but in my four years with Navihanke I learned to control this and be disciplined.
Maša Uranjek
I'm Maša Uranjek and I've been with Navihanke from the very beginning. Our 12 years have been truly magical as we went through many things together and experienced a lot. We had many beautiful and happy moments together on the stage and there is no end in sight, which pleases me tremendously, as music means almost everything to me. I'm the lead singer with Navihanke and also a flutist. I also play a guitar and a piano. On the stage we are bouncy and full of energy. People attending our performances are often wondering if the stage will be able to hold us or break down. I love nature, trees, sun, birds, streams, and farm animals. I also handle horses and have two beautiful horses at home. Jasmina and I often ride horses together around the countryside. I like to read spiritual books and evolve my thinking. I really like the books by Dobra vila Maja, Doreen Virtue, Louise L. Hay, Savine Atai, and others. My motto is: Spread love and peace around the world and be good to each other.
Tanja Čretnik
Tanja is at the best age for a woman and this is also how she feels. She has everything she needs to be happy and is only troubled by free time, which she never has enough. If she had more time available, she could probably do some things better, and she could take more time for other things out of pure pleasure. Cars are her weak point – and she always likes to turn around to check them out. If pop-folk music in Slovenia were more respected and better rewarded, she would have bought a brand new car and that would be a BMW 1-Series convertible in golden-sand color, 135i. But since there would not be enough space in the car for all the RUTAR accordions and all the keyboards, she would probably right now choose a bigger car. She goes to work, but she enjoys music much more. In Navihanke, she plays everything that has white buttons and white and black keys. She is the only one in the group that does not sing, as she is loud enough with everything else.
She adores her cat and the summer. No matter how hot it is, she would never trade the summer for the winter. In her life she regrets only the things that she hasn't done yet and wishes that she grew four inches taller. Since this wish will be hard to fulfill, she is a big fan of high heels in all color combinations. She wishes that Navihanke would visit the United States and present their music and Slovenia in the best possible way – with positive energy and lots of cheerfulness!
Jasmina Šmarčan
I'm Jasmina Šmarčan. In the group I play bass guitar, guitar, and sing. When we are performing with Navihanke I usually spend more time in the air than on the ground. The rhythms of our music simply take over and release a burst of energy in me, which results in jumping and all the action on the stage.
In my free time, I enjoy being with the horses. Whenever I find time I love going on long rides with my young mare. This is a real therapy for me and it recharges my energy so that I'm ready for new performances and gatherings. I also spend a lot of time educating myself about healthy living, which includes everything from spirituality to healthy eating. My motto and a verse that I follow in life is "You are in this world to see the sun. You are in this world to follow the sun. You are in this world to be the sun and to drive away – the shadows."
IF YOU GO:
What: The Sacramento Banjo Band Banjo-Rama 2014
When: May 1-4
Where: The Clarion Inn, 1401 Arden Way, Sacramento, 922-8041 (Formerly Red Lion)
Contact: Bonnie Harris 412-3020 or Rex Inglis at 209-955-2452
On the web: www.banjo-rama.com; sacramentobanjoband.com
SOURCES: www.banjo-rama.com