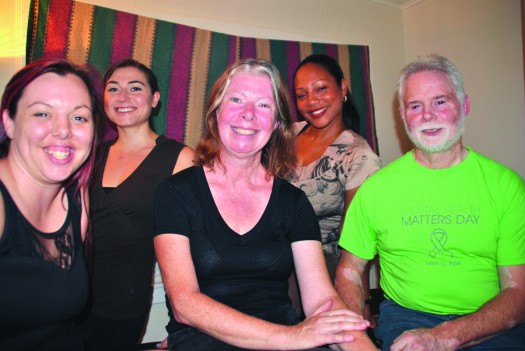 The lights are dimmed. The energy is warm. Sitting in the lobby of the Body Cafe on 21st Street, near Broadway, conversation flows between four massage therapists about the healing arts and how they can use their collective knowledge to improve each other's practices.
By sharing clients and by continually teaching and learning from each other, all of the therapists have a stake in the Body Cafe; they are not just employees, they are partners there. It is a collaborative, not only in terms of the business model, but also through sharing and learning from each other.
Ideal for therapists right out of massage school, the Body Cafe offers them a place to hold appointments and build their private practices.
Focusing on energy work, like Reiki, spiritual guidance directs Charon Perez's intuitive, holistic approach.
For Ashley, who attended the Healing Arts Institute, working on the more firm side with deep tissue and acupuncture, the Body Cafe is an ideal workplace where she's constantly learning from her peers: "I am always so excited to exchange services because you really grow a lot with body work," she said. Many of her clients are referrals from her other job at River City Phoenix, a medical marijuana dispensary (1508 East El Camino Ave.). "So sometimes, I work with cancer survivors and a whole array of patients, and, I feel with my essential oils, I can use vibrational healing at a cellular level."
"It's conversational. It's magnetic sometimes," said therapist Paula Osborn about giving massage.
Meanwhile, Paul Simmons, the Body Cafe's manager, said he has always struggled to describe his practice in words. A musician, Paul likens the conversation to when someone asks him to describe a symphony: "Listen to it."
A fluid approach to massage, therapists at the Body Café don't have a checklist of techniques they must follow each time, as Paula explained: "You're not getting signed off on a salon protocol that (therapists elsewhere have to follow)."
The Body Cafe is not the kind of place where management sets up shop and hires some people with profit as the main motivation. The cooperative is really about people being in business for themselves – starting their own private practice or expanding their private practice until they can go out on their own.
At first, the Body Cafe was a money loser, Paul said, however now, at the very least, the business is breaking even. "Now, we have good months, even though it's still a labor of love proposition. My goal is to not lose any money."
Opened about four years ago by Loralee Pagenkopf, the Body Cafe, within six months, quickly expanded to three additional therapists. Prior to that time, the building at 2414 21st St. was a dentist's office.
The amount of therapists who offer massage at Body Cafe varies as does the amount of time each therapist puts in there. "There are two therapists that are in one hour every couple of weeks. I don't really count them. I mean they're here, available, but they both have full time practices (elsewhere). One of them works at a women's hospice. She can't take male clients there, so when she gets a phone call from a male client, she does it here."
Clearly, a beneficial opportunity for the aforementioned therapist, the Body Café provides many opportunities for the therapists whom all come from different backgrounds.
Paula, a martial arts enthusiast, had to stop sparring four years ago after a major injury, but found massage to be in line with the very healing arts her senseis encouraged practicing. "(The injury) is why I came to massage because I had traditional teachers who told me to learn the healing arts as well as the martial application. So it's been a real adventure for me. They were right; these old school teachers from Japan and China were right. Now, I understand. So in a way, I get to continue my practice, it's just in a different way."
With only three massage rooms and about 20 therapists, keeping appointments organized and scheduled properly might seem like a full time receptionist job, but actually therapists utilize calendar scheduling that is available for free online.
The unique cooperative approach to running a massage studio is one that has had its ups and downs and even after four years, there's still room for perfection. Describing the business's growth and goals for the future, Paula said: "We'd love to pay the concept forward if we can. This is really a work in progress. It's been a high learning curve for all of us to try to figure how to make this concept work because it is unique. But we love to make it work and be able to share that and what we learned with other massage therapists to offer the option because many of us come out of massage school with the question: 'What am I going to do? I guess I have to go work for (a corporate massage business) or borrow a lot of money or get a lot of money to open a private practice.' It's just not easy to launch yourself into this world."
Adding to the discussion on paying the business model forward, Paul said, "The other piece in terms of paying it forward, at some point when somebody here does 20 massages, it may be time (for them) to go on their own because if you are doing 20 massages here, you'd like to have a room to yourself, so you don't have to say, 'Oh jeez, does Ashley have the room?' But, I will cry when they leave."
While that hasn't happened yet, Paul looks forward to the day when the business has grown to that point – an inevitable outcome based on the love and dedication that is put into each massage.
For more information, visit http://www.bodycafe.info/ . For appointments, call 292-0898 or email bodycafe@massage-ca.com.