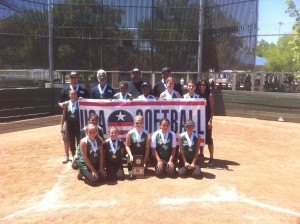 Two teams from the Pocket Softball League are headed to their age level's respective Western National Championships, representing the Greater Sacramento Softball Association.
Under the tutelage of volunteer Coach Steve Cobb, the "Pocket Aces" fast pitch team ripped through a two-day, six-game competition in Lincoln, June 23 and 24, and won the ASA Association Championship handily. The team qualified to compete against teams from other California regions at the California State Games in San Diego July 19 to 22.  They now boast a record of 12-0.
Competing in the 10-U, or 'Mini-Minor' division, athletes range in age from nine to just-turned eleven and are entering 4th through 6th grade. Selected from four teams, the twelve members of The Aces attend neighborhood schools, including Didion, Matsuyama, Crocker, Sutterville, Bidwell and Leonardo Da Vinci Elementary. They were awarded the Games' entrance fee, tournament winner t-shirts and medals for their victory in Lincoln.
The California State Games (CalStateGames.org) is a co-ed festival of Olympic-style competition for California's amateur athletes. The State Games is a community-based member of the United States Olympic Committee and features 25 other sporting events, 22 of which are held in San Diego in July. With an Olympic-style torch run, parade of athletes in Qualcomm Stadium, and similar Olympian pageantry, this is a very exciting opportunity for these neighborhood athletes.
Victory at the San Diego games would lead to participation at the State Games of America in Hershey, Pennsylvania.
The 12U Pocket All Stars qualified for the Western National Tournament  on June 23-24. The team took 3rd third place in the ASA Association Championship in Folsom, posting a 4-1 record in the "B" Division.  They logged wins against Elk Grove, Five Cities, Foothill and Roseville, eventually losing to another Elk Grove team in a semi-final game.  The team received a large team trophy and all of the girls received medals.
The Western National Tournament in Salem, Oregon, scheduled for July 30-August 4, will host 50-70 teams. The week-long tournament features an opening ceremony, skill event competition, and pin-trading between teams, in addition to high level fast pitch play.
The twelve girls on this All Star team have only played together for three weeks, but they practice and play hard and have embraced their new roles quickly.  The group is a young 12U team that plays loose and has fun together on and off the field, which is a key to their success.  They continue to improve and push themselves at every practice and game and look forward to the challenge of traveling 540 miles to battle some of the best softball teams in the Western United States.
Since 1969, Pocket Girls Softball has been providing recreational softball playing opportunities for girls, age 4 ½ -16, from Land Park, Pocket, Greenhaven and South Sacramento neighborhoods. As part of the Northern California Girls Softball Association, the nonprofit, volunteer-run Pocket Softball organization depends on support from the community for assistance with the Wenzel field conditions, equipment, umpires, tournament entry fees, underwriting needed player participation, and more.
The League and these teams are actively fundraising for their continued participation at these respective July events. Pocket Softball seeks local business and family sponsorships for $50-$1,000 and is offering promotional opportunities for this and next year.  On July 14, the teams are hosting a Pancake Breakfast with car wash and rummage sale at Caroline Wenzel from 8 a.m. to 2 p.m. Attendees can enjoy breakfast and some browsing while their car is washed.
As they continue to play weekend tournaments to continue their development, both teams can be found practicing four nights a week at Caroline Wenzel, Pocket Softball's home field. The public is welcome to come by and see these great athletes hard at work.
To follow their success, Pocket Softball has created a Facebook page and has a website at PocketGirlsSoftball.org.