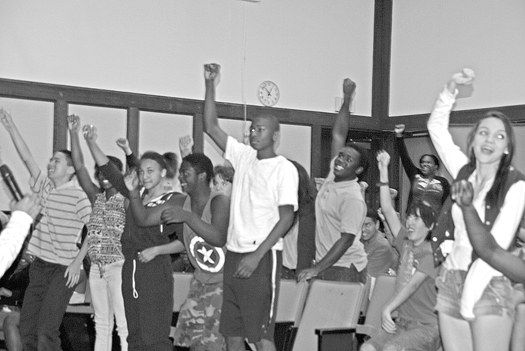 The summer program at Kennedy collected more than $500 worth of money and donations Saturday, July 13 at their car wash, bake sale and donation drop. All proceeds collected from the event will be donated to Sacramento charities to support local foster youth, animal shelters and homeless shelters.
In an interview with incoming freshman Amy Toy, who was looking to raise awareness of animal abuse, she said her group is currently taking food donations. "Right now we have two huge garbage bags full of food. We have more than enough. We have 200-225 pounds of food." Toy said she has enjoyed working with her friends and meeting new people as a part of the program.
Mr. Plotts called Janae Wilkerson, who participated in the program last year and who came back to help special needs kids this year, "a key member in our group."
Wilkerson said the program has given her some insight into the working of foster care and how unfortunately, many of the youth are kicked out of the system at age 18, left poor without anywhere to go. "We did the car wash and made flyers, donated money and clothes and now my friend Natalie is talking to the person where the foster care is (to find out where the best place to drop off the donations would be)."
Wilkerson and Toy said later in the school year, they will take a field trip to deliver the supplies.
Wilkerson said that as a mentor, she is teaching the incoming freshmen what to expect when they are in high school and the principals, she said, are expecting her to make sure their behavior is good when they enter high school. She said she has seen some of the students grow.
These students are a part of the Summer of Service Program, which is meant to engage Sacramento youth in meaningful activities. It is designed to help incoming freshmen acclimate to high school and get involved in their community by using their own actions and voice. Mr. Plotts said the program had about 95 to 100 students participate with an attendance rate of 85 to 90 percent.
Part of the program required the students to choose a topic or community issue they felt strongly about and then teachers helped develop the issue – "Why do you think this occurs? We have them flesh it all out," Mr. Plotts said.
He said he had students come up with ideas of what the root causes of homelessness and problems with foster care are, for example, which followed up with raising awareness.
"Then how do we help (eg foster youth and problems with foster care) want to raise awareness to extend age to 21 for medical care. They did the car wash to raise money. It's a two-tiered thing. Help the cause right now and help raise awareness so we don't have the problem."
Mr. Plotts said the program also helps students acclimate to high school as well as get them involved. They can find out about school and make friends before they even have their first day! "It's a collective experience for kids," he said.
The program culminated at CSUS for a 3-day leadership event as Kennedy freshmen joined other South Sacramento high school for team building exercises including a relay race, talent show and rope climbing. They also got to sleep over in the residence halls.
"It's something for them to step in the spotlight and make them feel good … and it's a lot of fun," said Calvin Ly, one of the leaders of this event. "It's all about positive reinforcement — the kids are going through a chaotic time but they have support from team members."
The students also got to discuss what they all experienced with the SOS program and how certain values like – integrity and hard work can help you reach your goals.