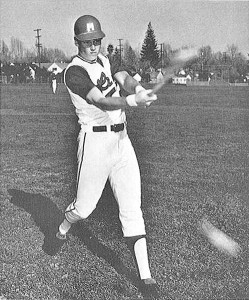 As one of the great teams in C. K. McClatchy history, the 1970-1971 baseball teams were chosen to be inducted into the 2013 McClatchy Sports Hall of Fame at a dinner on October 11 at the Asian Sports Foundation Hall off Laguna Blvd. All members are invited to participate.
The 1970 team featuring only three seniors (pitcher/first baseman Roland Office, outfielder Gary Kelly, and centerfielder Junior Gonzales) lost four games during the season, but came back to beat Kennedy and future major league pitcher Butch Metzger twice in the last two weeks to qualify for the section championships.
Office, who would play 11 years in the major leagues for Atlanta, Montreal, and the Yankees, outdueled Metzger in a playoff game at Land Park for a 5-2 Lion win. Second baseman Pete Covitch, with two outs and two strikes, delivered a slashing double over the left fielder's head with the bases loaded to score three runs in a wild 4th inning and provide the winning margin.
In the section playoffs, they easily beat Rio Vista behind pitcher, Dean Stotz edged Vacaville (13-3) 4 to 3 behind Office's excellent pitching. Catcher Terry Teale drove home sophomore shortstop Joel Bishop with a triple in the 4th inning to tie the game at 3-3.
Third baseman Greg Deckard then hit a sacrifice fly to score Teale for what proved to be the winning run. Teale would go on to make two outstanding defensive plays in the 7th inning to sew up the win.
In the final game the Lions beat a tough Stagg of Stockton team 5-3 in the section finals behind a brilliant pitching performance from Stotz and two great fielding plays in the last inning by 3rd baseman Deckard. Covitch, Deckard, and Office each had two hits to preserve the win. The 1970 Lion Section Champions ended up with a 15-4 record, winning their last seven games.
The 1971 Lion baseball team would have an even better record than that of the previous year's team, winning their first 17 games, most by big margins. Led by Teale, Covitch, Stotz, Bishop,and outfielder Mickey Johnson, the Lions used a variety of pitchers to charge through the Metro League unbeaten and run their two-year unbeaten record to 24 games.
Pitchers, Carl Payne, Doug Muraki, Rick Snow, Steve Furtado, Jeff Zimmerman, and John Warren took up the slack when Stotz injured his arm in late April. Seven batters hit over .350 for the season with Bishop, Stotz, Teale, Covitch, and Johnson driving in many key runs.
The only close games of the season were a 4-2 win over Sacramento on a Tuesday, and the next day a 4-3 win over Burbank. Against Burbank, Covitch hit a grand slam home run in the 2nd over the left fielder's head that rolled nearly 500 feet.
The hustling Covitch barely made it to home plate for what proved to be the winning run. Covitch, the owner of Grips Fast Golf on Freeport Blvd, commented, "I wasn't the fastest guy, and the last 90 feet felt like an eternity."
The regular season ended with a tough 6-5 win over Sacramento. The top hitters were outfielder Greg Elmasion, Teale with a homerun, and Bishop. The Lions would beat Ponderosa 5-1 in the first game of the section playoffs but lose a heartbreaker 2-1 to Turlock. They finished the season 19-1 with a 3rd place section win over Grant.
Hall of Fame inductees include Office, Teale, Stotz, and Warren. Office would become a major league baseball plalyer. Teale, an All-City football and baseball player would go on to play both sports at Sacramento City College and Long Beach State College. He graduated with a degree in sociology and is a retired from the Newport Beach fire department after 30 years.
Stotz would pitch for Sacramento City College and Stanford and has been an assistant baseball coach at Stanford for the past 37 years. Fifty-nine of his former players have been drafted by big league teams.
Warren, who turned down a chance to attend Stanford, played one year of football and four years of baseball at UC Davis. He intercepted four passes against Sacramento in the last Turkey Day Game in November 1970. He has been a teacher and coach at McClatchy for 36 years.
John Patterson, the coach of the two honored teams, was a McClatchy graduate and math teacher for many years at McClatchy.
Last year almost 400 people attended the induction of players and teams from the first 25 years. Dinner ticket sales should close out by mid-September. For information about the C. K. McClatchy Sports Hall of Fame dinner on Friday October 11, go to:
golions@restoretheroar.org or call Bob Sertich at 441-0657.