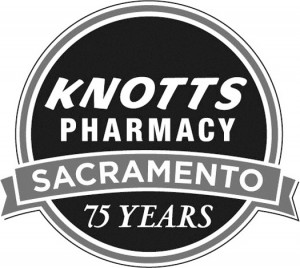 Knott's Pharmacy, an East Sac presence on J Street for more than 75 years, has moved its operations to Coyle Avenue in Carmichael as of Jan. 15. But worry not, faithful Knott's customers, owner Steve Dokimos stresses that it's business as usual, even from the new surroundings.
Dokimos delivers around 20 prescriptions himself every night free of charge to long-standing customers in East Sac in an effort to show customers that they can still have their orders filled by Dokimos and company.
The pharmacy moved away from its most recent home at 4819 J St. because of a failed attempt to buy the leased property from its owner. Dokimos, who became the owner on Feb. 2, 2002, held a 10-year lease that expired in 2012. After trying unsuccessfully to buy the property, (the owner apparently had no intention of selling) Dokimos settled on paying month-by-month rent for the next year.
After briefly considering moving into the plot next door on J Street, Dokimos decided that his best move would be to shift the pharmacy to Coyle Avenue while he tries to find another plot in East Sac.
"I'm looking for places on H Street, J Street or Folsom Blvd.," Dokimos said. "I'm working with a leasing agent to look for places."
Somewhere near the intersection of 51st and L at the old Lucky's lot would be ideal for Dokimos, as he grew up visiting his grandmother at the intersection when he was just a boy.
Despite moving his base of operations, Dokimos said that many long-time customers have stayed with him.
"I get a lot of visitors from East Sac," he said. "I probably get more business catering to East Sac than I do around here."
Despite moving into a former pharmacy space in the St. George Medical Building on Coyle Ave., Dokimos wants East Sac customers, who may be unaware of the pharmacy's moving, to know that they can still do business with him.
"I want to get the word out that we moved – not closed. We are still open for business."
As far as getting back in the J Street area, Dokimos said that he would like to get a lease agreement signed within the next three months and hopefully be open for business within another three months.
"We will be back," he said. "We are dedicated to our clients and we try our hardest for them."
For more information, Knott's Pharmacy can be reached at 455-3068.