It took traveling to Cuba and Kauai, and marveling at what the farmers' markets there had to offer to make me realize just what I might be missing back home. Sure enough, once I went to the farmers' market here in Sacramento, I never looked back.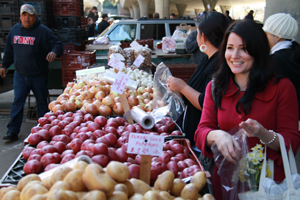 Rebecca Popham buys daffodils from Joy Farm Flowers at the farmers' market on W Street, near Southside Park. (Photo by Robert Ossa)
The farmers' market is held every Sunday from 8 a.m. to noon under the freeway at 8th and X streets, and boasts a plentiful array of seasonal fruits and vegetables, as well as vendors selling freshly baked bread, eggs, cheese, flowers, tortillas, meats, poultry and seafood, and many other items.
With the price of food increasingly going up, and the local economy struggling due to the recession, the Certified Farmers' Markets of Sacramento County offer a solution to both: pay less for your groceries while supporting your local economy. But it doesn't stop there: About half of the vendors there offer organic produce, often at a much better price than local stores. And perhaps the most convincing argument of all: eating both locally grown food and what's in season helps to cut down on carbon emissions. Produce imports and exports add a huge debt to our carbon footprint because of the amount of jet fuel it takes to keep up this endless cycle of international produce shipments. So shopping at the farmers' market means going green, too, and most people even bring their own reusable shopping bags.
At the moment, artichokes, asparagus, mushrooms, all kinds of citrus fruit, kiwis, and rainbow kale are all in season, among several other items. Produce items change by the season, but the cheese, bread, egg, olive oil and organic meat vendors are there year round.
Touring the market
On a recent Sunday morning, there with my friend Becca Popham, I asked her what she loved about it. She said, "My trip to the farmers market has become a Sunday ritual. The variety is endless: organically raised meat, seasonal fruits and vegetables, flowers for my table, free-range eggs. My favorites right now are the many varieties of daffodils and mandarin oranges. You can even find locally made tortillas – garlic and butter tortillas are my favorite – and fresh bread. The big bonus – everything is fresh and grown or raised close to home. I love that my money goes directly to the hardworking farmers!"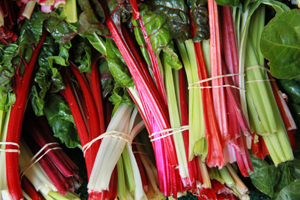 Delicious and fresh, colorful and nutritious – the goods at the farmers' market on W Street, near Southside Park. (Photo by Robert Ossa)
Barbara Kingsolver, prolific writer and gardener extraordinaire, expounded further on this subject in her most recent book, "Animal, Vegetable, Miracle." She wrote: "Concentrating on local foods is a strategy that will keep grocery money in the neighborhood, where it gets recycled into your own school system, and local businesses. The green spaces surrounding your town stay green, and farmers who live nearby get to grow more food next year, for you."
But enough about the politics involved in this debate. Chances are, in the fast-paced lives we lead, not everyone can make it to the farmers' market every week, and most people need to supplement whatever they buy at the local supermarket, which is fine. When asking people why they shopped at the farmers' market, there was one answer that everyone had in common: the freshness of the fruits and vegetables, often picked that very morning, and the taste. Because this produce didn't have to travel or stay preserved for a long length of time, it's just fresher, and tastes better.
If you're not convinced yet, taste heirloom tomatoes in the summer time at the farmers' market, and compare it to a hothouse tomato. The hothouse tomato is mealy and flavorless. The heirloom tomato at the farmers' market tastes like sunshine. Have I convinced you yet? If not, go and see for yourself. You won't be disappointed.
E-mail Jeneka Sanford at jeneka@valcomnews.com.