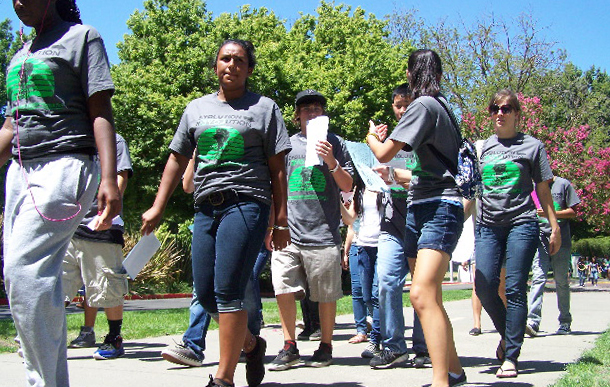 With the 2012-13 school year fast approaching, incoming high school freshmen often face that sometimes-difficult transition from middle school with a mixture of wonder, fear and trepidation.
To help alleviate a little of that fear, 16-year-old Shia Streator, McClatchy High School senior and WayUp facilitator, volunteered her time during the first few days in August for a three-day/two-night leadership camp.
Nearly 400 incoming 9th graders within the Sacramento City Unified School District converged upon Sacramento State for the Sacramento WayUp Youth Leadership Program Summer Camp, which was held July 31 to Aug. 2.
The goal of the leadership program was to build a bridge that dilutes freshmen fears and makes students more comfortable with the transition to high school, Streator said.
"When I came in as a freshman, I didn't have anybody really to teach me anything social wise," Streator said. "This three-day leadership program is designed to give the freshmen an essence of accomplishment and friendship during and after the camp. Because freshmen are usually alone the first couple of months, this summer program gives them an opportunity to know 300 freshmen who feel the same way as they do."
Streator says programs like WayUp have helped her build her own leadership skills.
"When I entered my junior year last year after participating in the camp, I did come out of it with a lot more confidence and assurance of who I am and what I can do," she said. "I have just become captain of my criminal justice academy, so it really applies to what I am doing in school."
The Sacramento WayUp Youth Leadership Program Summer Camp teaches kids how to stand as leaders in their schools, communities and within their own lives under the camp theme "Evolution 2 Revolution: Leadership is Not an Option."
Students participate in a variety of activities from team-building exercises to developing strategic-thinking and problem-solving skills.
"The three-day event nurtures, guides and grows the next generation of leaders," said WayUp Sacramento Program Director Talia Kaufman. "This year's tracks are specifically 'change yourself, change your community and change your future.' It's teaching young teens to assert themselves and give them self-empowerment along with thinking about community change and how we as individuals can help."
This year Streator taught her own track.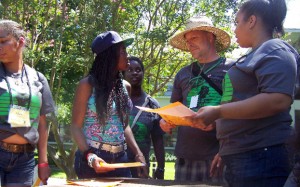 "I talked about life values and planning your own life future," she said. "It's a way to help freshmen discover their own passion and help them carve what they want their high school and college experience to be like. For example, if they want to pursue more art, music, sports, academics, it will help them understand their own passion and encourage them to go for it."
Sacramento City Unified School District Superintendent Jonathan Raymond said programs like these are more vital than ever, especially given of the city's limited resources.
"Our goal is to give kids … rich summer learning experiences so that all of our students return to school is September ready for the new school year," Raymond said.
Years of state budget cuts have forced the school district to reduce traditional summer school program to remediation classes only, Raymond said.
"We simply don't have the money to offer the summer school programs that students enjoyed in the past," he said. "But we are enriching the lives of thousands of kids this summer with our Summer Matters programming."
In one year, the WayUp camp has gone from mentoring 40 kids to nearly 400 this year.
"When this initiative started a year ago, we never imagined it would grow so fast," Raymond said. "The rapid expansion of this program is a testament to the kids and everyone involved who has worked tirelessly to give our youth the tools they need in order to become the next generation of great leaders of this community."
WayUp Sacramento is funded primarily through grants received from the California Endowment, as well as through contributions from numerous businesses and community-based organizations throughout Sacramento.
"To see these kids interacting, learning, growing, smiling and laughing together is truly inspiring," Kaufman said.
Elizabeth@valcomnews.com