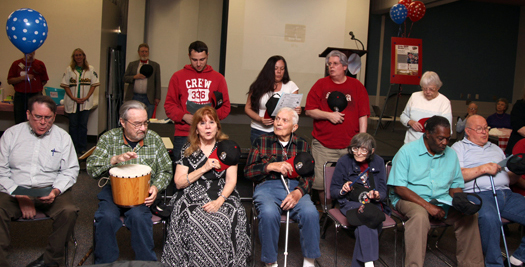 Many of their stories resemble one another. They didn't know they were having a stroke at the time and then after going to the hospital the trials of recovery really began.  Some had a difficult time speaking. Others couldn't move around nearly as much as before. And yet, a group of them has come together to strike out stroke with the River Cats.
Every Thursday at Sutter Hospital around lunchtime a stroke support group gathers to talk about and listen to problems that they may have.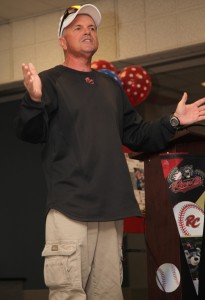 On Thursday, April 18, Tony Asaro, community relations director for the River Cats paid the stroke support group a special visit and reminded the group that on May 5 when the River Cats take on the Las Vegas 51s a portion of the proceeds benefit stroke camp, a place that can further facilitate bringing back some autonomy that may have been taken away after stroke. Held this year from Sept. 27-30 in Silver Spur Camp near Sonora, stroke camp includes: activities, arts, tie dying, music, guest speakers and even music therapy, some of which are led by stroke survivors.
At that April 18 meeting at Sutter, the group of nearly 100 survivors not only heard encouragement from Asaro, they were also treated to silly skits and songs performed by their fellow group members, as well as enjoyed hot dogs, popcorn, Cracker Jacks, lemonade and cookies. And one of the survivors, who used to play softball, practiced pitching a ball against Asaro to gear up for the May 5 game.
The singers, led by Pocket resident Barbara LaPlaca and known as the Miracle Minstrels, are miracles to those who know them. Some of them had trouble speaking after their strokes, but they have joined the Miracle Minstrels to regain confidence and practice singing. A retired music teacher from Elk Grove, LaPlaca is a stroke survivor herself and said that even she can't do what she used to musically. But the support group is powerful as are the minstrels who will sing the National Anthem at the May 5 game. The April 18 meeting was one more time to practice before the big day. Rounds of applause echoed through the room because many of them know from experience that just the act of speaking may seem like an impossible feat.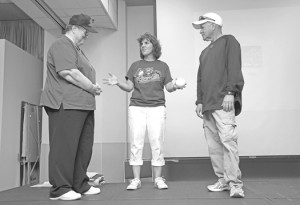 Speech therapist Renee Garner said the support group and even singing for some helps people regain confidence.
"I think what (the group) provides is that if their speech and language have been affected, which is at least half of the people, they get to be with people who are patient listeners. So it minimizes anxiety when having to talk," Garner said.
Garner said some refrain from speaking with family or friends, but if they come into an environment that's patient, with time, they will open up, talk more and realize it's OK to struggle. "I think it can regain confidence," Garner said. "I think there's a tendency for one to isolate themselves if they have disabilities. For those who have strokes, there's a tendency to become reclusive, to stay home and even isolate themselves from activities they have participated in years, so the social support is remarkable," she said.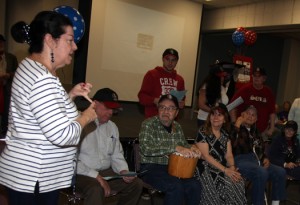 The River Cats started a new program this year called the 2013 Non-Profit Partner of the Night Program, said Land Park resident Stephen Caselli who is the group events account executive for the team.
Caselli said last season the River Cats only had a few days where nonprofit groups could sell tickets as a fundraiser and they realized having everyone here on the same day was not very effective, so this season they decided they would make every game this season available to nonprofit partners and let them pick the date that best fits their schedule.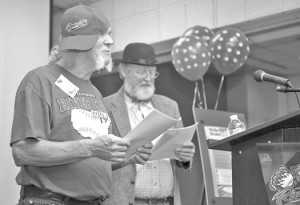 "For those partners who commit to at least 500 tickets, they become our 'Nonprofit Partner of the Night,'" he said. "This gives them the opportunity to raise over $2,000 in funds, participate in a pre-game check presentation, throw out the first pitch and set up a table on the concourse. This allows them to share information with all of our fans about their organization and how fans can get involved. They are also recognized throughout the game on the scoreboard," Caselli said.
Last season the Sutter Stroke Support Group brought about 40 people out to a game as a fundraiser and had a good experience and everyone involved this year is all very excited about this game.
STROKE TIPS
Stroke signs and symptoms: Tess Carter, stroke coordinator at Sutter Roseville began Stroke Camp 10 years ago. She said some include: weakness on one side of the body, crooked face, sudden loss of vision.
Risk factors include: hypertension, high cholesterol, heart rhythm problems, smoking, obesity, lack of activity and heart disease.
Prevention measures: Take blood pressure medicine, heart medication, eat healthy foods, exercise.
What to do if you think you are experiencing a stroke: Call 9-1-1. Do not have someone take you to the emergency room. An ambulance would take you to the correct hospital as not all hospitals are primary stroke centers. Carter describes stroke centers, like Sutter, as those that are held to a higher level of accountability. It ensures they give you a medication called tpa, which Carter describes as "Draino for the brain" as it breaks up clots that would prevent blood flow to the brain tissue.
If you go
What: Strike Out Stroke with the River Cats
When:  May 5, game starts at 1:05 p.m., gates open at noon.
Where: Raley Field, 400 Ballpark Dr., West Sacramento
Why: May is Stroke Awareness Month and proceeds benefit stroke camp
Order tickets online:  www.rivercats.com/fundraisers and select Stroke Awareness Night; the offer code is "support"
For more information: Call Spencer and Arleen Ellis at 455-4821, Tess Carter at 801-5213 or Sue Coleman at 422-4537.