Hunger is a bigger problem in Sacramento than you may think, according to Eileen Thomas, executive director of the River City Food Bank based in midtown Sacramento.
In 2011, the food bank served 47,408 people, with about every fourth person a child. Thomas said the food bank is also seeing an increase in seniors – who are living on fixed incomes and pensions with not enough money to go around – as well as those on disability.
To help raise awareness about the hunger problem in the Sacramento area, for the past nine years River City Food Bank has hosted Empty Bowls – an annual fund raiser designed to raise funds for the food bank and awareness about hunger in the community. Thomas said this year's event will be held at the Sacramento Convention Center on Monday, March 5 with a dinner session from 5:30 p.m. to 7:30 p.m. for $60 per person, and Tuesday, March 6 for a lunch session from 11 a.m. to 1:30 p.m. for $30 per person.
"Hunger is one of those problems that can be hidden very easily because you look around and you go 'Oh, there's nobody really starving in our community,'" Thomas said. "Starvation looks a little different to us in America than it does like in a third-world country, so some of the people who are starving are actually suffering from malnutrition. They're not eating healthy because they don't have enough money for healthy food. Empty Bowls really speaks to the idea that hunger is something that is here in our community and it can be helped."
At Empty Bowls, attendees come to either a dinner or lunch session to enjoy a soup of their choice donated by a Sacramento area restaurant.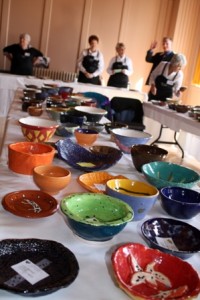 HAND-CRAFTED bowls created by local artists and students are the must-have item at this annual event. / Photo courtesy, River City Food Bank
"We try to get the very best restaurants in Sacramento to donate," Thomas said. Participating restaurants include Cafe Bernardo, Classique Catering, Scott's Seafood Grill and Bar, Vizcaya and Greek Village Inn. To serve the soups to hungry patrons, the food bank enlists the services of honorary servers from local government and businesses, Thomas said. Some notable servers on tap for this year include City Councilmembers Rob Fong and Steve Cohn.
However, the real draw to the event is the handmade bowl that each attendee gets to pick out to take home. Thomas said this year they will have about 1,200 bowls for guests to choose from made by both professional and student artists. Additionally this year, the event will feature a selection of wood and glass bowls, plus some of the professional artists will showcase their other art at the Potters' Market held in conjunction with the event.
This year's Empty Bowls also includes a change in venue. For the first time, the event will be held at the Sacramento Convention Center. This is because the event has grown in popularity.
"We started out nine years ago and we had about 350 people attend – we thought that was pretty good, and then it's grown and grown," Thomas explained. The new location also means tickets for the event will not be sold at the door. However, Thomas said patrons will be able to purchase tickets online at www.rivercityfoodbank.org (including the day of the event). Tickets can also be purchased in person at The Avid Reader and the Cathedral Book Shop at Trinity Cathedral on Capitol Avenue.
For Empty Bowls 2012, Thomas said the River City Food Bank hopes to hit its goal of raising $125,000, which will "help us keep the lights on, to keep our building and operation running. It will also pay for some of the food that we have to buy for our food bank," she explained.
Additionally, Thomas said they hope this year's Empty Bowls will help them spread the word about the food bank and the hunger issue in Sacramento.
"We hope to gain support for River City Food Bank and raise awareness in the community that this is a real problem and there are people who need not only food, but they need healthy food, they need good nutrition, they need education about nutrition," she added. "We want to make sure that we explain the programs that we provide the way that people can help to make a difference in their community."